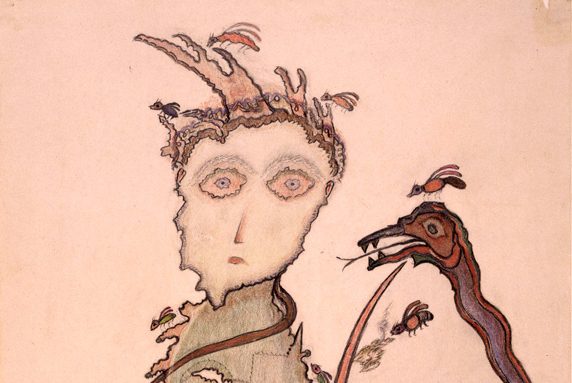 TUESDAY, OCTOBER 13
Opening: "Art Brut in America: The Incursion of Jean Dubuffet" at the American Folk Art Museum
Here's a rare opportunity to view works by notable outsider artists Madge Gill, Augustin Lesage and Adolf Wölfli from the Collection de l'Art Brut in Lausanne, Switzerland. The nearly 200 artworks going on display at the American Folk Art Museum were originally lent to the American artist and collector Alfonso Ossorio by French painter, sculptor and Art Brut founder Jean Dubuffet, and displayed in his Ossorio's East Hampton estate from 1952 to 1962.
American Folk Art Museum, 2 Lincoln Square, 11:30 a.m.-7 p.m., free with museum admission
Opening: "Jan-Ole Schiemann" at Half Gallery
A German painter who lives and works in Cologne, Jan-Ole Schiemann makes his New York solo debut with a new series of abstract paintings and drawings inspired by the cartoons of Max Fleischer, creator of Betty Boop. A recent graduate of the Kunstakademie Düsseldorf, where he studied with artists Albert Oehlen and Andreas Schultz, Mr. Schiemann inaugurated the Mier Gallery in Los Angeles with his comical abstract works earlier this year.
Half Gallery, 43 East 78th Street, 6-8 p.m.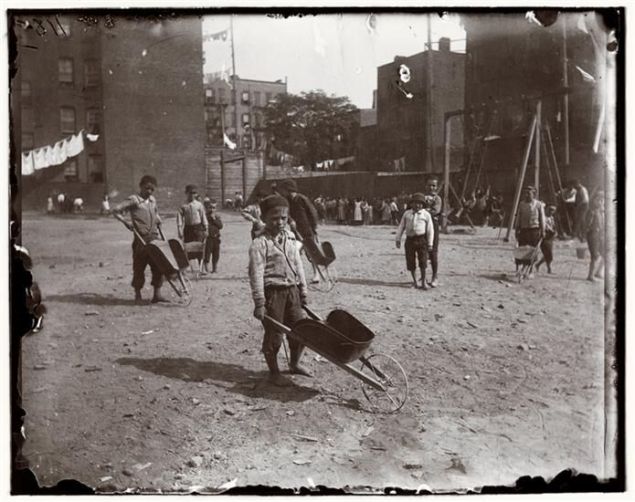 WEDNESDAY, OCTOBER 14
Opening: "Jacob A. Riis: Revealing New York's Other Half" at the Museum of the City of New York
This exhibition takes a look at the life and times of the pioneering Danish photojournalist Jacob A. Riis, who settled in New York in 1870. It brings together groundbreaking photographs from his bestselling book How the Other Half Lives, which had a lasting impact on the lives of poor immigrants in New York, and lead to historic housing, education and public health reform in the city. Also on view are his letters and scrapbooks.
Museum of the City of New York, 1220 5th Avenue, New York, 10 a.m.–6 p.m., free with museum admission
Opening: "Charles Andresen: Pigmented Rectangles" at the Workshop at Christian Berst Art Brut
A master of process art (a movement where the artwork itself is often not the most important outcome), Charles Andresen pours, throws and manipulates paint to make luscious canvases that delight the eye with movement and color. This is Mr. Andresen's first exhibition with Christian Berst, a Parisian gallerist known for showing self-taught and visionary artists. Mr. Andresen fits the latter category best through his vibrant compositions made of pure paint.
Workshop at Christian Berst Art Brut, 95 Rivington Street, 6-8 p.m.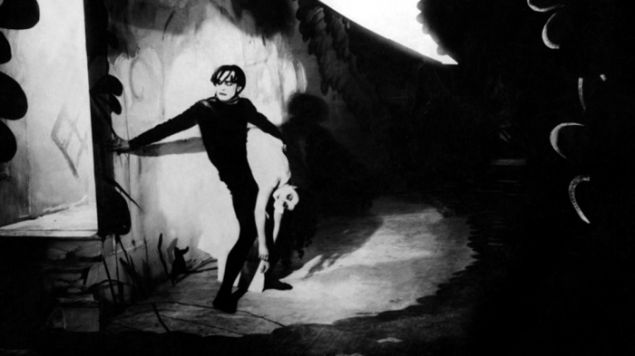 Screening and Performance: "The Cabinet of Dr. Caligari with live music by M.V. Carbon" at the Morbid Anatomy Museum
A classic of German expressionist cinema, The Cabinet of Dr. Caligari is a 1920s silent horror film about a crazy hypnotist who uses a somnambulist to commit murders. The film's staging employs a bold graphic style and bizarre, twisting sets that suggest a nightmarish realm where evil lurks. In a nod to the glory days of silent film, the screening will be accompanied by a live score created by composer and sound artist M.V. Carbon.
Morbid Anatomy Museum, 424 3rd Avenue, Brooklyn, 8 p.m., $12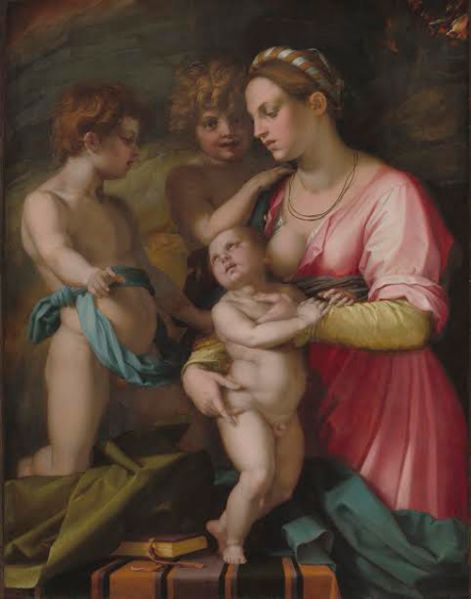 Opening: "Andrea del Sarto's Borgherini Holy Family" at the Metropolitan Museum of Art
In conjunction with the Frick Collection's exhibition "Andrea del Sarto: The Renaissance Workshop in Action," a recently opened survey of the Florentine artist's paintings and drawings that runs through January 10, 2016, the Met has assembled an intimate show of its own. The small show focuses on del Sarto's painting, Borgherini Holy Family with the Young Saint John the Baptist, a masterpiece of the Italian Renaissance that's in the museum's collection, and Charity, a related panel by the artist from the collection of the National Gallery of Art in Washington, D.C. A few other works, including a Madonna and Child panel by del Sarto from a private collection, are included.
The Metropolitan Museum of Art, 1000 5th Avenue, 10 a.m.-5:30 p.m., free with museum admission
Performance: "Stan Douglas's Helen Lawrence" at BAM Howard Gilman Opera House
Conceived and directed by artist Stan Douglas, who shows with David Zwirner Gallery, and written by Chris Haddock, known for the CBC television series Da Vinci's Inquest, is the multimedia play Helen Lawrence. The performance mixes theater, visual art, live-action film and computer-generated scenes in the gripping tale of a femme fatale seeking revenge for her husband's murder. With avant-garde staging, the actors also operate cameras to film their performances, with the live-feed projected behind them on the stage.
BAM Howard Gilman Opera House, 30 Lafayette Avenue, Brooklyn, 7:30 p.m., $24-$85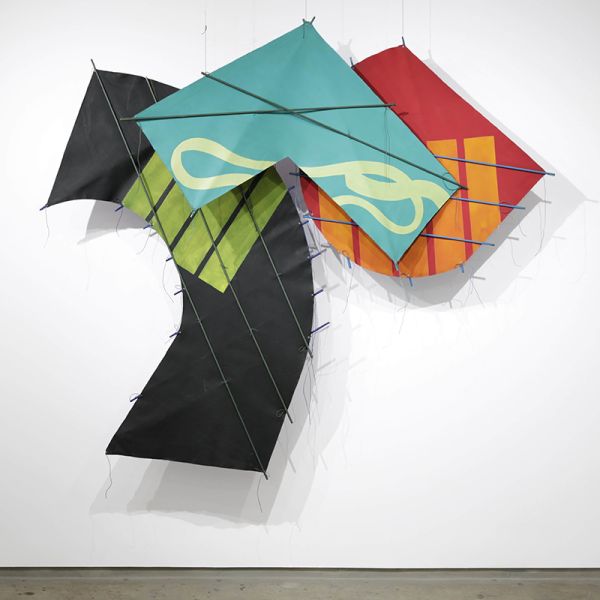 THURSDAY, OCTOBER 15
Opening: "Richard Smith: Kite Paintings" at Flowers Gallery
A British-American painter who represented Britain in the 1970 Venice Biennale, Richard Smith started out making Pop Art and Abstract paintings. Mr. Smith took painting beyond the rectangle in the 1960s by making shaped canvases and later took his work off the stretcher bars with his experimental series of "Kite" paintings. Those works are now being shown here as a group for the first time since 1978.
Flowers Gallery, 529 West 20th Street, New York, 10 a.m.-6 p.m.
Benefit: "New York Academy of Art's Take Home a Nude" at Sotheby's
Honoring New York Academy of Art board member and novelist Tom Wolfe and longtime Academy supporter, art critic Jerry Saltz, "Take Home a Nude" features silent and live auctions with work by more than 150 emerging and established artists, including Yoko Ono, Will Cotton, Kiki Smith and Spencer Tunick. This year's theme is "Celebrating Instagram," for which the benefit will have a "selfie" station, and at one point in the evening artist Ryan McGinness will unveil a special artwork composed from his own daily Instagram posts.
Sotheby's, 1334 York Avenue, New York, 6 p.m., Auction & Cocktails, 9 p.m. Dinner, $250-$1000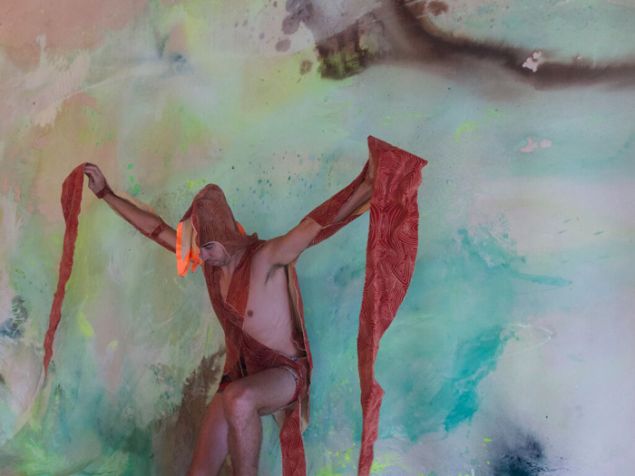 Performance: "Sergei Tcherepnin: Maize Mantis" at the Kitchen
A collaboration between artist and composer Sergei Tcherepnin, the painters Lucy Dodd and Kerstin Brätsch, sculptor and costume designer Hanna Törnudd and lighting whiz Zack Tinkelman, Maize Mantis is a performance centered on "a mythic creature born of plants and shadows." Billed as equal parts theater, dance, concert and exhibition, it takes the experimental work of Russian modern dance impresario Sergei Diaghilev and American composer and creator of musical instruments Harry Partch as its point of departure.
The Kitchen, 512 West 19th Street, New York, 8 p.m., $15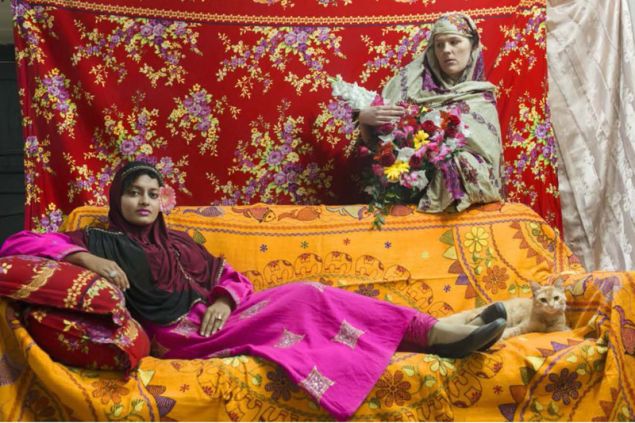 Opening: "Transitions: New Photography from Bangladesh" at the Bronx Museum of the Arts
Featuring nine contemporary Bangladeshi photographers, this exhibition reveals the fast-changing social and economic landscape of the small South Asian country that neighbors India and Myanmar. Organized by the Bangladeshi American Creative Collective, which is located in The Bronx, the show consists of staged, documentary and portrait photography. Rasel Chowdhury captures images of urbanization on rural communities; Saikat Mojumder reveals life in the slums; while Arfun Ahmed interprets Western art history with an Eastern flair.
The Bronx Museum of the Arts, 1040 Grand Concourse, The Bronx, 11 a.m.-6 p.m., free with museum admission
Talk: "Arlene Shechet" at the Brooklyn Museum
Celebrated for her whimsical ceramic sculptures, which she displays on wood, steel and concrete plinths, Arlene Shechet—who had a solo show at the ICA Boston this past summer and has been featured on PBS's ART21 video series—discusses her clay-based work with Catherine Morris, curator for the Elizabeth A. Sackler Center for Feminist Art at the Brooklyn Museum.
Brooklyn Museum, 200 Eastern Parkway, Brooklyn, 7 p.m., $16