TUESDAY, OCTOBER 20
Opening: "Rineke Dijkstra: The Gymschool, St. Petersburg, 2014" at Marian Goodman Gallery
Celebrated for her sensitive portraits of adolescents, young adults and people in transitional stages of life, Dutch artist Rineke Dijkstra returns to New York for her fifth solo show at the gallery with The Gymschool, St. Petersburg, a three-channel video installation. Originally commissioned for Manifesta 2014, the European Biennial of Contemporary Art, the video documents 11 young Russian gymnasts, aged 8 to 12, bending their bodies into incredible—almost abstract—forms without showing the least bit of emotion.
Marian Goodman Gallery, 24 West 57th Street, 6-8 p.m.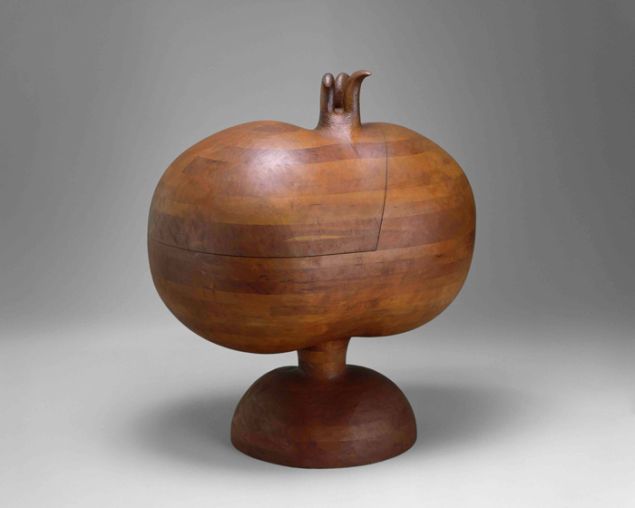 Opening: "Wendell Castle Remastered" at the Museum of Arts and Design
One of the most influential American industrial designers, Wendell Castle has been making innovative furniture, which could easily be mistaken for biomorphic sculpture, for more than 50 years. This exhibition pairs his groundbreaking works from the 1960s with remastered, digitally crafted versions made via 3-D scanning, 3-D modeling and computer-controlled milling from the past two years, as well as two new bronzes located outside the museum in Columbus Circle.
MAD Museum, 2 Columbus Circle, 10 a.m.-6 p.m., free with museum admission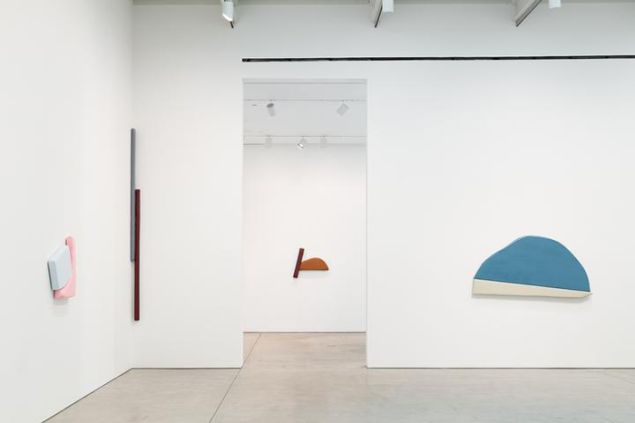 Talk: "Justin Adian in Conversation with Alex Kitnick" at Skarstedt
Mr. Adian is a Texas-born, Brooklyn-based artist who makes vibrant abstract paintings by stretching oil enamel-painted canvas around foam cushions mounted on wood. Tuesday the artist sits down with independent curator and Artforum critic Alex Kitnick to discuss the works on view in his first solo show at the Chelsea gallery. Recalling the quirky abstractions of Blinky Palermo, Ellsworth Kelly and Richard Tuttle, Adian's sculpted paintings are whimsically constructed and smartly displayed, with several pieces hugging the corners and edges of the gallery walls.
Skarstedt, 550 West 21 Street, 6 p.m.
Opening: "Joaquín Torres-García: The Arcadian Modern" at the Museum of Modern Art
A retrospective of the work of the Uruguayan Modernist master Joaquín Torres-García, this exhibition offers nearly 200 of the artist's radical paintings, sculptures, frescoes, drawings and collages. The show begins with his early figurative works—made in Barcelona, where he studied at the turn of the century—then focuses on his Dadaist works and abstractions made in New York and Paris, before ending with his colorful canvases painted in Montevideo, where he died in 1949.
MoMA, 11 West 53 Street, 7-9 p.m., by invitation only, opens to the public on October 25
WEDNESDAY, OCTOBER 21
Screening: "Heart of a Dog," directed by Laurie Anderson at Film Forum
On the heels of her critically acclaimed performance at the Park Avenue Armory, Laurie Anderson's feature-length film makes its American theatrical premiere. A story about her beloved rat terrier Lolabelle, it weaves in the artist's childhood memories with philosophical ponderings on 9/11, surveillance and data storage. Famous for her haunting, 1981 song "O Superman" and 1986 concert film Home of the Brave, Ms. Anderson—one of the best-known avant-garde musicians, composers and artists of her generation—will be present at the premiere.
Film Forum, 209 West Houston Street, New York, 7:50 p.m., $13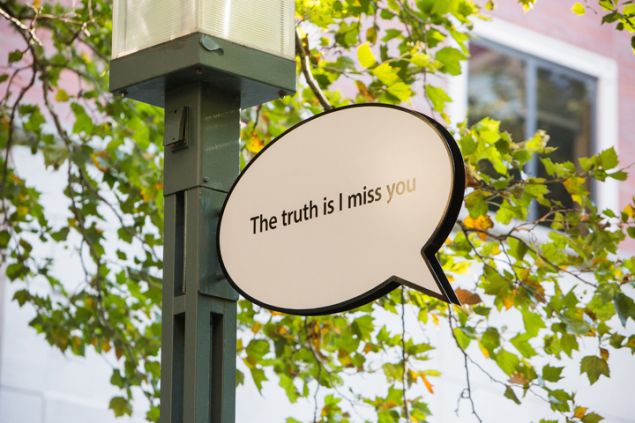 Talk: "Public Art Funds Talks: Hank Willis Thomas" at the New School
Hank Willis Thomas discusses his conceptual-based practice and continued engagement with public space at the New School. And he should know about public space—Mr. Thomas is currently showing work in two Public Art Fund exhibitions: the group show "Image Objects" at City Hall Park, where he has a sculpture of a Harlem Globetrotter spinning a basketball on his finger to reference the Statue of Liberty, and his highly touted solo show, "The Truth is I See You," which displays peoples' notions of truth as thought-bubbles, at MetroTech Center in Brooklyn.
The New School, 66 West 12th Street Auditorium, $10
THURSDAY, OCTOBER 22
Opening: "Martha Wilson: Mona/Marcel/Marge" at P.P.O.W
A mover and a shaker on New York's Downtown art scene in the 1970s and '80s, Martha Wilson was the founder of the beloved Franklin Furnace and a member of the all-girl conceptual feminist punk rock band DISBAND. For her second solo show at the gallery since joining its roster in 2011, Ms. Wilson takes on the topic of aging with self-portraits that reference art history in poignant yet humorous ways—transforming herself into Catherine Deneuve in Makeover and Marge Simpson as Mona Lisa, altered by Marcel Duchamp, in Mona/Marcel/Marge.
P.P.O.W, 535 West 22 Street, 6-8 p.m.
Opening: "Max Ernst: Paramyths, Sculpture 1934-1967" at Paul Kasmin Gallery
The first show of sculpture by the Dada and Surrealist master in New York since 1993, "Paramyths" presents a succinct selection of pieces in bronze and limestone made by Max Ernst between 1934 and 1967. Highlights include the 1944 bronze sculpture of a woman in the shape of a flower, Jeune femme en forme de fleur, and 1967's La Plus Belle (The Most Beautiful), an elongated abstract figure carved in limestone. The artist's 1944 edition Chess Set, which is in the collection of the Philadelphia Museum of Art, will also be on exhibit.
Paul Kasmin Gallery, 515 West 27 Street, 6-8 p.m.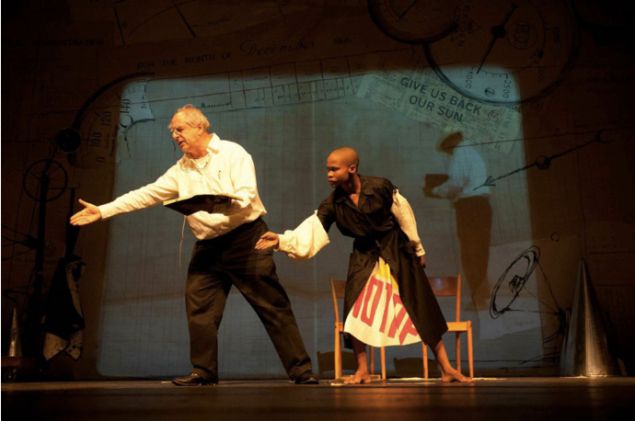 Performance: "William Kentridge: Refuse the Hour" at the Brooklyn Academy of Music
Following his critically acclaimed productions of The Magic Flute, at BAM in 2007, and The Nose, at the Metropolitan Opera in 2010, South African artist William Kentridge is back at BAM. Mr. Kentridge presents the multimedia chamber opera Refuse the Hour, a collaboration with a fellow South African, the composer Philip Miller. The narrative, delivered by the artist himself, traverses time from the Greek myth of Perseus to Einstein, as all get caught up in a Dadaist discord of sound and imagery that includes dancing, singing and animation.
BAM Howard Gilman Opera House, 30 Lafayette Avenue, Brooklyn, 7:30 p.m., $30-$110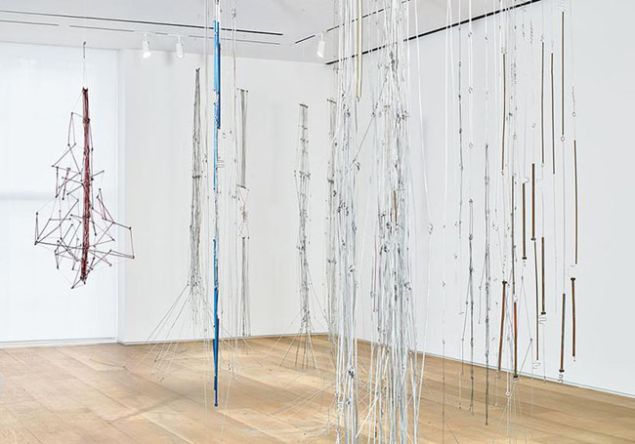 Reading and Book Signing: "Anne Tardos" at Dominique Lévy
Artist and composer Ann Tardos reads her new poem Gego, inspired by the abstract drawings and sculptures of the German-born Venezuelan artist Gego (Gertrude Goldschmidt, 1912-1994), currently on view in the gallery. The French-born, Hungarian-American poet will also read selections from her new book Nine—poems consisting of nine words per line and nine lines per stanza.
Dominique Lévy, 909 Madison Avenue, 6:30-8 p.m., RSVP required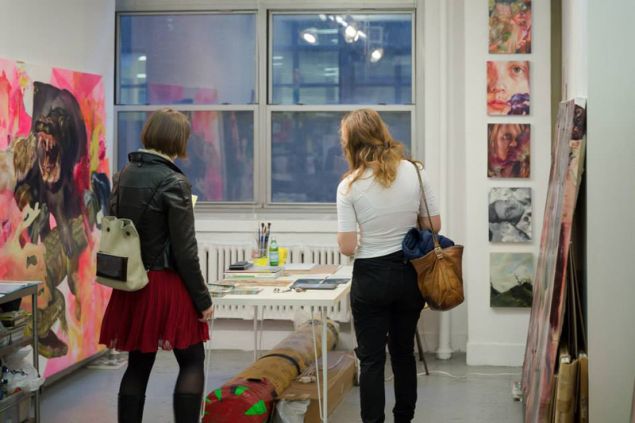 Tour: "EFA Open Studios 2015" at the Elizabeth Foundation for the Arts
With 73 internationally exhibited artists working under one roof, this is an excellent opportunity to see the state of the art, as they say. A sampling of the diverse artists, the EFA studio program includes Arab-American painter Samira Abbassy, Mexican-American performance artist Pablo Helguera, Korean-American painter Kira Nam Greene, Nigerian-born draftsman Toyin Odutola and Japanese-American painter and sculptor Saya Woolfalk. Between the four hours of viewing on opening night and additional hours on Friday and Saturday, it's like a year's worth of museum and gallery going in one shot.
EFA Studios, 323 West 39 Street, 6-10 p.m.
Opening: "Andrew Masullo: Recent Paintings" at Tibor de Nagy Gallery
The recipient of a 2011 Guggenheim Fellowship and alum of the Whitney Biennial, Andrew Masullo makes small-scale abstract paintings of whimsical forms with vibrant colors. Mr. Masullo's charming canvases have little to do with the real world but a lot to do with the language of painting; his work is reminiscent of that of fellow abstractionists Paul Klee, Paul Feeley and Thomas Nozkowski. This is Mr. Masullo's first show with the venerable New York gallery, which celebrates its 65th anniversary this year.
Tibor de Nagy Gallery, 724 Fifth Avenue, 6-8 p.m.