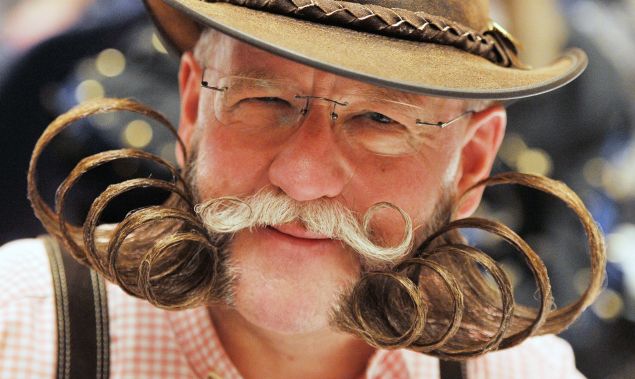 It was a big day for beard content.
Two pieces in particular got into the semiotics of male facial hair, a welcome change from the seemingly endless procession of man bun articles (though Elite Daily covered both beards and man buns in a post today).
For The Hollywood Reporter, Vincent Boucher wrote a pretty deeply reported analysis of the psychology of the beard, which was pegged to David Letterman's newly fuzzy face. "In Hollywood these days, a beard is not just a beard," Mr. Boucher wrote, employing many hirsute synonyms such as "whiskers," "bristles" and "stubble."
Mr. Boucher's piece is a kind of topographical survey of the male face in pop culture and includes an interview with a psychotherapist, a groomer and a beard-transplant surgeon. (The phenomenon of beard transplantation was documented in the pages of The New York Times last week.)
Over at the website of The New Yorker, Nathan Heller looked at beards through the lens of cultural criticism. He analyzed what he refers to as the "achievement beard" in a piece also tied to David Letterman. "The achievement beard—a marker of triumphant lassitude, the victory lap after a long job well done—has been gaining currency in recent years among men who might like to move through the world noticeably unnoticed," Mr. Heller wrote, referencing such pop culture icons as Stephen Colbert, David Beckham and Sean Connery to make his point. He employed no beard synonyms, but did use the word beardedness once.
Presumably, Randy Quaid's giant bush of a beard would not qualify as an achievement beard, since he was arrested in Montreal on Wednesday (for reasons that are too complicated to explain in a short post about beard content) and may be deported from Canada next week—and that is not much of an achievement. "Randy Quaid sports massive arrest beard," reads the headline of a New York Post item published late this afternoon (five-o-clock shadow time), spicing up a relatively tame Associated Press wire story.
Prince Harry's new beard is relatively tame, too. But is he better looking with or without it? That's the question Us Weekly is asking in an online poll. "Prince Harry is always dreamy," says the magazine, "but is he hotter when he's sporting facial hair, or when he's clean-shaven?" The answer, as of this writing, is he's hotter with the beard.
Those who can't get enough beard content—if it makes you bristle, read no further—will be relieved to know that the World Beard and Moustache Championships will be held at the Kings Theater in Brooklyn on November 7.