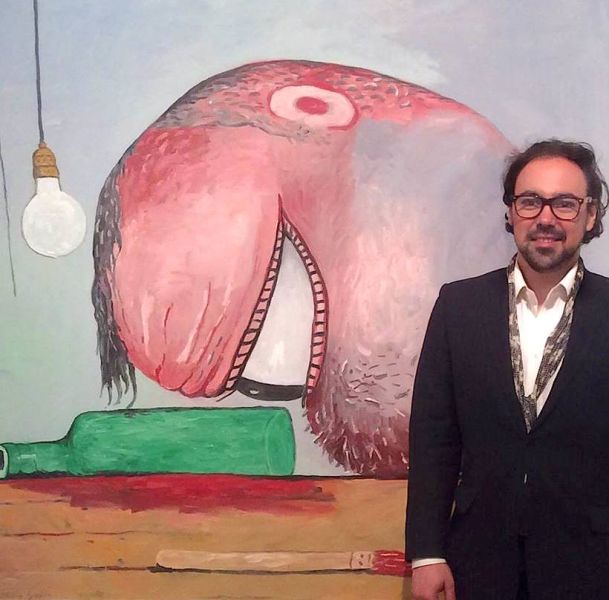 Sorry NYC, October is London's time to shine. This week the city gears up for its annual Frieze Art Fair and big fall auctions, which begin today courtesy of Bonham's, Christie's, Phillips and Sotheby's.
Even for you self-described "hot-shot" collectors, the auctions can be overwhelming.
Thankfully, we've outsourced the help of one of London's more knowledgeable art advisors, Mr. Luke J.P. Morgan of Goldhurst in Hampstead.
The Guildhall grad (and Alison Jacques gallery alum) has been dealing privately since 2011 and he'll be discussing his top lots while waving his fee. That's a good chap!
As Mr. Morgan is an excellent source of all things limey, we asked him to pair five paragons of postwar and Contemporary art with five of England's finest beers, and we got the mouthful we were hoping for.
1. Lucio Fontana's Concetto Spaziale, La Fine Di Dio. Estimate $23–30,500,000. Sotheby's Italian Sale, London, October 15, 2015, 6 p.m. Best served with Thornbridge Hall Bracia. Price: $39.
Before New York's "Jack the Dripper," there was Italy's "Lucio the Ripper" a.k.a. Lucio Fontana, the auction world's Italian postwar poster-boy who never met a canvas he didn't want to violate. Concetto Spaziale, La Fine di Dio (the superstar of this auction) is more than just a painting, it's from the artist's famous egg-shape series and is being dubbed the "holy grail" by Fontana fans. It's one of only two from this series that were painted in slick black paint, and with a cornucopia of particularly savage gauges set off by a delicately scraped border, this ovoid should have its current owner "rolling" in it by the end of the night.
An obvious pairing here is Thornbridge Hall Bracia, the only ale potent enough for this tortured and tenebrous master-egg. Infused with a generous amount of dark and bitter chestnut honey from the Alpine foothills of Northeast Italy, Thornbridge is a velvety and rich potion that's best served in a hearty, dimpled mug. With complex aromas of chestnut, honey, cappuccino, white chocolate, dark fruits and fresh peel, it's the perfect moody London nightcap after a close encounter with a fabled madman.
2. Peter Doig's Cabin Essence. Estimate upon request. Christie's Postwar and Contemporary Art Evening Auction, London, October 16, 2015, 7 p.m. Best served with Siren's BA Even More Jesus VIII Bourbon Barrel Aged Coffee Stout. Price: $17.
Cabin Essence is Mr. Doig's portrayal of his experience when he travelled to take part in the restoration of Le Corbusier's abandoned Unité d'Habitation at Briey-en-Forêt in northern France. The Canadian auction darling, who wowed with a near-$26 million sale at Christie's this past spring, was apparently moved to paint this image after finding the derelict Modernist utopia almost completely obscured by foliage. His interpretation is a lyrical acid flashback of a masterwork put through mother nature's wringer. Mr. Doig's haunting encounter can only be captured by the most Imperial of stouts, one that treads the fine line between euphoric pleasure and unfathomable shock.
Siren's BA Even More Jesus VIII Bourbon Barrel Aged Coffee is that stout. Appropriately brewed with a complex combination of English licorice root and dark muscovado sugar, a pint of this unusual near-black libation will help you befriend horror. The thick bracken of cocoa-y tan crema slowly reveals the toasty aroma of this heavy-bodied snifter drink, which will steel you for those ghastly late-night art conversations that are no doubt forthcoming.
3. Chéri Samba's J'aime La Couleur. Estimate $38–53,000. Bonham's AFRICA NOW Contemporary Africa, London, Oct 15, 2015, 2 p.m. Best Served with The Kernel India Pale Ale Citra Mosaic. Price: $7.50.
We have a lot of time for Chéri Samba, one of the most famous Congolese painters in the world and a fellow who campaigns for sublime joy and vibrancy with every stroke. In J'aime La Couleur, the artist's head is portrayed as a winding spiral against a bright blue sky holding a dripping paintbrush between his teeth, with a mantra to the left reading: "Color is life. Our heads must twirl around as if in a spiral to realize that everything around us is nothing but colors. So I say 'I like color' instead of saying 'I like painting.' Color is the universe, the universe is life." Samba draws inspiration from his early career as a sign painter and the visual vibrancy of everyday life in Kinshasa, so there's no doubt that his work will require much lighter karmic fare than the brooding imagery above.
To accompany Samba's zest for life, you'll need the tangy positivity of The Kernel India Pale Ale Citra Mosaic, with its lovely tropical fruit aroma and mango eruption that's not ashamed of soliciting your senses. The dusty pale ale sobers things up a bit, but only enough for you to fully admire its golden backdrop and soft creamy palate with every receptor. There's a citrus bite at the end with faint woody and earthy notes, but go ahead and serve it in your sexiest tulip glass. Just remember, despite all the self-indulgent art-partying and schmoozing you'll prioritize this week, to always honor your roots and the fleeting beauty that got you into this crazy stuff in the first place.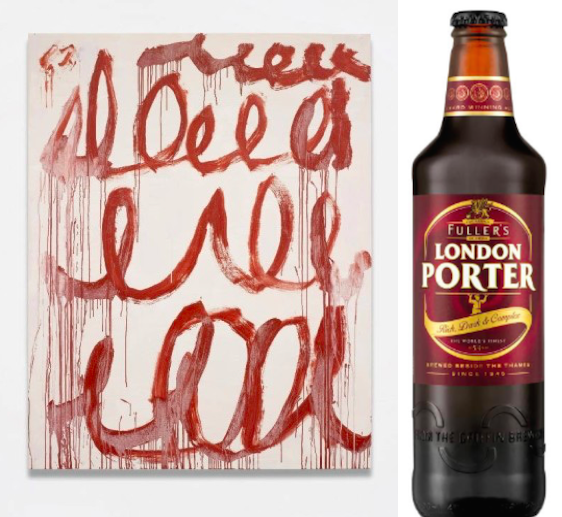 4. Cy Twombly's Untitled, 2006. Estimate $12.2–18,300,000. Phillips Contemporary Art Evening Sale, London, October 14, 2015, 7 p.m. Best served with Fuller's London Porter. Price: $3.50.
Three masterpieces (and three beers) in, and Cy's swirly brushstrokes are probably making you feel a bit woozy. Untitled was completed in the autumn of 2006, marking the artist's mature and eloquent marriage of several key styles that had been established over several key points during the master's career. This work taps into the infinite feedback loop that was Twombly's practice: a sublime but Sisyphean journey, where inception and completion blur into the forever now.
Out of respect, we couldn't match Untitled with anything but a Fuller's London Porter in an English pint glass. Call me a homer if you will, but I believe it to be the world's finest porter: a rich and complex beer with a depth of flavor that stands in total harmony with its dark, meaty body. Accompanied by a minimal tan head and a blend of brown, crystal and chocolate malts, the London Porter is the ideal wingman on a journey into a state of divine aesthetic contemplation, courtesy of a Total Boss.
5. Agnes Martin, Untitled, 1999-2000. Estimate: $3.8–5,330,000. Sotheby's Contemporary Art Evening Auction, London, October15, 2015, 7 p.m. Best served with Buxton Axe Edge IPA. Price: $5.00.
Speaking of Total Bosses, you thought this list would be a standard "boys club," didn't you? Nope, we absolutely could not conclude without evoking the shimmering surfaces of Agnes Martin's Untitled. It's a mesmerizing sherbet dip of contemplation that reduces one to a joyful puddle of tranquility in its presence. It's sweet but not saccharine; powdery blue, chalky yellow and glimmering pink bands trace horizontally across the work's surface, allowing the eye and soul to contemplate in pleasure. An ale is sincerely not needed for such a clear-eyed piece of nobility, but as an Englishman always completes his task, let's bull forward and again select an IPA, but this time one that is strong, subtle and sublime.
The Buxton Axe Edge is such an animal. Hopped with Amarillo, Citra and Nelson Sauvin, the Axe has a pale, straw-amber body to die for and pours with a full, creamy head. The artistry of this IPA is in the way it weaves a complex balance of flavors—mandarin orange, schnapps, pineapple and other tropical fruits—into a classy, dry finish. Much like this opus.
Whether you're buying or just browsing, best of luck at this week's auctions, and remember to savor them—they'll be gone long before your hangover, I'm afraid.