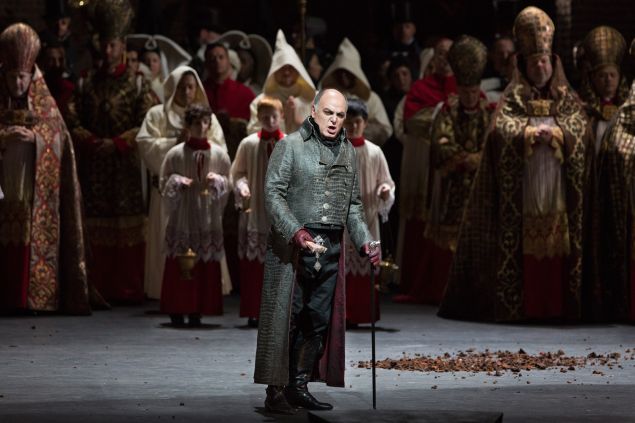 Puccini's Tosca is what is known in the trade as a "bread and butter" opera, which in general is a fair appraisal. It's something familiar and unthreatening you consume while you wait for the main course (e.g., next month's new William Kentridge production of Lulu) to arrive. It's the opera you do when you can't think of an opera to do.
Dramatic soprano Birgit Nilsson once told an anecdote about a mix-up when she arrived at a German opera house expecting to sing Un Ballo in Maschera when La Forza del Destino was on the bill. (The titles of the two Verdi operas sound similar in German, especially over a bad long-distance connection.) This could have been a disaster, since Ms. Nilsson didn't know Forza. But on the spur of the moment, they just did Tosca instead.
The Met is throwing a lot of Tosca at the stage this season—13 performances with four sopranos sharing the title role. Besides that, the scheduled conductor for this first part of the run, Plácido Domingo, got sick during the dress rehearsal, leaving Marco Armiliato to wing it unrehearsed in the pit on October 16.
This sounds like a recipe for disaster, but, in fact, it turned out to be a solidly musical performance, with Mr. Armilato maintaining ensemble even in the tricky second act. He seemed to intuit the singers' needs, for instance speeding up Tosca's aria "Vissi d'arte" just a hair to sync with soprano Oksana Dyka's no-nonsense tempo.
If Ms. Dyka's steely vocal timbre is less than ideal for the character of the hot-blooded Italian diva Tosca, her voice sounded healthy and vibrant, with free, open top notes up to a spine-tingling high C. Both her singing and her acting were old-fashioned, in the positive sense: larger-than-life phrasing paired with grandiose arm gestures.
As her lover Cavaradossi, Roberto Aronica boasted parallel virtues: a big, vibrant tenor with plenty of ringing on the high notes, plus a burly, masculine stage presence. Best of all the principals, though, was Roberto Frontali as the sadistic police chief Scarpia, really singing with warmth and lyricism where most baritones resort to shouting. He even turned his compact size to his advantage: there was something particularly eerie about seeing the statuesque Ms. Dyka cowering from a villain half a head shorter than her.
It's also a good sign, I think, that Luc Bondy's production has preserved at least some trace of its nasty, anti-romantic tang. There was a moment I remember from the opening night in 2009, when Tosca has just realized she will be forced to have sex with Scarpia in exchange for the life of her lover. As the diva (Karita Mattila, then) sang the prayer "Vissi d'arte," she glanced down at Scarpia's dinner table and grasped a knife, long before this discovery is indicated in the score. The terrifying implication seemed to be that the answer to her prayer was: "Here's a weapon. Defend yourself if you dare."
That bit was still there, sort of, on Friday night. It didn't make much impact, though, because Ms. Dyka didn't seem to quite grasp the psychological subtext of the gesture. Instead, she looked like she was about to carve a turkey. But that's what happens when a busy opera house revives Tosca: there's little time for fine-tuning.
Another reason this opera turns up so frequently on the Met's schedule is that all divas who can sing Puccini—and more than a few who can't—just adore taking on the flamboyant acting challenges of the role of Tosca. Even dramatic soprano Deborah Voigt tried the part on at the Met a decade ago, though without notable success.
Ms. Voigt was at her best in the heroines of Richard Strauss, notably Chrysothemis in Elektra back in 1992, the performance that really put it on the map. She was also a sumptuous Ariadne, and, in the Wagnerian repertoire, a vocally resplendent Sieglinde. But her attempts at Verdi, Puccini and the heavier Wagner parts like Isolde and Brünnhilde, some handsomely sung and others less so, all felt incomplete. There seemed always to exist an uneasy distance between Ms. Voigt and what she was singing, a lack of emotional connection.
For a long time, then, the riddle has been: What is this singer's ideal repertoire, the music that would unlock whatever it is she's kept hidden all this time? I for one would never have guessed that the answer to this question is "Gilbert and Sullivan." And yet, her first try ever at this lighter material, the comic role of Ruth in The Pirates of Penzance, revealed the Deborah Voigt that seemed to be AWOL all those years at the Met: sparkling, witty, warm and utterly delightful.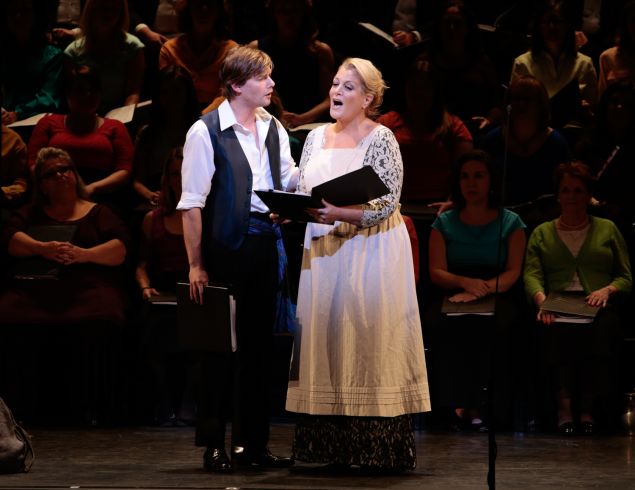 The occasion was a semi-staged concert reading of the operetta by MasterVoices on October 15 at New York City Center, when Ms. Voigt outshowed a cast of Broadway veterans. She found all the laughs in the dialogue without resorting to exaggerating mugging, and she sang the low-lying lines of this alto part with an easy mix of chest and head tones.
If she looked a trifle glamorous for a character the libretto describes as "plain and old"—she showed up in the second act sporting an outfit Auntie Mame might wear to a pirate-themed cocktail party—that was all part of the fun of a prima donna's reinventing herself as a musical theater diva.
Now that Ms. Voigt has cut her teeth on G&S, I'm eager to hear her as Nettie Fowler, as the Mother Abbess and especially as Mrs. Lovett. As for the rest of the cast, I'm in no hurry to endure their pulling around of the tempo and bawling any time soon. The MasterVoices chorus is another matter: their buttery tone and diamond-sharp diction were simply delicious, as was Ted Sperling's agile, airy conducting of the Orchestra of St. Luke's.