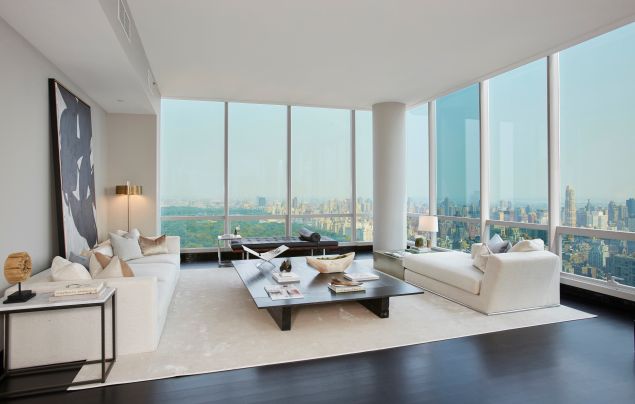 The lobby of 157 W. 57th Street, which briefly held the distinction of being the highest residential building in the Northern Hemisphere, was not so much hushed as vide when we walked in on a recent autumn afternoon—a characteristic that persisted as we ascended to the fifty-fourth floor. But then, one does not move into a ultra high-end skyscraper like One57, which boasts a great deal of half- and full-floor units, with the intention of seeing much of one's neighbors.
All eyes are, of course, directed to the soaring views, which unit 54B, a 5,475-square foot unit listed with Leslie J.W. Singer and John Venekamp of Brown Harris Stevens for $35.2 million, has in abundance. There is even a sizable window framing Central Park in the hallway outside the front door, such that the eventual occupant might have something pretty to look at whilst digging out her keys. Not quite the same abundance as the floor-through units in the building, of course, a discrepancy which apparently made itself felt to the unit's owner, who put the condo on the market after deciding she "wanted more space" and so purchased the entire 81st floor.
The never-occupied apartment has Thomas Juul Hansen-designed sponsor finishes, which include green onyx or travertine marble bathrooms and a Smallbone kitchen with a built-in espresso maker and kitchen stools. Appliances—ovens, refrigerators, dishwashers, etc.—have been installed in duplicate.
It has also been staged of late in an aggressively elegant monochromatic color scheme by Interior Marketing Group, an effort which Mr. Venekamp said cost "in the six figures."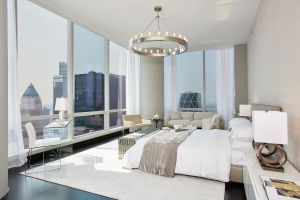 The four-bedroom (five if you wish to forgo a library) is divided into entertaining and private quarters, with the master suite alone sprawling to 1,152 square feet. Here the theme of doubles returns, with two toilet stalls in the master bath (though only one comes with a bidet). "You would never want to have to wait," explained Ms. Singer.
Indeed, despite the One57's atmosphere of pampered ennui, there seems little chance that much waiting will take place within the building's glass curtain walls. On our way out, we stopped to see the gym, where a lone man did bench lifts with the only the front desk clerk for company. The pool was visible through an interior window, its surface unmarred by swimmers as a bored lifeguard flicked at his phone.