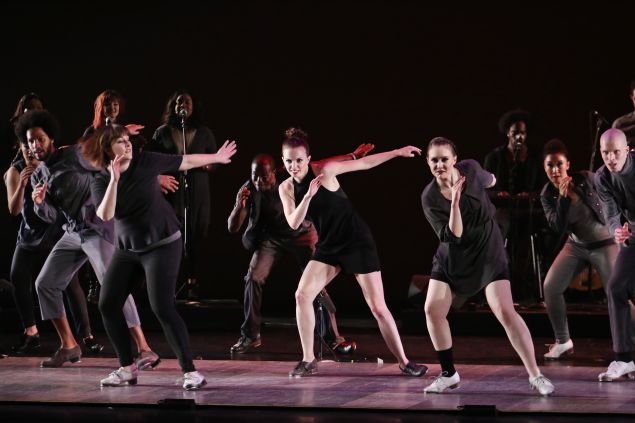 Another year, another Fall for Dance. After a dozen years now we've gotten spoiled—what a way to be exposed to so many different companies, dancers, styles! A taste of ballet, a dash of flamenco, a dip into Indian, and on and on—the mix has grown predictable, but that doesn't mean it's valueless. And for critics it's invaluable; even if we have to sit through work we know we won't like, we also run into beloved favorites: this year, for instance, Paul Taylor's Brandenburgs, wonderfully performed by his own company. (They'll be at the Koch in March—go!)
This impeccably structured Bach work has both rigor and charm—not a combination frequently encountered. It also has the magnificent Michael Trusnovec as its anchor—an incomparable artist you can't take your eyes off, although he's the opposite of a showboat: he's Apollonian. In fact, there's a moment in Brandenburgs when he's dancing with three women (Parisa Khobdeh, Michelle Fleet, Eran Bugge), in an apparent reference to Balanchine's Apollo, and you curse the fates for never having brought that masterpiece and Trusnovec together. (Remember: Balanchine himself invited Paul Taylor to dance Apollo for City Ballet.)
A number of other major institutions dropped in to the City Center. I had to miss Miami City Ballet doing Balanchine's Allegro Brillante and Alvin Ailey doing Ronald K. Brown's Four Corners (you'll be able to see the Ailey piece during their annual residency in December; I will, and you should, too). Both San Francisco and Houston sent emissaries. From the City on the Bay, we had Hans van Manen's Solo but not a solo, as you might have expected, by a single dancer: it took three young men—all exceptionally gifted—to demonstrate van Manen's vapidity as a choreographer. If we're going to get Eurotrash, can't it at least be today's, not from almost twenty years ago? The Guardian reports that van Manen "has been called the Mondrian of ballet, the Versace of ballet, the Pinter of ballet and the Antonioni of ballet." Alas, he's only the Van Manen of ballet.
As for Houston, its artistic director is Australian Stanton Welch, and he brought us a work by Stanton Welch: Maninyas. Five couples and a lot of cloth. The dancers emerge from curtains at the back and recede back into them. The two prominent elements of this piece are the women's long skirts and the men's bare chests. The skirts are swirled, twirled, fluffed, thrust backwards between legs; the chests are flaunted. There's not a single interesting choreographic moment, but has Welch ever come up with an interesting choreographic moment? He had his minute in the sun during the '90s—he was everywhere—but then Texas claimed him, and I say "Yippee!" The next flavor of the decade was Boston Ballet's Jorma Elo, blessedly absent from this year's Fall for Dance, but certain to reappear, like the living dead.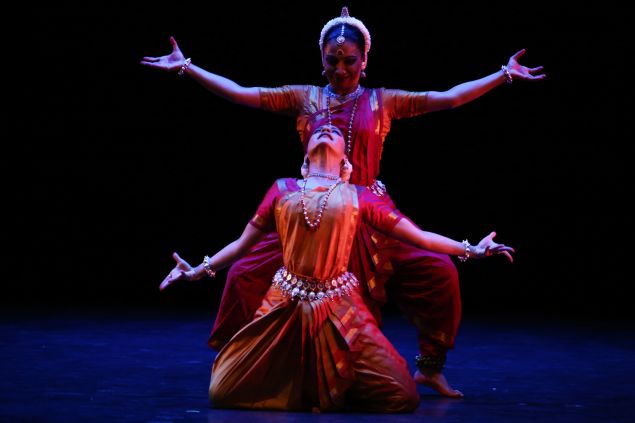 What Boston did bring us was one of the festival's happy surprises—a version of the famous 19th century Pas de Quatre, featuring four of the greatest ballerinas of the period, the most celebrated of whom was Marie Taglioni. The version most of us know was staged by Anton Dolin in 1941, to the original, highly conventional Pugni score. It's a charming valentine stressing the rivalries involved, especially Taglioni's assertion of primacy, not a big stretch for Dolan's muse, the ballerina assoluta Alicia Markova.
The music for the Boston version is taken from Bellini's Norma for the choreography of the Russian Leonid Yacobson, born the same year as Balanchine (1904), and a modernist rebel, whose Jewish background further alienated the Stalinists; it would be a long time before he would be rehabilitated. (The work of his we know best is the solo Vestris, which he created for Baryshnikov in 1969.) Yacobson ditched the cute ballerina-competition aspect of the work that Dolin had stressed, and created a purely abstract ballet featuring the individual styles of four superb dancers. The Boston ballerinas rose to the occasion—this was a lovely performance of a lovely ballet that it would be good to see again. Hats off to Yacobson, Boston, and Fall for Dance.
The two major American companies, City Ballet and ABT, didn't turn up (usually they manage to scrape together a pas de deux). But an unofficial representative of each of them was on hand. Everybody's ABT favorite, Herman Cornejo, joined choreographer Fang-yi Sheu in a sinuous pas de deux called Pheromones. No surprise that Sheu's work is pure Martha Graham, since she was the Graham company's leading dancer for years, and a marvel. Apparently, pheromones are chemicals in our sweat that can arouse sexual impulses, and those impulses are definitely aroused in this ultra-derivative piece that looks like a slice of some unidentifiable Graham mythic drama. Graham did it better.
City Ballet's Tiler Peck joined another universal favorite, Bill Irwin, in a frolic called Time It Was/116. He's an old-time vaudeville soft-shoe type, she's a classical ballerina. They gambol, they parody each other, they lovingly compete and cheer each other on, they mug (and then some): they're both New York pets, and how the audience loved them! Once, fine; please never again.
There was high seriousness. From Stephen Petronio's severe Locomotor—an extended, intelligent, highly worthy and beautifully danced piece, by the first male dancer to appear in Trisha Brown's company, back in the early '80s—to Pam Tanowitz's equally worthy post-Cunningham One Last Good Chance. Worthy—and so self-consciously pure that, alas, it bores.
From the subcontinent? Shivashtakam (An Ode to Shiva): choreography by Surupa Sen; leading dancer (of two), Surupa Sen; for the group called Nrityagram, artistic director, Surupa Sen. She's a mature dancer—serene, eloquent, appealing. But what, I have to ask, is Indian dance to me or me to it? Exotic but impenetrable territory.
And then there's flamenco—from Barcelona a piece called Ímpetu, choreographed and danced by Jesús Carmona. It is, we're told "a work about the energy that drives artists to realize their dreams." Actually, no. It's a work about studly narcissism—or is that the definition of male flamenco? Brilliantly pounding heels, head tossing, glaring intensity—olé!
A far more amusing (and quieter) solo from Steven McRae, a star from England's Royal Ballet: Czardas, a witty blend of tap, ballet and ethnic. McRae's been with us before at Fall for Dance, and once again he proves to be a perfect palate-cleanser after the act that preceded him—in this case La Compagnie Hervé Koubi. Think beautiful bare-to-the waist muscular bodies; think daring falls from on high; think acrobatics; think men spinningon their heads on and on … and on. Effective, even (at moments) exciting.
And from Brazil, back after several years, Companhia Urbana de Danća with another mix of bravura and propulsion, hip hop and all. Impressive, but too long and without structure.
I've been saving the best and worst for last. Worst (ever), 47 minutes of something called Killer Pig—yes—from the Israeli company L-E-V, founded by two heavyweights named Sharon Eyal and Gai Behar, late of the renowned Batsheva company. I won't try to describe it because I don't want to think about it. It's enough that I survived it (and I'm not sure I did, at least with my mind intact.) Suffice it to say that it was agonizingly slow, agonizingly empty and agonizingly long.
Not so with Myelination, performed by Michelle Dorrance's company—a packed ambitious big work for 12 tappers, including of course Dorrance herself. This is the largest-scale tap work I've ever seen. It opens with two dancers who apparently have six legs, and it never looks back. After all the narcissistic, self-indulgent male tap we've been exposed to in recent years, what a relief to be handed a full, cheerful, generous dance work that starts somewhere and goes somewhere, with a ton of invention in between. And unlike most of the Fall for Dance offerings this season, the guys even had shirts on! Someone involved with programming obviously appreciates the male chest. But we're not complaining about F.F.D. Not only did they give us Myelination (look it up)—they commissioned it!