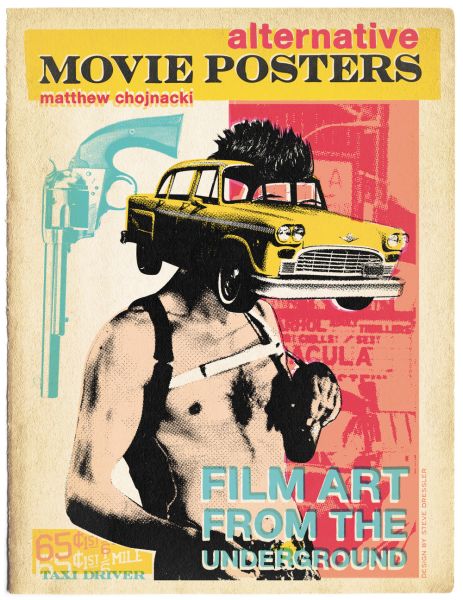 Gorgeous, eye-popping movie posters are still out there—they just aren't being made in Hollywood anymore.
A vast, growing network of artists designing some of the most innovative movie posters in decades—completely independent from Hollywood studios.
Author Matthew Chojnacki documented the artwork of the movement in his 2013 book Alternative Movie Posters: Film Art from the Underground, and a sequel book—Alternative Movie Posters II: More Film Art From the Underground—is  published in November.
According to Mr. Chojnacki, who works in finance by day and is an author in his spare time (his first book, Put the Needle on the Record, was about vinyl album art from the 1980s), the popularity of artist-designed posters grew organically through social media.
"It's a great way [for artists] to get their art noticed," he told the Observer.
Mr. Chojnacki first stumbled upon the DIY movie poster phenomenon while collecting artist-designed gig posters for music shows. Many of the artists he encountered were also making posters for film festivals and screenings. To Mr. Chojnacki, the vibrant art and the underground nature of the movement seemed a ripe topic for an art book.
"There were a good amount of designers upset about the way movie posters were being designed," he said. Plus artists were upset that the movie poster was no longer an art form.
Rather than hiring artists to create posters based on a film's plot or genre, posters that focus on celebrity head shots have become the status quo in the industry today.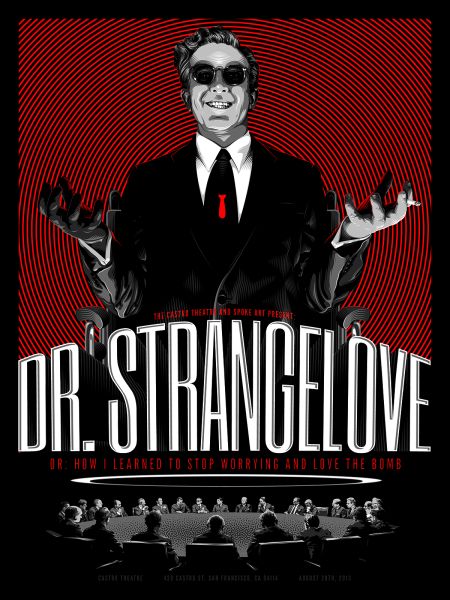 And while some artists are just creating the alternative posters on the side, others are hoping to get noticed by the very industry they're critiquing—something that's happening more frequently thanks to the high proportion of Internet sharing among fans.
"It's a strange phenomenon for fan art to be more popular than the official art," said Mr. Chojnacki.
It must be strange indeed to have Quentin Tarantino call you about your fan art. Artist Federico Mancosu, whose bold red and green graphic designs for Full Metal Jacket and Escape From New York are featured in the first book, created a poster in 2011 for the film Django Unchained. After the poster was shared on director Quentin Tarantino's Facebook page, Mr. Mancosu was contacted by the film's production house asking if the image could be used in a promotional campaign for the film.
Meanwhile, posters from the 1970s and 1980s—for blockbuster movies like Star Wars, Indiana Jones, and Back to the Future—have become as iconic as the films themselves. (The man behind the aforementioned posters, artist Drew Struzan, is one of a handful of poster artists who have become superstars; he has gone on to create notable designs for films like Blade Runner, The Things, Police Academy, and, more recently, AMC's The Walking Dead.)
Mr. Chojnacki compiled 200 examples of original poster art from 100 artists on the underground scene into the first book. He perused Instragram, Pinterest and film and design blogs and found artists creating hand-drawn and printed, limited edition, alternative art for movie classics like The Shining and Alien or recent hits like Guardians of the Galaxy and Iron Man, and selling them online.
"When I was doing the first book it was a real struggle to find 100 artists doing it," he said. "There are probably 300 to 400 artists doing it now."
In addition to their own personal websites, artists are finding success sharing their work on social media platforms like Instagram, Tumblr, Facebook and Pinterst, where Mr. Cojnacki says some posters can get upwards of 50,000 shares. Sites like Expressobeans.com cater just to poster art, and sort new releases and the week's most popular submissions. Deviantart.com, an online community for sharing both fine art and fan art, is also a hot spot for poster art.
Many are experimenting with alternative printing techniques and inks, using colors that are black light sensitive, scented and even flavored. Because posters are released in limited runs, many sell out online fast. For collectors purchasing online, an original poster will usually cost around $50 or less.
As well as featuring original artwork, Alternative Movie Posters includes short interviews with each artist on their favorite films, the inspiration behind their posters and the mediums they're produced in.
"I collect original theatrical posters and the art of interpreting an entire movie in one sheet of paper is nearly lost today," said artist duo Mile 44 in their blurb for Alternative Movie Posters. The duo, who are Dave Windisch and Stacy Curtis, contributed posters for Psycho and Monty Python and the Holy Grail to the book.
"You don't have to be living in New York to be rep'd by a pop art gallery, you can use social media to get noticed—this movement has grown that way," he said.
Alternative Movie Posters II: More Film Art From the Underground is set to be released November 28.