One thing that you are probably not taught in J-school: how to tell a celebrity during an interview that you found their latest performance unwatchable. Forget the career in journalism, actually: it's just poor social form. But when you find yourself inches away from legendary Sarah Silverman, so close that you're literally brushing elbows with one of your comic idols in the inexplicably tight kitchen of The Surrey Hotel's gigantic presidential suite, impulse control is particularly hard.
"At one point I had to get up and take a break; I went downstairs and smoked a cigarette," I told the 44-year-old about her dramatic turn in I Smile Back, adapted from Amy Koppelman's novel on crushing substance abuse, which opens in select theaters and VOD this Friday. "It was too real to watch."
Moments earlier, sitting by a grand piano, lit by the cold October morning's sun, Ms. Silverman had cautioned as much. "This movie is not going to be for everybody, it's not going to be everyone's cup of tea," she said, facing me with uncharacteristic reserve as she discussed the reactions to her character in the film, Laney Brooks, a mother of two. "You can have empathy for her, you can have sympathy for her; you can be angry at her, disgusted by her. That has all to do with you: the context of your life and the context of your world."
Dressed conservatively in a black midi skirt and short-sleeved top, her hair pulled back tightly, Ms. Silverman cut an intimidatingly authoritative figure. Her response to my question about what she thought about the cultural conversation surrounding the unlikable/female protagonist—a category as certain to be applied to Laney as it was to Rosamund Pike's Amy in Gone Girl—left me chastened; a preemptive rebuke to my kitchen confession.
Despite her prolific career as a comedian—88 acting credits on IMDB, including SNL in 1993—Ms. Silverman has only appeared in a handful of films. The most commercially successful of which—the animated Wreck-It Ralph, in which she voiced the eternally bouncy Princess Vannelope von Schweetz—she doesn't appear in at all. (I Smile Back features a sly-if-intentional visual callback to her cartoon history: Laney often refuses to eat, opting instead for the sugar crush of a large, red lollipop.) She had a small but memorable role as Geraldine, a recovering alcoholic, in Sarah Polley's 2011 drama, Take This Waltz. It seemed significant, perhaps intentional, that both dramatic roles Ms. Silverman has chosen for herself involve characters dealing with substance abuse.
But Ms. Silverman disagreed with the premise. "Both of those movies were rare instances. Polley saw me on my Sarah Silverman Program (on Comedy Central 2007-2010), where I basically played Bugs Bunny, and could see me as Geraldine. Koppelman heard me on Howard Stern, talking about depression, and could see me as Laney."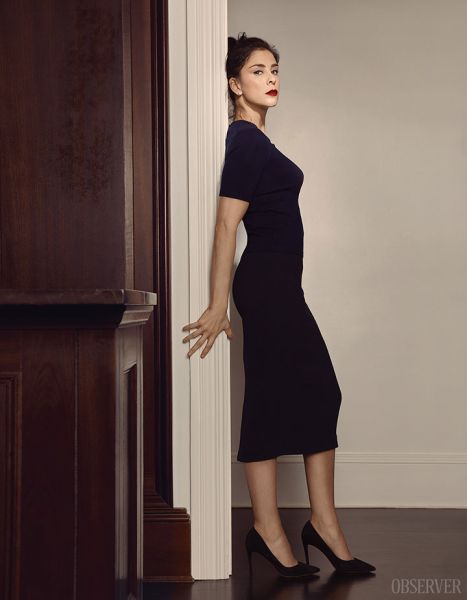 Well then, I asked, switching gears, how about the fact that both dramas had been written by women: surely that was a significant detail?
Another strikeout. "That's another two out of two. It was arbitrary," she said. "Both [Polley and Koppelman] could imagine seeing me in something I hadn't done before," she relented. "It is so, so rare in the creative world these days to have someone who can imagine you as something they haven't already seen you do."
Ms. Silverman, who (quite reasonably) has been scathing in interviews that can think of no other way to frame her experience in comedy except "as a woman," seemed equally unwilling to cop to a dramatic career driven by some statement on gender politics.
"It was just luck that the opportunities presented themselves," she said. "I took them because I'm no dummy." As for strategy, "I'm never really scheming or planning or looking for what I'm going to do with my career. I've never looked at my 'career' as a whole," she said, with the obligatory air quotes.
So, I try another tack: "You've had to field a lot of questions about what it's like to be a woman in comedy. Has this film shifted the focus: 'What it's like to be a woman in drama?' "
"No, it's still the same comedy question," she said. "But the landscape for women in comedy changed, it went from a boys' club to a girls' club. And we love our boys! I mean, comedy is a tight-knit community, especially stand-up, and we all cross paths. So many of us are fans of each other. We've been so pitted against each other as these battle of the sexes but I think that it's women who are powerful and strong now, who run comedy. I mean it's Tina and Amy and Chelsea Handler and Chelsea Peretti. And Tiggles (Tig Notaro)! And Natasha Leggero and Lena Dunham. It's all these very strong women voices."
This has been a big year for Ms. Silverman. Her pilot is in some stage of development at HBO, and she's got a role in the upcoming Naomi Watts vehicle The Book of Henry, directed by Colin Trevorrow, who will then go on to start production on Star Wars IX. Ms. Silverman's followed up on her prestige drama debut on TV, playing an out 1960s lesbian, Helen, trying to have a baby with her Betty in the third season of Masters of Sex. Perhaps ironically, the show stars Ms. Silverman's current boyfriend Michael Sheen.
Ms. Silverman copped to the fact that she hadn't been a fan of the series until she started dating its star. "I used to watch Homeland, and afterward you'd hear a commercial: 'Do you like Homeland? Then you'll love Masters of Sex.' " Ms. Silverman drops the announcer voice. "And I'd literally scream at the TV, 'WHY?! WHY WOULD I LOVE MASTERS OF SEX IF I LOVE HOMELAND?!' In what way are they in the same world?!"
She began watching the series at night during the shoot for I Smile Back; the Emmy-nominated series stars Mr. Sheen as Dr. William Masters, who pioneered studies of human sexuality alongside his co-researcher and romantic partner, Virginia Johnson. In Masters, Johnson is played by Lizzy Caplan, a 33-year-old comedic actress best known for playing the sarcastic Janice Ian in Mean Girls, the also sarcastic Casey Klein on Starz's cult comedy Party Down, and being, let's say, "a Sarah Silverman type."
"It's so funny, right?" Ms. Silverman offered. "That she's like the younger and prettier me…" She waves her hand, preemptively fending off potential protest: "Look, I know, I know, I'm beautiful and special and all that."
I shake my head in mock confusion. "I wasn't going to say anything."
"Oh!" Ms. Silverman exclaims. "Shit!!" We both crack up, and, in composing ourselves, she rolls her eyes and grins.
The world of comedy is known for attracting people with all sorts of deep-seated issues, the most notorious being a deadly combination of drug and alcohol abuse, with a side of DSM-diagnosable conditions. Ms. Silverman herself had an early brush with depression that was all the more tragic because it came seemingly out of nowhere at 13.
"I remember looking at my friends and thinking about how I just didn't want to hang out with them," she recalls. "I wanted to be in my room alone, listening to music. I'd be at school every day and see these people who were just around, being able to live life. They weren't crying, they weren't devastated; they're just living life. I was just so desperate, I was so jealous."
Luckily, she didn't follow Laney's pattern of substance abuse to get out of it. "I'm actually on a low dose of Zoloft: I'm so happy and grateful for it. I've been lucky; it's the perfect fit for me. I don't feel the need to go off of it. But I know people around me who are on different medications, and they feel squashed. They don't have the highs and the lows. I do, and I'm able to live life."
Though she likes to smoke pot—she showed off her weed vape pen on the red carpet at this year's Emmy's—she dislikes being drunk, or being around people who are.
"I almost have a full-on phobia of drunk people, which is crazy because I am in a world where there are so many drunk people, in comedy clubs," she said. "I hate drunk people in my space. Talking close. Feeling judged, because they are judging themselves. When I'm at a party, after the first drunken wave happens, I go home," she said.
I mention that Chris Rock bit, where he compares being a celebrity to being a hot chick: that sense of entitlement people have coming up and demanding your time, since ostensibly it's complimentary attention. Being both a hot chick and famous, I surmised, must be doubly tough.
"Right, it's like, 'Can I walk with you? Oh, you're a bitch??'" Ms. Silverman shudders. "It's the way I get approached, which has a lot to do with my public persona. People think they know me. People grab me and pull me. It's terrifying. It so violating."
"And I'm a stoner!" Ms. Silverman adds, as if affirming her street cred. Later, I will realize this is what celebrity journalists mean with that old cliche that famous people are "just like us." It had never registered when I read profiles where Cameron Diaz or Jennifer Lopez ate a cheeseburger while someone stared and took notes about it, since that has literally never happened to me. It would be a lot more persuasive if I learned that, like Ms. Silverman, some famous people and I perform the same nightly rituals in the privacy of our own homes.
"I'll have a puff and watch Law & Order before bed," Ms. Silverman told me, as if revoking her own Cool Card. But my heart flutters in recognition. I prefer to smoke pot and watch Dick Wolf's oeuvre rather than hang out at bars and parties. Sarah Silverman is just like me!
The flip side of identifying with Ms. Silverman—whose sexy-cute persona and filthy mouth gave hope to a generation of young Jewish weirdos such as myself during the tough post bat-mitzvah years—is over-identifying with her. Since she's mostly played the Bugs Bunny version of herself, that's never been a problem before now. I Smile Back is such a dark, bleak look at drug abuse, addiction and depression it might as well be called Requiem for a Dream 2: Suburban Boogaloo.
As a wealthy and adored young mother living a life of suburban privilege in upstate New York, tricked out with all the accessories that entails: private school for the kids, a doting and ambitious husband (Josh Charles, her Masters of Sex co-star) with a self-help best seller on the horizon, a lover on the side (Thomas Sadowski, channeling Cheever)—Laney is a miserable train wreck. She forgoes the prescriptions in the cabinet, instead choosing to self-medicate with cocaine, alcohol, amphetamines and sleeping pills: by the time we meet her, she's poised to strike rock bottom.
"There is a freedom to being off your meds, and it can turn real bad. You can lose control," Ms. Silverman said. "It's funny because it comes from a desire for control. Laney's drug use is so wild and out of control, but that's the only thing she has control over in her life…her own destruction."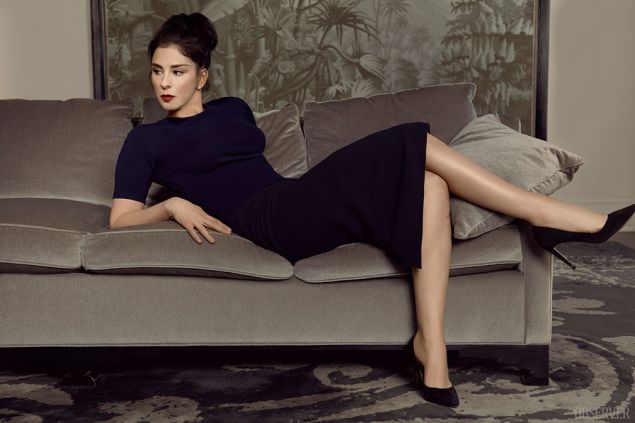 There's the inevitable breakdown and rehab sequence, occurring too soon in the film's second act to signify any sort of conversion or happy ending. The binge that proceeds it culminates with one of the most excruciatingly traumatic scenes in recent cinematic history: drunk on vodka, high on cocaine and a fistful of pills, she enters her sleeping children's room and proceeds to masturbate on the floor with an old teddy bear. The act is consummated in a tight shot of Laney panting and moaning, none too softly, to completion. It's one take, in too-real time: at the risk of relaying my own subjectivity, I have to admit that the actual scene might clock anywhere from 40 seconds to the rest of your life that you'll spend with such sexually explicit taboo imagery seared into your brain, irreversibly.
"There's something about that moment that's so important to me," Ms. Silverman said of the scene. "It's so fucked up, but she's so shame-based, part of it is like this pleasure/shame." We've moved from the formal dining room to a large couch in the open-spaced living area; where Ms. Silverman sinks down and stretches out, both more relaxed and engaged. She speculates on the teddy's origins: it's older than the rest of the toys, so maybe it was Laney's own stuffed animal growing up.
"Maybe something her father gave to her," she mused. Ms. Silverman pauses, weighing, perhaps, the appropriateness of where this line of questioning has brought her. But this is Sarah Silverman we're talking about here, so raunchiness wins out over discretion. "And then there a pragmatic part of this, where the bear's nose is just so…pointy."
That's so funny, and so wrong, and it's clear that this scene will be: a) the most divisive thing about the film (with a 50 percent score on Rotten Tomatoes, viewers already seem to be split down the middle); b) the turning point in Ms. Silverman's career as a serious, perhaps even award-winning, actress; and c) further evidence that Sarah Silverman is such a keen observer of the human condition that even while discussing one of society's biggest taboos, she still can't help but be funny.
So what are we supposed to take away from a film that's such a hard left turn for her?
"I don't have anything specific that I want people to come away with…I hope that it sticks with them. I just love that it can mean so many things."
Sarah Silverman has to catch a flight, and her team begins to usher her out. We both stand up, a little awkwardly formal again. "I hope this was O.K.?" Despite doing press all week, and, in some sense, most of her life, she still worries she hasn't given enough of herself. She extends her hand, but too bad, I go for a hug. (I do feel badly about that, as someone who also hates being touched by strangers.)
Though it's hard to explain, given the subject matter that we've been discussing, I leave the interview relieved. This Sarah Silverman is a real person, one who worries that she could have done a better job. I told you: She's just like us.
Just before she leaves, she turns and smiles. I smile back.