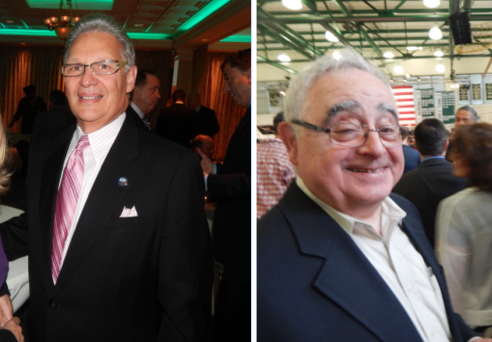 The two chairs of Bergen County's primary political organizations—Bergen County Republican Organization Chairman Bob Yudin and Democratic Committee of Bergen County Chairman Lou Stellato—have a lot riding on the November 3 elections. While some are saying that Yudin's time as chairman will be deeply impacted by the results of this election, it seems that Stellato is thriving in the position he has held since 2011.
This year has been a rocky one for Yudin, who has been BCRO chairman since 2008, due to the eruption of scandal in LD38, something that may be indicative of greater overall problems for the GOP in the county. The chairman was criticized for a lack of properly vetting candidate Anthony Cappola when it came out that he had written a book that included negative speech against minorities, seniors and homosexuals, among others. This criticism comes despite the fact that Yudin initially supported the nomination of Ed Trawinski in Ld38 (Cappola was selected by the convention). After the BCRO told Cappola to step down, Yudin was adamant that Republicans would be able to pay to replace him on the ballot with Fernando Alonso. In the end, it turned out that the cost was too high, leaving Alonso off the ballot and allowing Cappola to continue his candidacy in the district.
The Cappola incident has wounded his running mate Mark DiPisa who now refuses to be associated with Cappola. By extension, it has also wounded Yudin. LD38 has long been considered one of the few competitive districts in the state and a situation like this one has most likely handed the election to incumbent Democrats Tim Eustace and Joe Lagana.
For Stellato, however, the race in LD38 is likely to be a victory. Despite revelations coming out about both Cappola and DiPisa, Eustace and Lagana have, so far, been sparred from any unsavory revelations into their pasts. If they win this year—as they seem poised to do—Stellato will have demonstrated his ability to win and keep seats in the district. The win would also be indicative of what looks like a larger shift in the district's politics because it will mark twelve years since LD38 has had a Republican Senator or Assemblyperson.
The freeholder race, though it has not been marred by as much conflict, will also be a telling one for both Yudin and Stellato this year.
In 2013, Republicans lost their 5-2 majority on the freeholder board in Bergen County. Currently, three Republicans are aiming to get that majority back from Democrats: former Freeholder John Mitchell, Ken Tyburczy, and Daisy Ortiz-Berger. If Yudin can guide Republicans to victory here it will help solidify his leadership at the county level and quell concerns over the mess in LD38.
Stellato, however, seems poised to lead Democrats into victory. His party's candidates (Tracy Zur, Steve Tanelli and Tom Sullivan) have the advantage of being incumbents. In a low-turnout year such as this one, that fact holds significant weight as few are likely to head to the polls to cast votes for candidates.
If the Democrats do lose, however, the blow will probably not be so crippling to Stellato due to the role of Democrat James Tedesco as County Executive.
Overall, Stellato has also shown a significant fundraising benefit to Yudin with both freeholder candidates and the LD38 assembly candidates running on the democratic ticket raising significantly more money than their competitors.
Since Bergen County is often considered the bellwether county of New Jersey, the election is typically watched throughout the state. As 2017 gubernatorial candidates will soon begin to ramp up their campaigns, the Bergen County outcome in November could shape the relationship of Stellato to that coming race. If Stellato wins this year, he could become a real power player in 2017 as the Democrats aim to reclaim the governorship from a Republican candidate like Lt. Gov. Kim Guadagno who is likely to run to replace Chris Christie after his term ends.
While the fate of neither chairman will be solidified on November 3, it seems that the future of both will be impacted by what transpires next week.