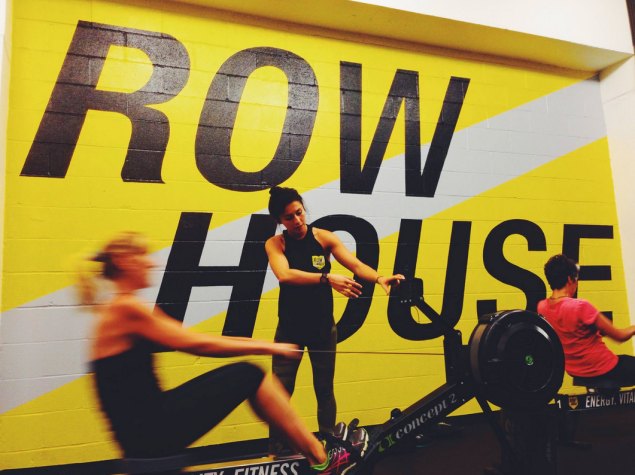 There is no doubt an hour at SoulCycle, Flywheel or any of the city's top spin studios will leave one drenched in sweat and gasping for breath. But in terms of getting a great full-body work-out, spinning, which mostly works the lower body, has nothing on rowing—or so say the founders of a boutique group rowing studio about to open its next location in Chelsea.
"People call cycling 'full-body' because they've started to add upper body weights in the last five minutes of class," Debra Strougo Frohlich, who founded Row House with husband Eric Von Frohlich, told the Observer. Rowing is actually a full-body workout, she claimed, "because the entire duration of the class you're working your full body."
Currently with locations in Columbus Circle and on the Upper East Side, the group rowing studio Row House will open its third location in Chelsea on Monday, October 12. This is no intense leg workout coupled with a few dinky bicep curls as an afterthought; according to Mr. Frohlich, the rowing machine "works 90 percent of your body in every stroke."
The studio—which caters to clients of all levels of rowing experience—offers three primary workouts, each 50 minutes in duration: Full Body, which trains all the major muscle groups, Core, which devotes extra attention to core strength and stability, and Endurance, which helps maximize the time one can spend on the rowing machine. Rowers can expect a mixture of interval training and longer, endurance-building exercises.
"You'll be doing this all together in a kind of rhythmic motion that's very inclusive, and makes you feel like you're on a boat in the water," Ms. Frohlich said. "Of course, it's all set to music, which hopefully lets you kind of zone out and enjoy yourself. At the end of it all, everyone hopefully gets a great hour to themselves and a nice little endorphin buzz."
Group rowing classes might not be as ubiquitous as spinning or yoga, but the workout is certainly on the rise. Another popular studio is City Row, a sleek group rowing studio near Union Square whose classes combine rowing with light weight exercises and even yoga.
"Rowing, as a sport, is one of the oldest, but it hasn't been embraced fully as a fitness workout," Mr. Frohlich said. "There's a lot of room for something new—something that teaches technique, is full-body, doesn't beat you up, and is open to everyone from kids to the elderly. It's the breath of fresh air," he said, "that a lot of people have been waiting for."