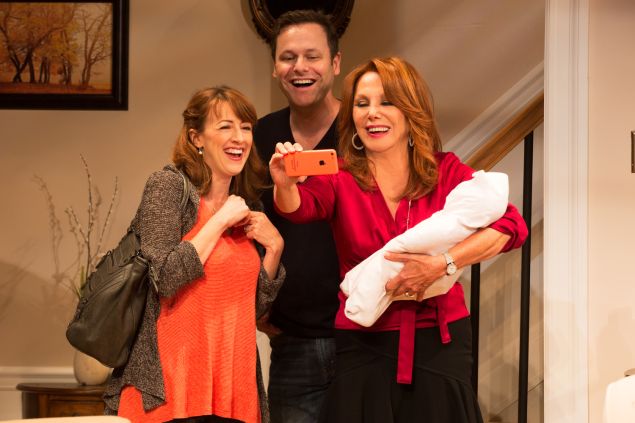 Clever Little Lies, a labored sitcom by Joe DiPietro at the Westside Theatre, is a trifle so inconsequential it evaporates right in front of you. It's a poor excuse to showcase the viable talents of Marlo Thomas, but the way things are going, we have to be grateful for whatever we get. At least it's not a revival, although it seems like one of those bridge-and-tunnel jobs that used to pepper Broadway for a couple of nights in the 1950s.
Billy (George Merrick) has fallen out of love with his wife Jane (Kate Wetherhead) just when they're welcoming a new baby. Now, he confides to his father Bill Sr. (Greg Mullavey) over a losing game of tennis, he is besotted with a 23-year-old who works at his gym. Dad insists she's just a mirage. Although he promises to keep the affair secret, he is powerless to hide anything from his nagging, busybody wife Alice (Ms. Thomas, wasted but wonderful, as usual). Alice invites the kids over for cheesecake to get to the bottom of this shocker. She been suspicious ever since her son grew abs. "There's no reason for a straight married man to be in that good a condition," she announces.
Needless to say, Ms. Thomas has all the best lines and delivers them with perfect timing. She can decline a simple slice of cheesecake with a shrug and get a laugh ("I'm  saving my calories for alcohol"). Then the play gets serious, sort of. While trying to cover up her son's infidelity, she blurts out a secret extramarital indiscretion in her own marriage that reduces the whole family to illogical outbursts of sanctimonious horror. Now it's Dad's turn to show the kind of shock, remorse, jealousy and petulance they used to write about on The Jackie Gleason Show.
Directed benignly by David Saint, Clever Little Lies is instantly forgettable; it lasts fewer than 90 minutes without intermission. The play is nothing, but there is the satisfaction in watching Ms. Thomas. With her froggy basso profundo and her quick way with a comic line, she's never a total loss, even when the play is.
***
After all the plays and films about the hurdles faced by traumatized soldiers returning from Afghanistan, it's interesting to see one about a female veteran who fought just as hard and paid just as big a price for patriotism. In Ugly Lies the Bone, a raw and inescapably moving play in the tiny Black Box Theatre, even the Florida pain management program in which brave soldier Jess (Mamie Gummer) works in agony to stretch her limbs and move her skin after suffering life-changing burns over 90 percent of her body in front-line action can do little to restore her faith and optimism. Her face is so scarred from the flames that she looks like it was caught in a hot waffle iron.  Even her simplest movement is restricted by interminable skin grafts. People offer cracker barrel philosophies and talismans to live by, but Jess can barely hold on to her sanity.
Jess' mother is suffering from Alzheimer's, and her sister Kacie's boyfriend offers her a job to distract Jess from the hopelessness of her situation, but it is really a former boyfriend named Stevie who is the most helpful. Jess feels she is so damaged no man will ever look at her again as a woman, but Stevie (played by a wonderful actor of nuance and sensitivity named Chris Stack) feels he's not good enough for her since his life has never amounted to anything significant (he works in a gas station selling hot dogs and lottery tickets). There is one poignant scene where Jess lets down her guard long enough to ask Stevie to describe what her skin and body used to look like before the accident. It's a play of small moments that hide big emotions.
Ugly Lies the Bone is well directed by Patricia McGregor, who utilizes the small playing space well, the writing is truthful and brave and the actors are first-class. But the play, which clocks in at 75 minutes without intermission, feels like a work in progress. Fleshed out into a full-length evening, it could be an engrossing mirror to the pain of someone struggling to accept the world not as it was or could be, but as it really is. Mamie Gummer is the daughter of Meryl Streep and a promising chip off the old block, if you ask me.