Hats off, and hearty thanks, to Kevin McKenzie for the programming of the company's annual all-too-short fall season (only two weeks) at the Koch—the theater that should be ABT's full-time home. (The Met, where it plays on and on in the spring, is a millstone around its neck, and ours.) He gave us a new work by Mark Morris. He brought back a first-rate Twyla Tharp ballet. He presented company premieres of a major Ashton work and a minor (but enchanting) Balanchine work. And he revived two famous early 20th century pieces that deserve to be seen.
Let's start with the masterpiece: Ashton's Monotones I and II, whose piano music by Satie was orchestrated by Debussy. Ashton created these two short ballets, each of which deploys three dancers—"Gnosiennes" one man and two women; "Gymnopédies" one woman and two men. Their costumes (by Ashton) are similar—tight unitards with strange tight headgear—but they're a limpid light green in the former and a sharp white in the latter. Everything is exposed; there's no hiding weak technique, and Ashton technique is not easy—dancers not raised on it are always surprised by how it strains them. (He isn't easy on the thighs.) There are constant challenging arabesques and balances—even Isabella Boylston, with all her technical command, had her shaky moments.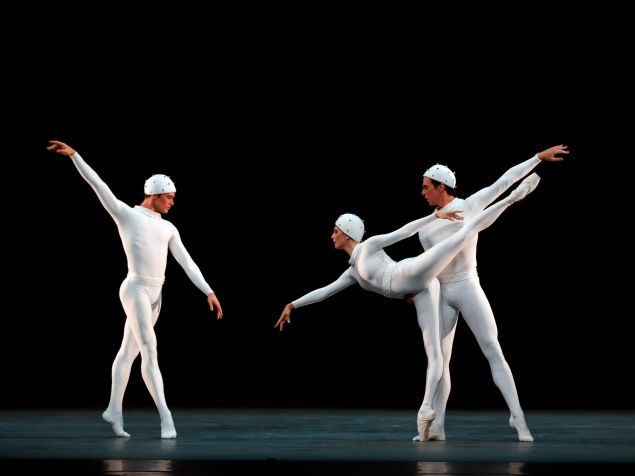 Satie's music is slow, measured, both austere and rich. The dancers proceed from one sculptural configuration to another—you could say the whole ballet is sculpture in motion. It's astral, it's mysterious, it's ravishingly beautiful. Many people just don't get it—the way I don't get Merce Cunningham—but for many of us it's one of Ashton's greatest works, along with, say, La Fille Mal Gardée, which (thank you again, Mr. McKenzie) will be back with us in the spring. How beautiful the ABT dancers looked in Monotones, especially Veronika Part, with her two attendants, Cory Stearns and Thomas Forster. And the conductor, Ormsby Wilkins, led a rhapsodic account of Satie's glorious music.
***
After You, the new Morris work, is a genial piece set to genial music by Johann Hummel, a student of Mozart's and a very successful composer in his day. It has no thrills, and neither does After You, but then, it isn't reaching for any. It's a company piece—12 dancers, a mix of principals, soloists and corps in no strict hierarchy but with Gillian Murphy, the company's senior (and strongest) ballerina, anchoring the whole thing. It's a study in graciousness and manners—ironic, in light of Morris's one-time reputation as a bad-boy choreographer.
The dancers are in pretty pastels: orange, pink, mauve, yellow, rose. They're all in unisex roomy slacks—loungewear—designed by Isaac Mizrahi and easy on the eye. Dancers salute each other, usher each other on stage and then off, settle into appealing groups and then melt out of them. At one point we have the six men on their own, then the six women, but this isn't (thank God) a ballet about gender—it's too polite. It goes by smoothly, it goes down smoothly, but after two viewings I'm left with very little, except the reminder that I never feel Mark Morris really enjoys having to deal with ballet steps and conventions; he uses them capably, but dutifully.
Unlike Tharp, who eats up ballet with her usual avidity—show her something and she'll devour it. She clearly loves the language of ballet, and she understands how to use it. She also loves making full-scale ballet works (30 dancers in this case), and exciting us with big finales … Balanchine finales. But everything remains in her personal style, and typically everything's going on at the same time as everything else—you have to be looking everywhere all the time. You can see that she loves having the huge stage to work on: all the more room for the countless lifts as the women are lofted upward and soar through the air. (There's more than a touch of the thrilling final lifts from Balanchine's The Four Temperaments.) You could tell from the audience's excited response how happy it was to be watching a "real ballet." Tharp dancers always look good because she loves dancers and helps them look good. I worry, though, about early symptoms of the smiling sickness in the company's newest female principal, Maria Kochetkova, imported from San Francisco Ballet….
***
The most substantial of the other revivals was The Green Table, the famous German expressionist anti-war ballet by Kurt Jooss. I first saw it in the 1950s when Jooss brought his own company to the City Center, and I was overwhelmed—that green table surrounded by those clearly evil capitalists with their horrible wigs and big cigars and pounding fists. And then by the astounding figure of Death, as war is unleashed and victim after victim falls into his fatal grasp: The Young Soldier, The Standard Bearer, The Old Soldier, The Young Girl who will be pimped into prostitution. It was powerful, almost unbearable. The Joffrey did it for years, and then ABT did it a decade ago with David Hallberg electrifying in the role of Death—that nice American boy with the astounding legs transformed into the ghoulish grim reaper.
Today, it seems dated—or perhaps I'm jaded. Marcelo Gomes lowered grimly around as Death, Sarah Lane anguished appropriately as the Young Girl, Blaine Hoven strode around manfully as the Standard Bearer, but agitprop has had its day, and I'm afraid The Green Table looks like pure poster art. Even its subtitle—"A Dance of Death in Eight Scenes"—sounds faintly risible. Still, it gave today's audience a look into a different world, a different time, a different aesthetic.
Less substantial, certainly, is that old Diaghilev-Fokine-Nijinsky charmer, Le Spectre de la Rose. You remember: a young girl is home from a dance, clutching a red rose. She falls asleep and dreams of the rose, now a lithe young male, leaping through the window into the room and dancing ecstatically with her until he leaps out, she wakens, and clutches the rose itself to her breast. It was one of Nijinsky's most famous roles—his final leap through the window the subject of endless worship. Look at the pictures! That ballon! Those thighs! That devastating androgyny! Herman Cornejo has the technique, and he's an irresistible performer, but although he's small, he's the opposite of androgynous—he's virile to the max. Courteous, considerate to the young sleeper, yes, but a guy with a girl, not the incarnation of a flower. Nureyev could get away with it (talk about androgyny!) but not Cornejo.
Finally, Balanchine's Valse Fantaisie (the 1968 version), a small but exquisite work set to Glinka for a lead couple and a corps of four girls. Led by Hee Seo and James Whiteside, this performance was not only pleasing but instructive: ABT dancers need more Balanchine to grow on. Both Seo and Whiteside extended their capacities here—they worked hard and more or less carried it off. Are they yet great Balanchine dancers? No, but they have potential and, what's more, dancing Balanchine will strengthen the work they do for other choreographers—including Morris, Tharp and Ashton.
Querulous note: ABT is now indulging in the longest intermissions within living memory. It can't take twenty-five minutes to go from Monotones to The Green Table. It's cruelty to animals.