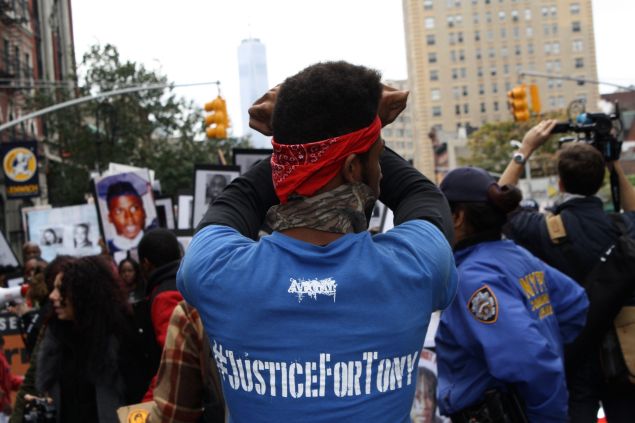 Parents, siblings, spouses and children of those who have been killed during confrontations with police gathered in the largest numbers to date on Saturday. Roughly one hundred affected families were joined by Cornel West and Carl Dix, along with thousands of activists and supporters in Manhattan. Saturday's march was the climax of Rise Up October, a three-day event determined to bring awareness to issues pertinent to communities and people of color.
A rally this past Thursday took aim at mass incarceration, while others focused specifically on police and community relations. According to The Counted, a data collection project created by the Guardian, there have been 936 people killed in the United States by police in 2015 alone, with black Americans more than twice as likely to become the victims.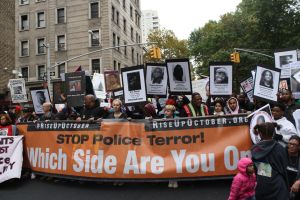 An organizer involved with Rise Up October estimated the number of supporters marching on Saturday at between four and five thousand. At the helm were the families, who joined together to carry an eye-catching orange banner, reading: "Which side are you on?" The message was accompanied by the names, ages and photographs of those killed, each blown up and affixed to signs held high above protesters' heads.
Donna Heyward, an activist for thirteen years, and one of hundreds leading the march, had a personal investment in Saturday's actions.
"I'm out here because of my husband, Nicholas Heyward," Ms. Heyward told the Observer as she made her way up 6th Avenue. "His son was killed twenty years ago, and he's been out here fighting ever since. I've been out here with him for the last thirteen years in support of his son. I am so angry and so frustrated with these people that refuse to open up their eyes and see what the police are doing to us."
When asked if she has seen improvements made in the time since she has been an activist, Ms. Heyward laughed. "Not really," she explained. "Everything remains the same from what I've seen, from how long I've been out here. But we aren't going to stop until we see a change."
Not everyone who came out to show support on Saturday had dealt with police violence personally. Writer and director Quentin Tarantino arrived in New York from California to demonstrate his commitment to the cause. Speaking at the rally before the march took place, Mr. Tarantino asserted: "When I see murders, I do not stand by. I have to call the murderers the murderers."
When asked if he himself identified as a supporter of the Black Lives Matter movement, Mr. Tarantino affirmed for the Observer that yes, he did. As for the extent of his involvement in Rise Up October, the director noted: "I was at an event on Thursday but this is my first march."
No stranger to controversy, the two time Academy award winner has since come under fire for his decision to walk alongside bereaved family and friends at Saturday's protest. New York City's police union is currently calling for a boycott of his films. The union, and others supporting the NYPD, took issue with the timing of Rise Up October's event, which came less than one week after officer Randolph Holder was shot and killed in East Harlem.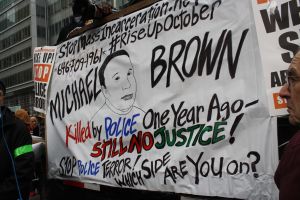 Cyndi Mitchell, who walked alongside Mr. Tarantino and also spoke at a rally beforehand, lost her brother Mario Romero in 2012 after a deadly confrontation with Vallejo police. "A lot of people are hurt, a lot of people are tired, we want justice," Ms. Mitchell told the Observer. "We want to be heard. We want police to stop getting impunity for hurting our loved ones. We want real investigations. [This system] was built to protect us, but it's not protecting us. it's a security blanket for those who want to oppress us. And we're tired."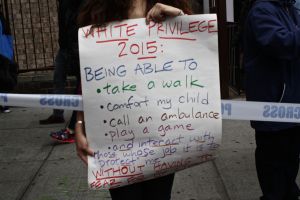 Others marching hoped to bring attention to their own place of privilege within the movement. "We live in such a socially segregated time that most white americans don't even see what black Americans are dealing with on a day to day basis," one protester, holding up a sign detailing her own white privilege, explained. "And sometimes, you have to make it really concrete."
A second banner, this one depicting Michael Brown, whose death in 2014 propelled the Black Lives Matter back into mainstream media attention, hung from the float where Carl Dix, who co-issued the call with West for Rise Up October last spring,  made his closing statements.
"I want to salute you but most of all I want to move forward with you, to gather," Mr. Dix, a founding member of the Revolutionary Communist Party, announced to the crowd, which had just reached Bryant Park from Washington Square Park. "That's what we need, we have to act together to stop this horror."
After another round of family members took to the stage to share their stories, police informed the crowd, which stretched down 6th Avenue, that it was time to disperse. Supporters were reminded that the fight did not end with the protest, and to continue voicing their anger over social media
There were eleven arrests made in total by the end of Rise Up October's march, with two captured on video.