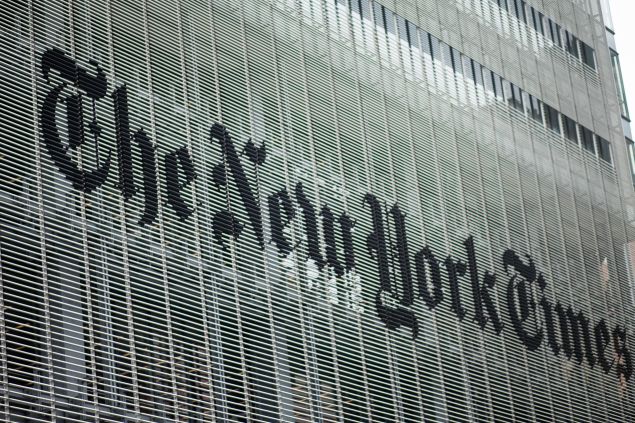 The New York Times is planning to double up on digital over the next five years. In an 11-page memo released today titled "Our Path Forward," the Times outlined the strategy for increasing the company's digital-only revenue from $400 million in 2014 to $800 million by 2020.
"The work ahead of us is more important than simply securing the future of The Times. Our goal — indeed, our responsibility — is to prove there is a business model for the kind of ambitious, original, high-quality journalism that is essential for an informed society," the memo loftily proclaims. "Though the scale and complexity of that ambition makes our road steeper and more difficult than it would otherwise be, it also makes it more essential that we succeed."
Unlike the first two million subscribers, who "grew up with The New York Times spread out over their kitchen tables," tapping the market for new potential Times loyalists means convincing people who are used to swiping glass rather than folding print to subscribe. In order to do this, apparently, the Times needs to become an experience ever more tailored to the individual reader's needs.
"To do that, we are accelerating our efforts to be the best destination for curious, discerning readers interested in news and lifestyle content in the mobile era," the memo explains. "Creating and distributing the best news, features and opinion is absolutely essential, but it is not enough. We must also help guide readers through a world awash in information and choices and make it easier for them to make decisions that enable them to live active and ambitious lives."
In the course of the memo, specific initiatives and developments are briefly mentioned, but because of the document's length and overarching ambitions, they can be easy to overlook.
As former publisher (and father of the current one) Punch Sulzberger used to say, according to the memo, in lean times, "it was best to avoid the temptation to thin the broth and instead put 'more tomatoes in the soup.'"
Here are some of the most interesting tomatoes that are being added to the soup that is the Times:
You know how food editor Sam Sifton emails most days and tells you what to eat? That is going to expand to other lifestyle sections. "The effort to modernize our service journalism began with Cooking a year ago. Our goal was to use our content and expertise to address a specific need for our readers: what to cook for dinner. With almost five million monthly users, Cooking has been so popular with readers that we are expanding this service approach to other areas starting with real estate, health, and film and television. Together these efforts aim to reimagine our features sections for the mobile era with the same vigor and creativity that we put into launching them in the 1970s."
There is a big virtual reality package in the works that, it sounds like, has a sweet sponsor (we reached out for more info, but the Times declined to comment). "As we did with the integration of Google Maps into our 36 Hours travel franchise and as we are about to do with a remarkable virtual-reality package, we'll find sponsorships that add value to user experiences without confusing readers or compromising the independence of our journalism."
Op Ed and Sunday Review Editor Trish Hall has a new position. She "will collaborate with advertising to identify potential sponsorships and other opportunities. Though the newsroom will always guard against potential conflicts, the best way to do so is to be active and open partners."
Reporters and editors are finally going to see what most online journalists have been dealing with for years: access to analytics for stories. "This month, for the first time, we will provide every reporter and editor with access to tools that will allow them to see how readers are finding and engaging with their stories."
The Times is beefing up its video and live events departments, two areas frequently looked to as part of a profitable future. "Video and live events are increasingly essential ways of connecting with new audiences," the memo says, "we must expand our investment and refine our approach in these areas and we will be sharing more about our plans for elevating both operations in coming months."
Another area getting beefed up? T Brand Studio, which will be "expanded into an agency in its own right, providing a broader array of marketer products and services around content ideation, creation and distribution."
The Times is making a big international push. "We will continue to develop new audiences and grow The Times as an international institution, just as we once successfully turned a metro paper into a national one," the memo says. Foreign editor Joe Kahn and president of the International New York Times Stephen Dunbar-Johnson are charged with "aggressively executing a unified approach to international content, audience development and monetization efforts across the company."
Another way the Times is expanding internationally is by tailoring content for specific countries instead of thinking of a monolithic international demographic. "As part of these efforts, we will continue to test and refine new country-specific approaches to reaching new audiences and gaining subscribers, including experimenting with translations, local briefings and specialized content built for social media. The focus of this approach— which began in Mexico and is already underway elsewhere — is to tailor our journalism and products to make them more relevant for specific new audiences, rather than viewing the rest of the world as just one big audience."
The Times is going to simplify subscription pricing options to "reflect our readers' multiplatform lives." Also, the actual process of subscribing will be more user friendly. "Every moment in the reader's journey, from visiting for the first time to registering as a user to becoming a lifelong subscriber, must be frictionless, intuitive and responsive."
In order to convey "the unique value of reading — and especially paying for — The New York Times, the company will "bolster [its] marketing team and will be adding leadership for brand marketing and creative services."
Of course, these changes and developments are all subject to change, as the memo says in a comprehensive disclaimer at the very end. Predicting the future, after all, is tricky.