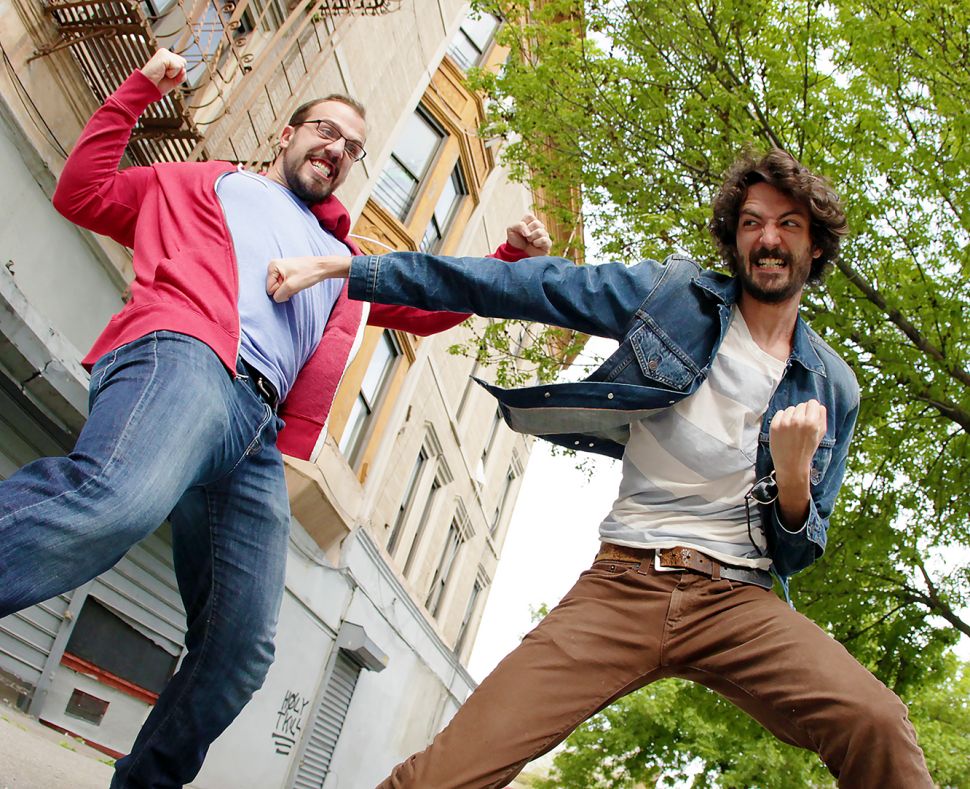 The Brave Little Toaster (1987), a film about appliances searching for their owner, was a (pretty much) straight-to-video cartoon whose cover I saw over and over again in the electronics section of the local Wal-Mart store of my youth, which, at the time, was the closest we had to a proper record store in southeast Kansas. When I'd see its cover facing out from a stand beneath the cash register, I'd think to myself, 'Who would want to watch that?'
However, two successful webcomic entrepreneurs, Wes Citti and Tony Wilson, have taken the basic concept of the story and repurposed it for a forthcoming mobile game, called Waynesaw. It's about a lovable, indestructible chainsaw with the unfortunate tendency to rend limb from limb every person it comes in contact with. It's a running game about its eponymous lead character crossing the country, "helping" others along the way while searching for the family that has been running from him.
SEE ALSO: K.C. Green explains why he quit the webcomic that made him famous, 'Gun Show.'
Mr. Citti and Mr. Wilson created Amazing Super Powers, one of the 14 webcomics banned from Reddit's r/webcomics forum for being "too awesome," but they have felt an itch to move into new kinds of storytelling and a need—born of the the changing nature of webcomics—to expand their business model. So the two brought technologists Jeff Ames and Ryan Gerber on board and turned to their fans to support a new video game via Kickstarter, brewed up with the same dark humor that makes their comic so appealing to those with a certain worldview.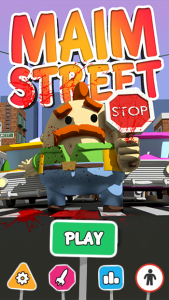 Rather than ask fans to back a novice venture, though, they opted to self fund their debut game, Maim Street, due out November 19 for iOS (it will be free to play with a 99¢ in-game upgrade to permanent bazooka).
We spoke to the pair via phone this week, as they talked us through the forthcoming game, which monetizes Mr. Citti's acute fear of getting run over by a car. "We'd like to think we turned his phobia into something that's kind of funny," Mr. Wilson said (#friendship).
While the pair is moving in a new direction, their secret sauce will remain the same: extremely dark humor. Here are three quick tastes from their comics: No Smoking, Karate Frank and Golf. In fact, the team gave us an insight into how they work. They met on an improv team in college, so now they write comics by riffing on random words generated by a computer program. "We still feel like we are on an improv team doing the comic," Mr. Citti said.
Here's how the pair described the gameplay: you're a crossing guard in a city with far, far too many cars and a pedestrian citizenry that can't be bothered to look both ways before crossing the street.
"It's impossible to save everyone, that's how the game is designed," Mr. Citti explained. "A lot of video games reward perfection, but the goal of this one is to be as adequate as you can."
Check it out:
He added, "It's kind of like an automotive Sophie's Choice, with a bazooka."
That's right: sometimes the crossing guard has a bazooka he can use against the cars, when all else fails.
The pair has been making three-panel comics that end in punchlines since 2007, but a casual game felt like a good transition. "I definitely play more mobile games than anyone I know," Mr. Wilson said. "I think the motivation for mobile games is—the comics are a very casual environment—with a mobile game, it's kind of the same feel."
"We just really want to use sound," Mr. Citti added. "We wanted the opportunity to work on a big project that had movement and feel and responsiveness, and the game was an opportunity to do that."
We went on to talk a lot about what they called "finding the fun" in games. Maim Street prototyped quickly and they found the fun of the violent game fast. They are in the middle of refining that more for Waynesaw as we speak—sorting out just how challenging to make it, how the sprites on the screen respond to the player, where to put the narrative and its jokes and which characters from the comic to mix in.
In fact, Maim Street will bridge fans from the comic into the game world of their new company, So Choice Softworks. The game has about 40 different pedestrians who will reappear throughout the game. About a third of them are 3D updates of the comic's characters, with a smattering of new ones that will play a larger role in Waynesaw.
After Maim Street, the duo take their fans on to Waynesaw, which will also be a free-to-play game, funded by $40,000 from Kickstarter. "Really you're a deadly chainsaw that doesn't know he's a chainsaw," Mr. Citti said, saying that both games take on the interesting challenge of making it fun to play an indestructible character. Not only is Waynesaw unstoppable, but he's also naive. Mr. Wilson said, "It's a game about trust and exploitation."
The pair has been putting up comics together since 2007. While they are motivated to flex new creative muscles, they also spoke about the changing nature of the Internet and how our age of aggregators is making the webcomics business tougher. People don't visit destination websites like they once did.
"It seems like it's easier than ever to get your stuff seen, but it's absolutely the most difficult it's ever been to find a way to monetize it," Mr. Wilson said.
Fans of the comic are bummed that posting has been irregular as they worked on the game (the last strip—about a mugger's Yelp page—went up in August), but the pair confessed that they tend to bend to nagging on Twitter when it has been too long between updates. So keep at them.