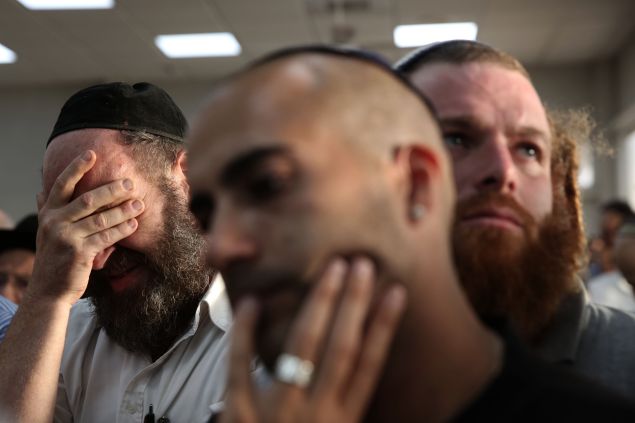 Sitting in Hebrew class, I neared the end of my midterm exam. I studied hard for the test even though we don't get a final grade. But it was difficult to concentrate. For the last couple of weeks, terrorist attacks in Israel have become commonplace. The constant noise of helicopters and the wailing of ambulances kept us on edge the whole week. Every time we heard something all we could do was pray nobody was killed.
This time was different—the ambulances were louder and more frequent. As we turned in our tests as we all saw BREAKING NEWS, the reports said. BUS SHOOTING AND STABBING IN ARMON HANATZIV. Our neighborhood. No wonder the sirens were so loud. We watched the updates and went outside to see if we could tell where the attack took place. We saw flashing lights on the hill above.
After fifteen minutes reality sunk in. We knew the bus had to be one of two we take almost every day.
My friend who–will become a soldier in two months–collapsed, dropping his head to his hands. He didn't talk.
My teacher, an Israeli through and through, left the classroom crying. I tried to console her. We knew it was bad when the Israeli, she who has seen it all, began to cry. We hoped there were no students from our Hebrew school on the bus.
I went to my room to make my daily tea and shot a quick video of myself, describing what happened to my friends. In it, you can hear ambulances still wailing outside my window, more than half an hour after the incident.
[youtube https://www.youtube.com/watch?v=hN53ZqfXFgI&w=560&h=315]
During the break, I could not drink my tea or eat my snack, even though I usually suck it down in minutes and my stomach was growling with hunger. Everyone in class stayed on their phones, looking for updates of the horrific terrorist attack that happened just a few minutes' walk from where we were sitting.
We read it was two Arab men who entered the bus. They lived in the Arab village next to our neighborhood. One boarded with a knife, and one with a gun, both wanting to kill Jews. They went on a shooting and stabbing spree and tried to hijack the bus. The driver opened the doors for people to run for their lives. The terrorists moved toward the front of the bus, to keep passengers from escaping and police from entering. Police open fired from outside the bus and the terrorists were shot. One man, the husband of a Hebrew teacher at my school, was the hero who rammed his car into the bus in order to stop them.
Reports of thirteen people injured turned to twenty, and then to twenty-four before our eyes. The death toll rose steadily as well. The bus was indeed the one that we take almost every day. One of my classmates had thought about leaving once she finished her midterm, and would have taken that exact bus.
We went back to the classroom but could not study after what happened. We talked about the incident as the head of our school came to tell us we were on lockdown–even the highways between Jerusalem and Tel Aviv were closed. We were asked not to leave the premises of our school for two days.
The next day was much quieter, thanks to the Israeli Prime Minister's security measures—until I checked the news and found that someone had been shot at the Central Bus Station just minutes before.
It's sometimes easy to glance at the news, even when it's about terrorism. It's different when the news is outside your window.
Eliana Rudee is a fellow with the Salomon Center for American Jewish Thought and the author of the "Aliyah Annotated" column for JNS.org. Follow her Aliyah blog at JNS.org, on Facebook, and Instagram.