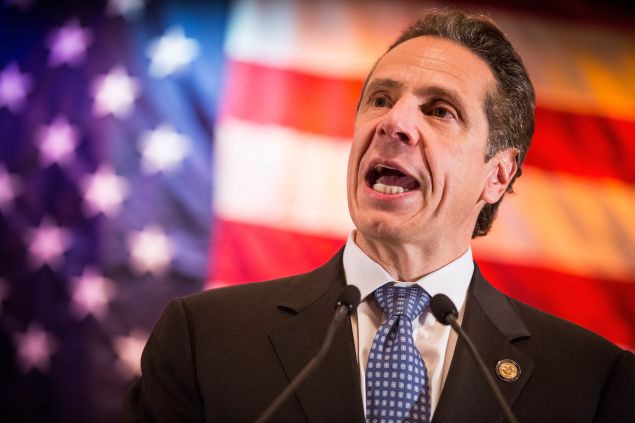 Gov. Andrew Cuomo declined to endorse or oppose Mayor Bill de Blasio's proposal to toughen bail and drug diversion laws in the aftermath of Officer Randolph Holder's murder last week, but called on elected leaders today to come out fiercely against "thugs" and "punks" who attack police verbally and physically.
Speaking after an unrelated event in Manhattan, Mr. Cuomo brushed off specific questions about Mr. de Blasio's proposal to change state law to obligate judges to consider a person's dangerousness while setting bail—or the mayor's criticisms of the judge who placed the man accused of killing Holder in an "alternative to prison" drug treatment program established under a 2009 law despite the suspect's history of arrests. Instead, the governor lashed out at people who he claimed fail to show proper deference to police.
"I think when it comes to alternatives to incarceration, I have supported alternatives to incarceration all my life. I believe in compassion," he said, highlighting his support for the repeal of the state's strict Rockefeller drug laws. "But this is also true: as leadership, we have to send a different signal. And the signal is 'respect law enforcement.' I understand your civil rights, I understand freedom of speech. But I also understand the role of the police."
Mr. Cuomo recalled the "out of control" city of his youth, and attributed the decline in crime to the NYPD. He argued that too few millenials remember and recognize the contributions of the police to a healthier, wealthier city.
"We have a generation of, you can call them thugs, in the old days in Queens, we would call them punks, who are too quick and too, who find it too easy, to pick up a gun and assault police officers," he told the Observer. "To the extent there's a cardinal rule, it is you don't assault a police officer. You respect a police officer. And that message has to be sent."
The governor said "of course" a person's arrest history should be a consideration in setting their bail, but he doubled down on those who have voiced messages of hatred or even violence toward police—though he said "I don't know who is and who is not taking that leadership."
"The police are right when they say there's now an atmosphere, now an attitude that the police are fair game. They're not. It's an institution of respect, they're public servants of the highest order, and leadership has to communicate that message. I'm going to do my part, because the police are right," he said. "The primary role, and where we have allowed the dialogue to shift? The police are not the enemy. And the police are not a combatant."
"The police deserve respect period. And it is not okay to disobey or disrespect the police," he continued.
Mr. Cuomo argued that young people have gotten the idea that they can contest an arrest in the moment with the officer on the scene instead of later on in court.
"Respect the police. Respect the police. When I was a kid, I knew full well that when a police officer said something, you listened. We've lost that. You know, it's become everything's a debate. Some things are not a debate, with all due respect to your civil rights. And one of them disrespecting the police and violence against the police," he said.
Mr. Cuomo's remarks echo recent comments from NYPD Commissioner Bill Bratton and from Patrolmen's Benevolent Association President Patrick Lynch, who have complained of increasing anti-cop sentiment. They also come in the wake of the large scale "Rise Up October" protests over the weekend that objected to what organizers called "police terror."