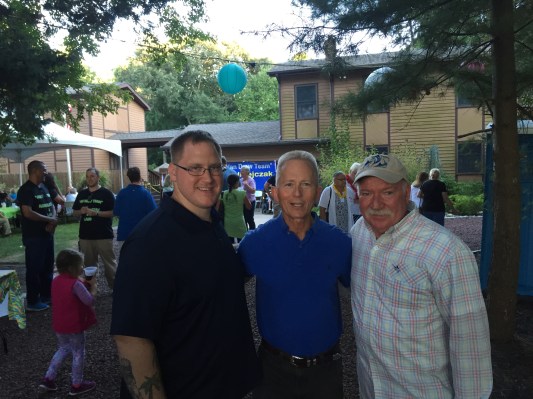 Assemblyman Bob Andrzejczak's (D-1) campaign is firing back at a letter the Cape May County Herald ran Monday from two decorated servicemen announcing their support for Assemblyman Sam Fiocchi (R-1). Citing Fiocchi's business background and what they described as his "solid grasp of the complex economic and fiscal problems facing the state," the two veterans said that they believe their fellow serviceman Assemblyman Bob Andrzejczak is not as well suited for the job.
Allison Murphy, campaign director to the "Van Drew Team" of Anderzejczak, Vineland resident Bruce Land and mentor Senator Jeff Van Drew (D-1), called the move "desperate."
Jeffrey Pierson, a retired Brigadier General and Republican member of the Upper Marmora Township Committee, joined Korean War Veteran Carl Biletta in issuing the statement (whose headline read "South Jersey Veterans Endorse Republicans Sam Fiocchi & Jim Sauro for State Assembly").
"During our combined 40+ years of military service, we are proud to have served in various positions from the platoon level to major command, and humbled to have received numerous decorations from the military before retiring from the military," they said.
"Naturally, we have a deep and abiding respect for anyone who has served, including our current Democratic Assemblyman Bob Andrzejczak and his running mate Bruce Land deserve. However, we are not convinced that serving in the armed forces is reason alone to elect someone to office."
Pointing to the fact that the letter was paid for by the Fiocchi-Sauro campaign, Murphy described the letter as an attempt to misrepresent Pierson and Biletta's support as a formal endorsement from veterans' organizations.
"I actually feel bad for our opponents if they're stooping to this level," she added. "It's pathetic actually, and I feel bad for them."
Andrzejczak is a decorated Iraq War veteran, while his running mate Bruce Land served in the Vietnam War.
Andrzejczak is an active member of the Veterans of Foreign Wars, and recently received the "New Jersey Legislator of the Year" award from the American Veterans (AMVETS), of which he is also a member.
Biletta has come down against Van Drew in the past, telling the Save Jersey Blog last spring that he believed Van Drew's decision to tap the younger vet was a cynical move.
"I've talked to other local veterans about this recently and they agree with me that Jeff Van Drew handpicks people like Bob and Bruce because they have very compelling personal stories that he can exploit for political gain," said Biletta at the time.