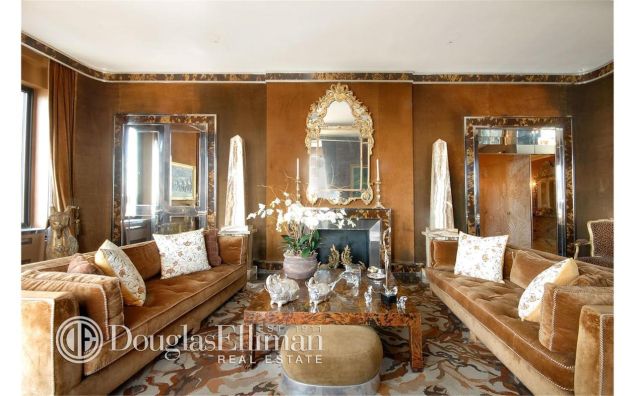 Arlene Farkas has been trying to move on from her five-bedroom River House duplex for decades. Literally decades. After slogging through an extremely extended divorce with department store heir  Bruce Farkas—who was discovered to also be married to his secretary, a deception that The Times reported was revealed when children from both relationships were sent to the same private school—Ms. Farkas finally listed the 435 East 52nd Street spread in 2003.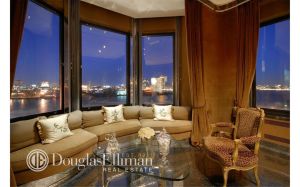 Twelve years later, it's still in her possession. There's been price cut of nearly a half, a bankruptcy filing to prevent the court from seizing it, and a would-be savior in the form of the French ambassador, who wanted to buy the place for $7.8 million but was sent packing by River House's notoriously snooty board last summer. His departure was swiftly (and dramatically) followed by a foreclosure scare.
But now the grand duplex, currently listed with Douglas Elliman's Richard Steinberg, Matthew Slosar and Nicholas Lacher for $8.95 million, is in contract once again. (Mr. Steinberg confirmed that a contract had indeed been inked; but declined to comment further.) And maybe maybe this time Ms. Farkas will have some luck selling it. Lord knows she certainly deserves a little.
"Really it's in everyone's best interest that she sell the space," sniffed one broker when we called to chat about the pending deal.
Still, there's the matter of getting by the board, which was, at the time of the French ambassador turn down, in the midst of a somewhat bumpy campaign to soften its spiky image.
"It would have been such a coup for River House," broker Nikki Field of Sotheby's International Realty, who had the listing, lamented to the Observer after the snub. "We were thrilled that the French government, which had been a 35-year resident at 740 Park—arguably one of the finest buildings in the city—was considering this residence. It was a win for everyone."
But another broker pointed out that the Farkas' apartment shares a tiny elevator landing with the neighboring co-op, whose occupant made the fuss, suggesting that the cold shoulder might not have been so unreasonable. After all, the board has, of late, admitted an actress. 
The apartment, which still has many of the trappings of late-70s opulence bestowed long ago by interior designer Valerian Rylance (chocolate brown velvet walls, etched stainless steel floors), looks to have a few slightly more contemporary touches since last we saw it (we see some floral throw pillows on the magnificent velvet couches). The price was similarly modernized from summer 2014, hoisted from $8 million, to $8.95 million.
In any event, we should know what the situation is soon, as Streeteasy indicates that the contract was signed mid-September, and board president John Allison was recently quoted in The Times touting a new policy (part of River House's friendlier image) of "getting back to people in less than 30 days" rather than the three to six months it used to take.