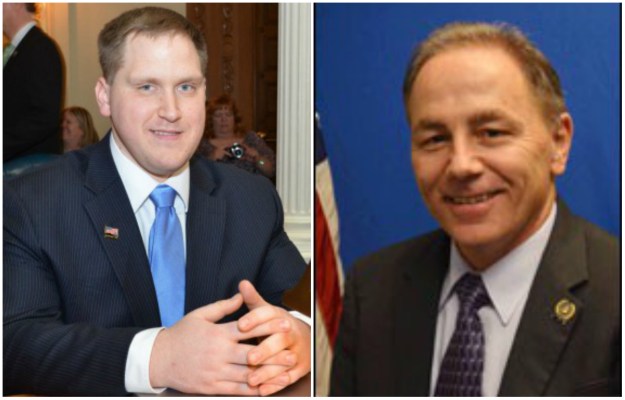 With next Tuesday's Assembly elections fast approaching, the attacks from each side in competitive districts one and two are mounting. In the final days, all four candidates are betting on attacking voting records and drawing out guilt by association in the unique partisan climates of Atlantic City and South-East Jersey.
While Assemblyman Vince Mazzeo's (D-2) campaign has chosen to attack their opponents' strong records on Republican sacred cows like NRA support and opposition to funding Planned Parenthood, Sam Fiocchi (R-1) is doubling down on claims that his opponent Bob Andrzejczak (D-1) supports a corporate business tax and offering in-state tuition to undocumented students.
The first and second districts are the state's only competitive races this year, with all parties trying to distance themselves from their caucuses in Trenton. Both sides in the first are running on platforms stressing harsh policies on illegal immigration, a tack that has the entire ticket rushing to part with state leadership. Candidates in both districts have been doing the same to distance themselves from pro-North Jersey casino figures like Assemblyman Ralph Caputo (D-28) and Governor Christie.
The Mazzeo campaign issued a release Tuesday drawing attention to a statement from Republican candidate Will Pauls' 2013 Assembly campaign in which he describes Planned Parenthood as a "reprehensible organization."  The release also pointed to Pauls' claim in the Press of Atlantic City that year that "I would never vote for Planned Parenthood… it's plain and simple for me." Pauls is running alongside incumbent Chris Brown (R-2).
The call for the Republicans to say where they stand in relation to the rest of their caucus joins a previous attack in which the campaign called for Brown to issue a statement on his good standing with the NRA and 'No' votes on gun control measures.
Republican operative Chris Russell had his doubts about the attacks' ability to sway independents, citing Mazzeo's poor debate performance.
Russell called Mazzeo "desperate to change the conversation away from his embarrassing debate performance," adding that he believes the campaign is "just throwing stuff at the wall and hoping something sticks."
A video of Mazzeo choking badly at a debate earlier this month has been making the rounds in a Republican-backed Web video that later aired on TV.
Fiocchi was similarly bullish in his accusations against Andrzejczak during this week's League of Women Voters debate in Cape May Court House, saying that the Democrats had supported a tax on corporations that passed the Assembly in June. The 15 percent surcharge passed just after the chamber passed a similar millionaires' tax.
"What kind of a message does it tell them when you say 'oh by the way, besides all the highest corporate business taxes that we have in the country, we're going to add a [corporate business tax]," said Fiocchi, pointing to New Jersey's status as the state with the highest exit rate for businesses.
Andrzejczak responded that he was motivated by a desire not to fall short of the state's required pension payment, saying that if that happened, "We would be breaking the law."
"Our credit rating has been dropped already nine times. And every time our credit rating drops, our interest rates go up," Andrzejczak said, gesturing to the room. "What we're doing is leveling the playing field," he said of both hikes.
When Fiocchi jabbed at Andrzejczak's abstention from a vote on in-state tuition for undocumented students, Andrzejczak said that he was caught between a pro-immigration bill and a pro-immigration conditional veto, and chose to abstain.
"If I had voted with the governor, I would have been in favor of undocumented citizens getting in-state tuition," he said. "That piece that he wanted to take out was that they was that they also get grants as well. So if I voted 'Yes,' I was voting for in-state tuition for illegals. If I voted 'No,' I was voting for grants in federal and state aid for illegals. Therefore, I abstained."