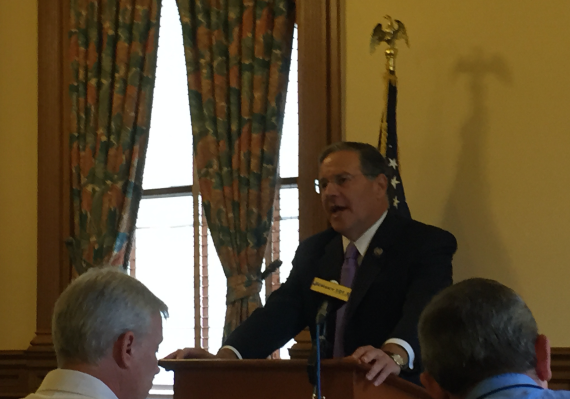 TRENTON – At a press conference he called to denounce the NJEA PAC and the Democrat's independent allies in the General Majority PAC, Assembly Minority Leader Jon Bramnick (R-21) said that he takes full responsibility for Assembly candidate Anthony Cappola's return to the race in the thirty-eighth district.
After saying that he wanted for members of the press to look into the PACs' unprecedented involvement in this year's competitive districts, Bramnick all but threw up his hands when the subject of Cappola came up.
"I cannot support Anthony Cappola. And he withdrew himself," he said.
"I'll take responsibility," said Bramnick. "I was under the understanding that the cost of replacing ballots was a very small amount of money. And as we approached the court case, it turned out that it was ten or fifteen times what I expected, then I had to make a decision. Not a decision I'm happy with, but I have to make a decision as to where I apply resources."
As for the question of whether disparities between Democratic and Republican spending and the party's inability to replace Cappola stemmed from Governor Christie's absence and missed fundraising opportunities, Bramnick claimed that the increase PAC spending is the only change between this year and past elections, saying "I don't see any drop-off."
Of the controversial writings that led to the Bergen Republicans calling for Cappola to exit the race, Bramnick said "That was more than just a mistake."
Bramnick went on to say that the court case would have been too great an expense this late in the 2015 cycle.
"That could have gone to the Appellate Division, that could have been a $200,000 expenditure," he said. "I had to make the determination that it wasn't financially feasible for me."
"I'm also running a business and my law firm, and it just wasn't logical to me. Not only that, but I wasn't 100% I could win, and I didn't know how far this thing would go up the chain into the courts. Now I'm ten days out and spending $200,000."
Asked what he would do if Cappola does indeed gain a seat, Bramnick shrugged.
"Just like I can't overrule the voters in terms of what they're gonna say, if the voters determine that that's the person in the caucus, that's what the law is."