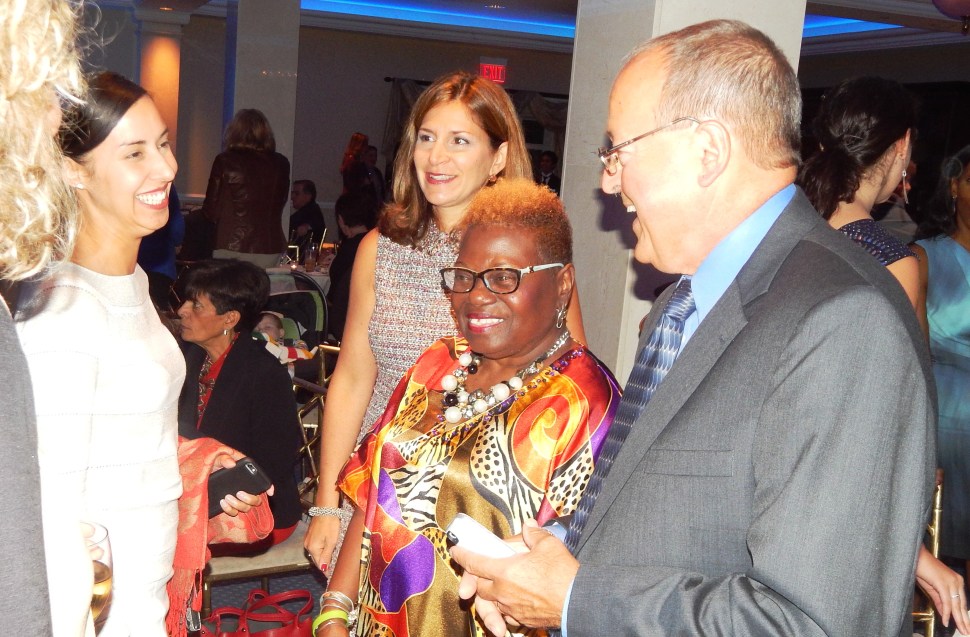 SOMERSET – Democratic leaders gleefully clinked their champagne glasses tonight in the Palace over the political grave of Anthony Cappola, an LD38 Republican challenger who went belly up earlier this evening amid the dredged up pages of a self-penned atrocity.
"If they want another candidate they're going to have to go to court," said a grinning Democratic State Party Chairman John Currie, one of the honorees at this event thrown by Emerge New Jersey, an affiliate of the national network that trains Democratic women to run for office.
The star attraction of the cocktail hour, Bergen County Democratic Chairman Lou Stellato looked giddy with the news.
"This helps the freeholder candidates too," he said, referring to his Bergen incumbents in the countywide race, who now can look forward to a lopped off-ballot ticket in LD38 topped by a thoroughly disgusted Mark DiPisa.
Stellato has had a splendid run at the helm of his party since 2011, culminating last year with his county executive candidate improbably beating Republican Kathe Donovan.
It was simply more good news for the chairman, one of a handful of power playing county chairs who will decide the Democratic Primary implications of the 2017 gubernatorial contest. One of those contenders, Jersey City Mayor Steven Fulop attended tonight's event.
Speaking to her organization's core mission, Sabrina Browne, spokeswoman for Emerge New Jersey, noted that while women comprise more than 50% of the electorate, they still hold less than 20% of the elected offices in the country. In the 235 years since statehood, New Jersey has elected just three Democratic women to the U.S. House of Representatives, and no Democratic women senators or governor.
"A very large pool of highly qualified candidates is being left untapped," Brown said.
The full list of Emerge New Jersey's honorees follows…
"LABOR CHAMPION"
MARIE BLISTAN
NJEA VICE PRESIDENT
"TRAILBLAZER"
JEANNINE LARUE
SENIOR VICE PRESIDENT
KAUFMAN ZITA GROUP
"TRAILBLAZER"
MAGGIE MORAN
PRESIDENT & CEO
M PUBLIC AFFAIRS
"VOLUNTEER CHAMPION"
MARY KNOWLES
SENIOR SEGMENT PRODUCER
HBO, REAL TIME WITH BILL MAHER 
"VOLUNTEER CHAMPION"
DONNA T. PEPE
FOUNDER & PRESIDENT
COMMUNICATION STRATEGIES INC.
"LUMINARY"
SHAWN LAURENTI
FOUNDER & PRESIDENT
LAURENTI CONSULTANTS LLC 
"LUMINARY"
TRICIA MUELLER
PARTNER
CLB
"EMERGING WOMAN"
ARLENE QUINONES PEREZ
PARTNER
DECOTIIS, FITZPATRICK & COLE, LLP
"HONORABLE 'MEN'TOR"
JOHN CURRIE
CHAIRMAN
NJ DEMOCRATIC STATE COMMITTEE