Anyone who has perused the sleek boutiques of Barneys or dined at the chic Park Hyatt on 57th Street has been lucky enough to behold the mastery of Canadian design company Yabu Pushelberg. The two designers-in-chief spend their time shuttling between the 16 countries in which they have active projects. On their down time they will be found poking around the world's backstreet antique stores and galleries, gathering museum-quality finds for their Perry Street home, nestled in one of the famed Richard Meier buildings overlooking the West Side Highway.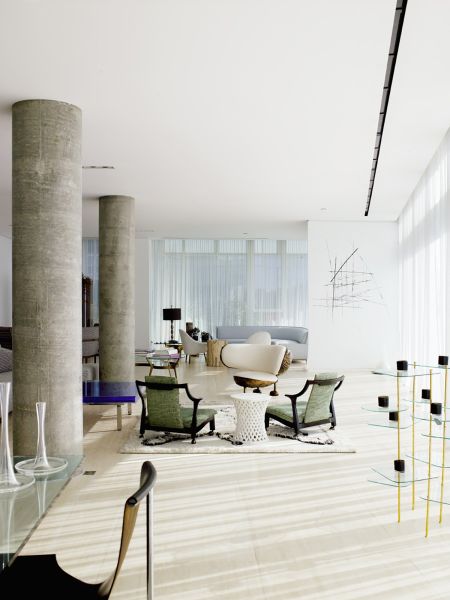 You have homes in Toronto, Miami and Amagansett. What makes this one so special?
George Yabu: This is still one of our favorites and the reason is probably the unobstructed views. Also, it's the perfect gallery for the art we collect.
Glenn Pushelberg: We had just opened our Soho studio and we were looking for a pied-à-terre. We got a call from Jean-Georges Vongerichten about a restaurant that he was going to build at the base of this building. We met him and thought, "Wow, what a wonderful building!" We asked if there were any more units and they just had one floor left. We looked at each other and said, "Let's do it!"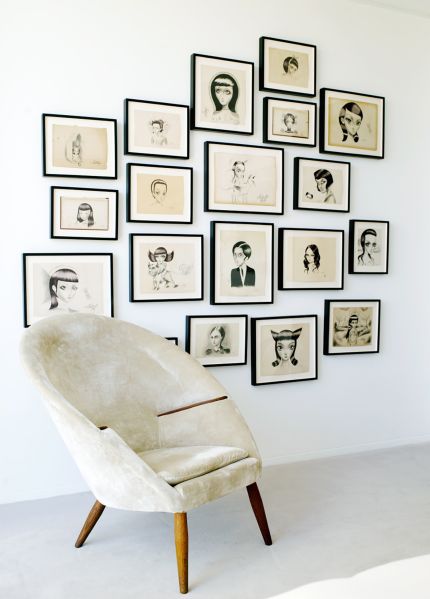 Tell us the design story.
Yabu: We left the space empty for about two years because we wanted to feel it. It was 4,000 raw square feet and there were no partitions, so that opportunity to build from a blank slate in Manhattan was a very rare opportunity.
Pushelberg: The other apartments made a clear corridor right to the views from the elevators, and we thought, "Let's change that up; let's put a block in the middle so that you come in and your eyes adjust to something that's a little bit denser and darker, a little more intimate, and then when you turn the corner, it opens up and the rooms open up." We think this element of surprise and discovery, which we use a lot in our work, is a much nicer notion.
Art is central to all your designs, both in your hospitality projects and in your own home. Walk us through some of the most important pieces in your home and the far-flung locations you acquired them from.
Yabu: At the entry is a piece by American artist Jim Campbell. It's a 6-inch deep block of resin and he filmed people walking on the streets of New York City. Because it's seen through this resin block (you can't really tell until you pay close attention) that it's actually people. On the opposite end we have this incredible piece from Anish Kapoor. It's just such a pure, elemental form. In our main living room, we have a crystal deer head by Japanese artist Kohei Nawa. I had no idea that it was actually a real deer head and we had a bit of a freak-out moment. But we were assured that it wasn't killed and was an animal that went a long time ago. Also in our living room is a piece by Shao Fan, one of the great artists from Beijing that we collected when we were working in that city. He is a Modernist sculptor and painter and we saw this piece in his home. We asked him if we could have this painting that was on his main living room wall, and he deferred to his wife and she said "perhaps." Six months later we got and email asking if we still wanted the piece and we said, "Yes, of course!"
What is an example of a custom piece of furniture designed by one of you?
Yabu: We call it the Perry Street Sofa. When we moved here, we didn't know what to do with this leftover space in the corner of our living room. It's less than a 90-degree angle, so I designed this small sofa that was bent like a boomerang to fit the angle presented by the building facade. I tried to reduce every possible dimension of the sofa without compromising on comfort. This became a huge hit. Our neighbor across the street called us one day and asked us to make one for him. We now design this sofa for Avenue Road, and we even put it in the Four Seasons Toronto. We also stretched the seat a little bit and modified for the Park Hyatt here in New York!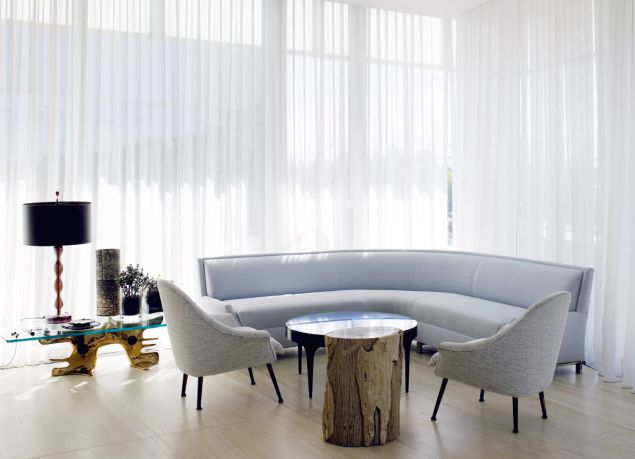 What are some projects you're working on in the city?
Pushelberg: We now have seven hotel projects in New York City, from a starter 150-square-foot-per-room hotel for millennials, to the Four Seasons downtown, to a Ritz-Carlton in the NoMad area and a hotel brand that we are creating for Equinox, the gym company in Hudson Yards.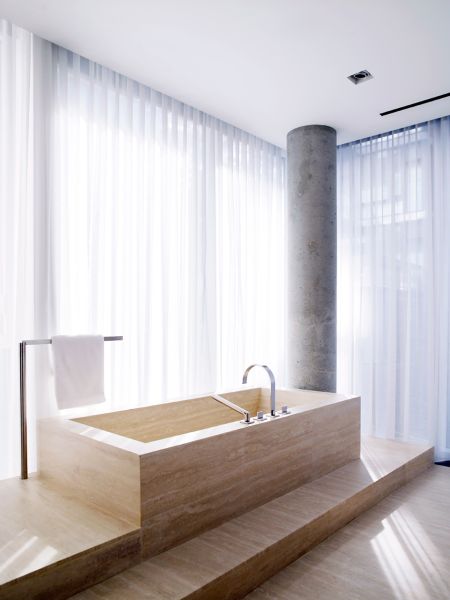 You travel so much—what do you love about coming home to New York and your own little corner of our city?
Yabu: What I like about living in the West Village is it still has that quintessential New York feel, but it also feels small-town, too, because of the way the streets are planned on all these different angles, and the brownstones. The mishmash of streets slows traffic down and has that quietness that you don't get everywhere in New York City.
Pushelberg: Even to this day, the minute we touch down at LaGuardia and see that New York skyline, our hearts just beat faster. We feel we are New Yorkers more than we are Torontonians. I think there's an energy and a positivity here. New York is all about planning for the future.