Lela Rose's four-story Tribeca home comes complete with five bedrooms, five bathrooms and even a tequila room. The Texas native lives with her husband, two children and dog, Bobbin Rose, in a household originally designed for entertaining. Seems pretty fitting with the impending release of her first book on hosting, Prêt-a-Party, published by Rizzoli.
The living room is straight out of Breakfast at Tiffany's, one wall is covered with black and white photography the designer began collecting in her teenage years. Coffee table books range from Oscar Night Vanity Fair to Balenciaga and Twentieth-Century Pattern Design.
The designer might just be the most laid back woman in New York, riding her bicycle to her showroom in the garment district every morning. She even rode to her fashion show at NYFW this season. Fans of the designer will now get a glimpse of her home and entertaining life in her new book, where she shares recipes, entertaining tips and secrets to the greatest parties she's ever thrown. Hint: one starts with cocktails in the Franklin subway station and ends with a drag queen performance by Candis Cayne.
You grew up in Dallas and went to college in Colorado. How do those places influence you as a designer? Women in the South, which I consider Texas to be, have an appreciation for looking good and get dressed up every day. That has long been an influence for me and the woman that I design for.
You've lived in your Tribeca home for six years. Where were you before and what prompted the move? I have lived in Tribeca for 21 of my 22 years in NYC. I always loved this neighborhood and the downtown feel to it. Our two previous homes were on the ground floor and I am hooked. I never want to leave the ground floor and Tribeca offers some good street theater!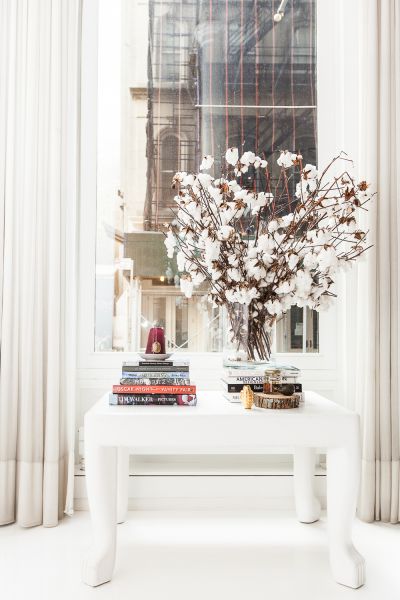 How does your work as a fashion designer influence ideas for designing a home? I work with prints, patterns and texture on a daily basis and I love to bring this into my home, as well. Some of my favorite pieces are beaded chairs that have a very dressmaker, yet tailored quality to them.
Your antique Wormley sofa is a favorite piece of furniture, along with the two silver bugle beaded chairs and the Pierre Paulin circular sectional. Can you tell me the story behind those? I bought the Wormley sofa years ago and it was a big investment at the time. I have covered it multiple times and in multiple different fabrics (currently covered in a fabrics from a past resort collection). I truly believe in quality over quantity and this piece exemplifies that…I have had it for 18 years or more. The chairs were a flea market find for $75 and I fell in love with them. I had them re-covered in a gray wool flannel with bugle beads outlining all the seams. I still love them today and the detail has even been used in our Bergdorf shop. I bought the Pierre Paulin circular sectional specifically for this home. I needed a piece to work with the column in our front room and was thrilled when I found this piece as it works perfectly for the space.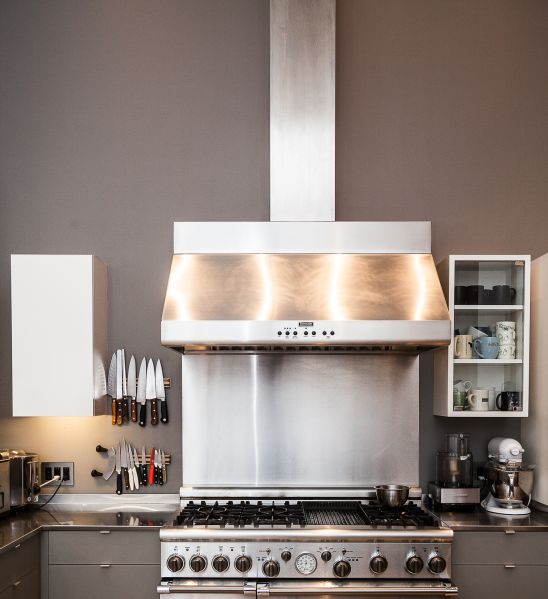 What do you love most about the "bamboo room" in your home, otherwise known as the Shaker Box? Apart from the fact that the table raises out of the floor to different levels, of course!  We eat dinner most every night in the Shaker Box. The seating is Japanese-style and we all love it. It is such a serene room being surrounded by wood floors, walls and ceiling. I was initially surprised when we moved in how popular this room is and we hardly every eat at a proper table now.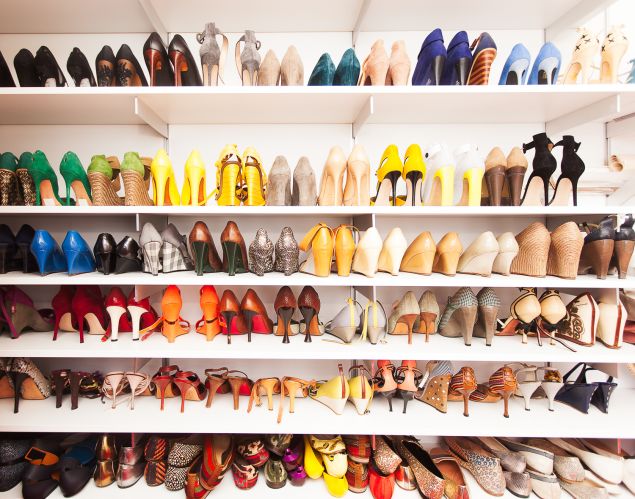 Can you tell me about your tequila room? It is a circular room surrounded by terra-cotta piping that allows for bottles to be stored. The ceiling height is the original height of the sub basement (very low). We decided we had to create a tequila nook after having many margaritas with our architects at La Esquina while we were working on the place…it seemed a "must" at the time!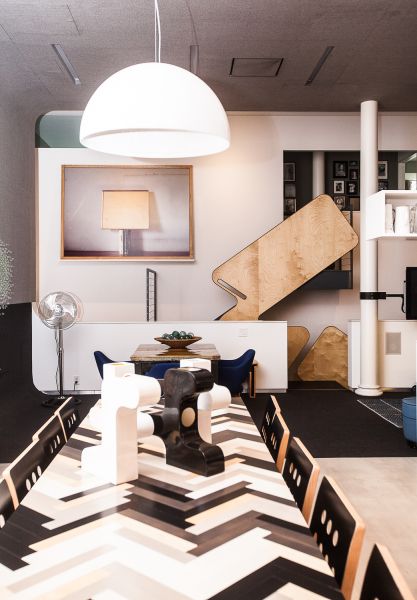 How often do you entertain and what's your one piece of advice for entertaining in New York? I entertain with hyper-active frequency (about two to three dinner parties a week). It is crazy, but we seem to just fall into it all the time. Prepping as much as possible before hand (the night before or morning of) is crucial. The most important thing to me though is that it will be fun… I see no point in entertaining if it won't be a good time.
Can you tell us about your new book? The book is really a manifesto on how to entertain with creativity and fun. I love to use one central idea as the inspiration and have that run through every thread of the party. There is nothing more chic than matching your drink to your dress!
Do you have a favorite occasion to entertain for? I like to do "occasion-less entertaining." Just throwing parties for the sake of it. It makes for a more free-spirited and fun time for me.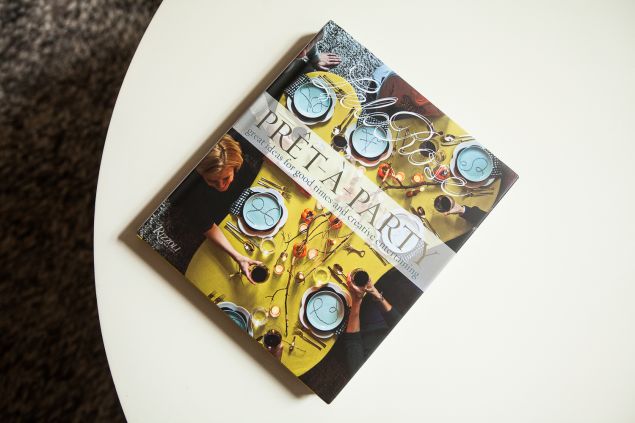 Do you have a signature drink or recipe that never fails? My husband, Brandon, makes a killer margarita. It is our go-to drink and I can tailor it a variety of ways depending on the season or the mood of the night.
How did you decide to produce a book? I see Lela Rose as being an entertaining/ lifestyle brand and a book is the perfect way to show that.