"Where can I be? This ain't America, is it?…You can't fool me," asks American actor/director/composer Melvin Van Peebles in the lyrics of his song Love, That's America.
That song was the title track for Mr. Van Peebles' 1970 film satire Watermelon Man, it was later adopted as an anthem by Occupy Wall Street, and now it's the soundtrack of New York-based artist Rashid Johnson's new site-specific installation for the Drawing Center, titled Anxious Men, which is on view through December 20.
Born, raised, and educated in Chicago, Mr. Johnson attended Columbia College and the School of the Art Institute. Recognition came early; before even finishing his undergraduate degree in 2000, he had his first solo gallery exhibition at Chicago's Schneider Gallery where he showed black and white portraits of African-American men made using traditional 19th century photographic techniques. Several pieces were acquired by the Art Institute of Chicago and the Whitney Museum.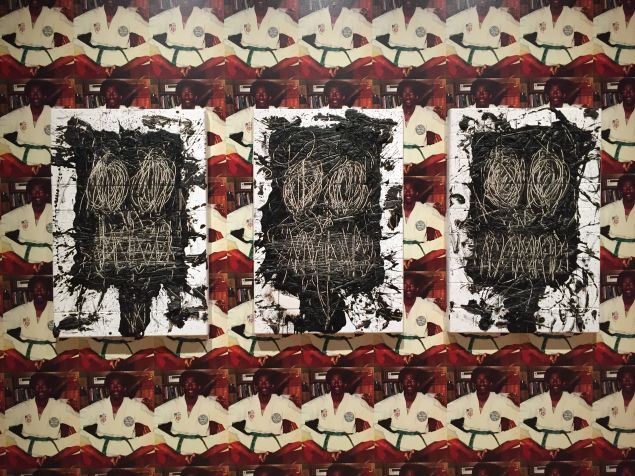 Mr. Johnson's work was included in the seminal 2000 exhibition "Freestyle" at the Studio Museum in Harlem, curated by now-director Thelma Golden. The show included work from 28 young African-American artists, and picked up buzz for Ms. Golden's use of the term "post-black art" to describe the show's focus. Mr. Johnson has also been shown in group exhibitions at the 54th Venice Biennale, the Whitney Museum's current exhibition "America Is Hard To See" and MoMA's contemporary painting survey "The Forever Now." He's had significant solo exhibitions at the MCA Chicago, the High Line, and David Kordansky Gallery and Hauser & Wirth, which both represent him.
Mr. Johnson has steadily risen to the status of international art star, producing a wide range of sculpture and installation works that often feature personal objects and materials—such as shea butter, books, and animal skins—that he uses to explore African-American identity and culture as they respond to art history. Now, we see his first formal foray into drawing. The results are anything but conventional.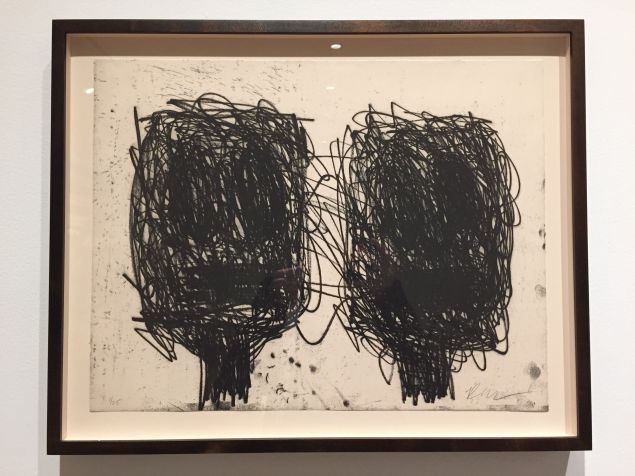 Key to Mr. Van Peebles' song lyrics, and Mr. Johnson's Drawing Center installation, are reconciling personal identity with cultural events—in this case incidents of police brutality and racial profiling. But Mr. Johnson weaves the milestones of his own life into the mix, touching on fatherhood as well. Anxious Men features drawings, prints, a photo installation and sound work. 
The drawings displayed here are the first figurative images he's produced outside of his work in photography and film.
Instead of canvas or paper, he uses white tile. Instead of ink or paint, he uses wax and black soap. Instead of a white wall, a self-portrait of his father taken the year Mr. Johnson was born is hung over and over again, wallpapering the space floor-to-ceiling. And rather than filling the gallery simply with art, the space is shared with a giant palm and a cactus.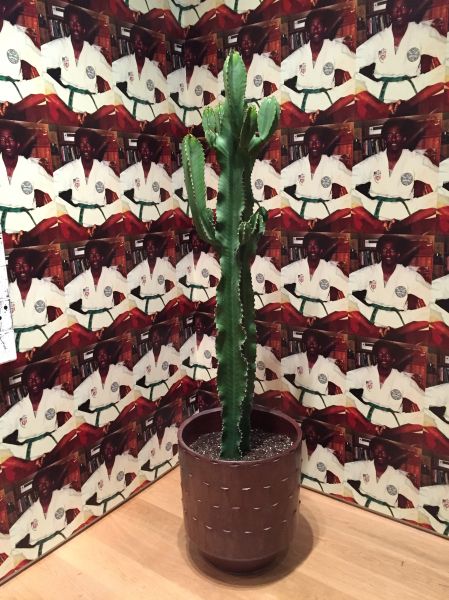 There is clear evidence of Mr. Johnson's hand in the gestural quality of the lines that comprise the faces of his Anxious Men, which are carved into the surface of splattered black wax and soap on a tile grid. The men's rectangular heads are all slightly different variations from one to the next, and their distressed and unsettled faces are comprised of scribbles, zig-zags and waves carved into the waxy surface.
Each of his Anxious Men represent broadly the anxieties around African-American male identity as the national conversation about citizens killed by police, such as Eric Garner and Michael Brown, has grown more intense.
But where Anxious Men takes a direct, personal turn, is in a repeating image of Mr. Johnson's father that covers the entire space. Pictured in a teakwondo uniform wearing a green belt (which Mr. Johnson tells the Observer is important because it's not the terminal belt for the martial art form) he's seated in front of shelves lined with favorite books and electronic equipment.
The image, Mr. Johnson says, is the self-portrait of "a man in transition," and is included because it's the "self-exploraton of a man about to go through one of the most profound revelations: having a child."
"I'm a father now, so the expectations and anxiety of fatherhood are things I'm thinking about," he said.