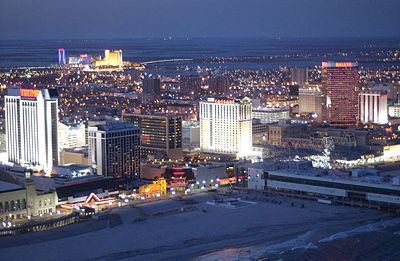 With the second district's highly-profile Assembly election drawing to a close, the question remains whether legislators pushing for the North Jersey casino referendum next year will look to Atlantic City and its casinos' economic free-fall as an unfortunate case or a cautionary tale. Atlantic County Executive Dennis Levinson is hoping for the latter.
The referendum has dominated all sides of the second district's campaign, with Assemblyman Chris Brown (R-2) accusing his rival Vince Mazzeo (D-2) of having a defeatist attitude on the question of new casinos in the Meadowlands and Jersey City.
Levinson, who is at the heart of the divide between County Republicans like Brown and Republican mayor Don Guardian over Mazzeo and Senator Jim Whelan's (D-2) payment in lieu of taxes bill for Atlantic City casinos, told PolitickerNJ that the birth of the casino industry in the seventies was "one of the most destructive things that ever happened to Atlantic City."
"When you have casinos in an inner city, or close to it, or close to large population centers, a lot of them are successful," he said. "But you're going to make poor people poorer. That's how it works. That's how it's always worked. It was not the panacea in Atlantic City, the cure-all. It was not. All it did was create more poverty in many cases.
"You know, it's a vice. They prey on the poor, they prey on the lonely. Only casino owners get rich."
Levinson said new casinos would not only cannibalize what remains of Atlantic City's gaming revenue and and the county's cut, but visit the same ruination on whichever North Jersey cities get permission to build.
"It'll also be destructive wherever they put those casinos," he said. 
Levinson described the PILOT bill as a poorly drafted stop-gap solution that fails to address gaming's limitations as an urban development tool. He did, however, qualify his low opinion of the gaming industry by acknowledging the dwindling jobs existing casinos provide.
Supporters of the PILOT bill have described it as Atlantic City's last, best line of defense against tax appeals from casinos, an ongoing industry-wide decline, and the potential phalanx of in-state competition. 
Levinson and other opponents take issue with the county's share of the casinos' payments, which would be frozen for two years and then again at a different rate for thirteen more.
County Republicans, including Brown, initially supported the bill until the draft passed the Senate and an agreed-upon 13.5% cut to the county was nowhere to be found.
Levinson said that his contempt for casinos started when he saw his elderly father, a widower, start thinking of casino employees as personal friends.
"These are the people that would cater to him. They would say 'We miss you. How've you been?' Then there goes his social security check."