BAM is getting serious about Performance Art this November.
In fact, this fall marks the first time that Brooklyn's storied Academy of Music will have Performance Art (as well as "Physical Theater") permanently on their menu as a recurring option.
"BAM has always had a meaningful relationship with the visual arts community and we'll continue to build on that," said BAM's Curator of Visual Arts Holly Shen. "This fall we are excited to present four performance art pieces, the most we've ever had in one season."
That's great news for fans of this wily art form—one that relishes in keeping viewers on their toes.
It's why the Performa Biennial is such a favorite amongst the art world: you never quite know how an artwork is going to turn out, where you'll have to venture to see it, or what you'll be lucky enough to witness when it unfolds.
Interestingly enough, BAM will collaborate with Performa this year as part of their Next Wave Festival in order to produce some extraordinary happenings. Observer Arts was lucky enough to preview remarkable production by a group of artists who were fine-tuning their event.
Eve Sussman—who has lately worked under the moniker of her company Rufus Corporation—has teamed up with Portuguese dancer and choreographer Claudia de Serpa Soares and Australian drummer Jim White (formerly of the instrumental rock band The Dirty Three) to co-create a performance that also enlists the audience as part of the experience.
What Sussman created with Mr. White and Ms. de Serpa Soares inside the box-like BAM Fisher space is a smaller box for the performers within a box for the audience. Using sound, light and special effects, the group produces something akin to film and video but in a hypnotic 3-D and real-time format.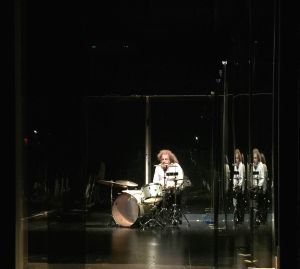 To help emphasize these effects—and to involve the audience in the process—no seats are provided. The viewers are encouraged to walk around the mostly transparent room with Mr. White and Ms. de Serpa Soares inside, where they witness a multitude of angles and interactions.
Ms. de Serpa Soares works her body extremely hard during the hour-plus performance; Mr. White's atonal beats ricochet around the room as energetically as Ms. de Serpa Soares herself. Combined, the two players hold your ears and eyes hostage for the full performance.
Ms. Sussman's ever-changing assemblage works almost like a giant viewing device that ensconces Mr. White and Ms de Serpa Soares, replete with lighting, reflections and framing devices that are really unusual for the stage.
As is the case with all of Ms. Sussman's outside-the-box art (pun intended), More Up a Tree's strength is that it gives you something that might not be described as art yet becomes art. What she knows for sure is that the powers of collaborative talent—really sophisticated talent—can sometimes evoke something entirely new, and yes, there are new things to be found under the sun if you really look.
More Up a Tree, in  partnership with Performa, will take place at BAM Fisher, 321 Ashland Place, November 19, 20, 21 through BAM.org.