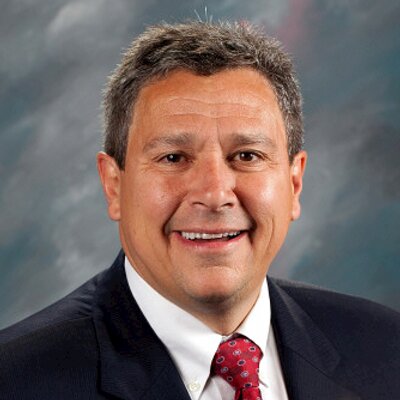 TRENTON – Prodded by Senate President Steve Sweeney (D-3), state Senator Kip Bateman (R-16) admitted it was difficult to oppose Gov. Chris Christie, but chose to side with Democrats to buck Christie's opposition to Senate Bill 2360.
Simultaneously, his senate colleague, Senator Jen Beck (R-11), backed away from the bill in a stormy debate on the senate floor this afternoon. But with three Republicans joining the Democrats – including state Senator Joe Kyrillos (R-13), another onetime rock solid Christie ally – Sweeney successfully commanded the 27-12 override of the governor.
State Senator Chris Connors (R-9) was the third Republican calling for the override.
Backing former Florida Governor Jeb Bush over Christie for president, Kyrillos explained his opposition to Christie in a statement.
"My vote today to have prospective gun owners notify police if they are seeking expungement of their mental health records speaks for itself," said the veteran Republican senator from Monmouth County. "Don't read any politics into it, just the right thing to do as I see it."
There was a lot of history here leading up to today's override.
The bill initially passed 38-0. Then it hit a hurdle.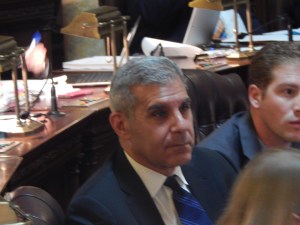 Running for president in a Republican Primary, Christie vetoed the legislation that Democratic – and originally Republican – lawmakers say would help keep guns out of the hands of potentially dangerous people by requiring those seeking to have their mental health records expunged in order to purchase a firearm notify law enforcement.
The information would be used by the courts when deciding to approve the application, giving law enforcement a voice in the process and providing the courts with more information before approving an expungement to allow gun purchases.
"This bill is about public safety. That's it," said an emotional state senator Fred Madden (D-4), a former state trooper who sponsored the bill. "The courts have asked for this bill. …When you start rationalizing your actions, usually you are wrong. I don't know how the governor and his staff processed the conditional veto."
Sweeney called on Bateman, who explained his reversal today, to help Democrats override the governor on a second try after first failing 28 days ago.
"Twenty-eight days ago I abstained because I was hopeful a better bill would come through," said the Republican senator, initially a backer of the bill who later abstained in hopes of compromise legislation authored by Senate Minority Leader Tom Kean (R-21).
But "I don't think that's going to to happen because of partisan politics," Bateman said. "I don't take pleasure in overriding the governor. It's a difficult vote, but since the last time we were here, I couldn't look myself in the mirror. I'm encouraging my colleagues to override."
Locked in a backroom war over this all week, Sweeney and Kean argued on the floor.
"Stay on this specific bill," the senate president reprimanded the senate minority leader, who sought a compromise bill.
Kean angled his voice at Sweeney in reply, complaining about those in the body who would question the motives of other senators.
Later, state Senator Ronald L. Rice (D-28) took the floor.
"There's no shame in overriding a governor when they're wrong," he said, pointing out that he barged into the office of former Governor Jon Corzine and "cussed him out" when he disagreed.
Senator Jim Holzapfel, an original sponsor of the measure withdrew his sponsorship earlier this week.
Having backed away from the bill after initially supporting it, Beck heard a pointed critique from state Senator Linda Greenstein (D-14), "Say it ain't so."
Greenstein said she wrote an op-ed praising Beck, who had at first bucked Christie in the name of public safety before reversing herself today with the public argument that the media hadn't teadsed out the details of the bill.
"You can stand up and say this is the right way to go," Greenstein urged her Republican colleague.
Moments later, Senate Majority Leader Loretta Weinberg (D-37) doubled down in addressing the GOP caucus. She noted the courts and law enforcement asking for the bill in the name of public safety.
"For you to decide we need to have a huge global answer and that we did not understand what was in this bill, I find this perplexing," she said.
She pointed to a past statement made by Christie that he has no problem with his caucus because he controls the GOP caucus.
"It is time to stand up and override the governor's veto of a very simple piece of legislation," Weinberg said.
Beck defended herself.
"I'm not stupid," she said. "Mental health professionals have said we need an easier way… This bill is incomplete."
But Beck would lose today. Now the Assembly must summon a two-thirds majority to complete the override of the governor.
Speaker Vincent Prieto (D-32) issued a statement in anticipation of his chamber's action on the bill.
"It's always a good day for New Jersey when elected officials put aside politics and do the right thing for the people. That's what happened in the Senate, and I look forward to it happening soon in the Assembly," Prieto said. "The Assembly voted 74-0 in June to approve this bill. The Republican leader, Jon Bramnick, is a lead sponsor of the bill. This bill defines common sense. We all agree that mental health concerns are a big part of improving gun safety.
"Considering all that, I see no logical reason why the Assembly wouldn't vote to override this misguided veto and turn this bill into law," the speaker added. "I plan to talk to the sponsors and announce further plans in the coming weeks."