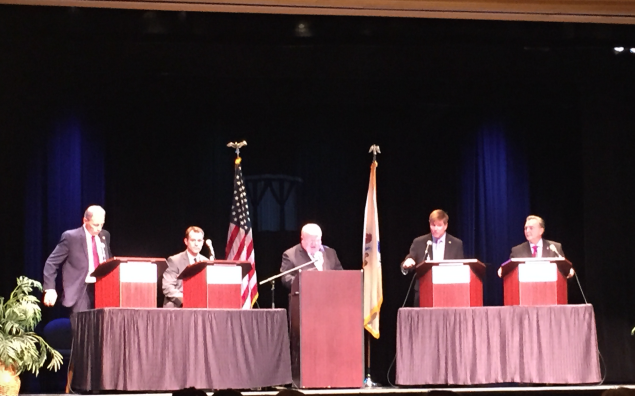 ATLANTIC CITY – The second district's Assembly candidates gathered Tuesday night for a debate hosted by Stockton University at the Dante Hall Theater downtown. Senator Jim Whelan's (D-2) PILOT bill dominated much of the back-and-forth, but the night was notable for heated exchanges that drew laughter and applause.
Democrats Vince Mazzeo (D-2) and Atlantic County freeholder Colin Bell faced Republicans Chris Brown (R-2) and freeholder Will Pauls.
Bell got laughs from the crowd when he attacked Brown's campaign tactics and penchant for attacking the PILOT legislation, which Mazzeo co-sponsored with Whelan.
"Let's be clear. You run around with a non-binding resolution so you showboat in front of the Showboat and have a press conference, and you never introduced it," said Bell of Brown's resolution to ban new construction of casinos outside Atlantic City.
"You do it by talking to people," said Bell of revitalization efforts, "by talking to leadership, by being with other legislators by explaining to them the problems that would occur from North Jersey casinos."
When Brown addressed the comment later in the debate, he described that same press conference as a gesture for "people who had lost their jobs, who were looking for leadership, looking  for somebody to stand up with them, looking for somebody who cared about the working class, not just sound bites" to applause.
Bell alleged that the controversy over the bill was the result of failures on the part of Republican County Executive Dennis Levinson and Republican Mayor Don Guardian to reach an agreement on a 13.5% cut to the county.
The debate was a better showcase for Mazzeo than his recent apearance on NJTV's "On The Record," which saw him looking less prepared than Brown and Bell, and less at ease than Pauls.
When Brown mentioned the need for bipartisan cooperation when addressing problems like convoluted deed restrictions from casinos and implied that Mazzeo had not held up his end of the effort, Mazzeo's response was sharp.
"You mentioned about what was it —  bipartisanship? Why is it my job to do your work?"
After the debate, Bell said that he was underwhelmed by Brown's attacks on the PILOT bill due to its lack of a specific provision for the county's cut of revenues.
"I'm very happy with how it went, I think the audience saw the difference between the candidates, I think we were very specific about the solutions that we offer. I didn't really hear any specifics on the other side, especially when it comes to property tax relief," said Bell after the debate, referring to the PILOT deal.
"They never offered any alternative, and that's going to resonate with voters in November," he added.
"Well, there are a lot of issues that they threw into a sound bite that they didn't accurately sum up my voting record or the Republican position, so I guess that's part of the debate," said Brown.
"You know, we only have about three weeks left in this election," said Mazzeo. "I think I did pretty well."
When asked whether he expected the discussion to become as volatile as it did, Mazzeo said "A little bit, yeah."