During the first Democratic Presidential debate Bernie Sanders kept a promise he made in secret.
He said Sandra Bland's name, the woman who died in a Texas jail cell under suspicious circumstances after being frivolously arrested during a routine traffic stop.
Mr. Sanders' promise came from a chance meeting detailed in a blog post by Hannah Adair Bonner, who was eating in a Thai restaurant in Washington DC's Union Station with Ms. Bland's mother and sister when the sister reportedly recognized Mr. Sanders, and Ms. Bonner invited him to join them. She writes, "What happened to your daughter is inexcusable," he said. "We are broken, and this has exposed us." He then continued by promising that he would continue to #SayHerName #SandraBland and would not give up in the pursuit of justice."
Bernie Sanders did not use the chance meeting for publicity or to gain political clout over his main opponent, Hillary Clinton. Were it not for Ms. Bonner's blog post, few people would know the meeting ever took place. Ms. Bonner concluded, "There have been so many moments along this journey, so very many moments, when God simply astonished me. When something happened that was so delicately balanced in the table of time that it gave me confidence that there was something truly important happening, something truly historic, something truly sacred, as the continuing story of Sandra Bland unfolds. When each sacred moment appears and passes, it gives me renewed hope and confidence that the legacy of Sandra Bland's struggle for justice is making its eternal mark in this world. Senator Sanders was right. Her death was inexcusable; yet her legacy moves forward without yielding."
During the Democratic debate, when posed with the question from Sterling Arthur Wilkins of Des Moines, Iowa, "Do black lives matter or do all lives matter?" Mr. Sanders responded, "Black lives matter and the reason those words matter is the African-American community knows that on any given day some innocent person like Sandra Bland can get into a car and then three days later she could end up dead, in jail, or their kids are going to get shot. We need to combat institutional racism from top to bottom and we need major reforms in a broken criminal justice system in which we have more people in jail than China. I intend to tackle that issue to make sure our people have education and jobs instead of a jail cell."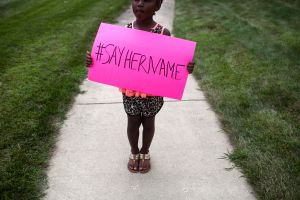 Mr. Sanders was the only candidate who responded confirming Black Lives Matter, unlike Ms. Clinton, who segued the issue to criminal justice reform. Also unlike Senator Sanders, she has yet to release a comprehensive plan to address the issue. The issue of racism received scant attention during the Democratic debate, and Mr. Sanders was the only candidate to actually address it, rather than going on tangents about reforming education and criminal justice.
Ms. Bland's name needed to be said. Justice has yet to be granted in any form in Waller County, Texas. Earlier this month in the city where Ms. Bland was arrested, Prairie View, Jonathan Miller, an African-American City Council Member, was tasered outside of his home by police officers. The officer involved in the incident was wearing a body camera, which allegedly fell off during the confrontation, The Washington Post reports. Mr. Miller went to question the police who stopped friends of his leaving his house when the confrontation escalated to Mr. Miller being tased and arrested for suspicion of interfering with a public servant and resisting arrest. Charges have yet to be filed. The Prairie View Police are investigating complaints about the incident internally, but that is highly unlikely to produce any results.
The Sheriff of the county jail where Ms. Bland died, Glenn Smith, had been fired from a previous job over allegations of racism and police brutality in 2008. He promised a thorough investigation, but the case is compromised by the county judge's conflict of interests with the law firm probing Sheriff Glen Smith's work. Critics continue to call for the U.S. Department of Justice to take over the investigation.