In a neighborhood where jaw-droppingly expansive living spaces are hardly unusual, the 24.5-foot-wide Clarence Whitman Mansion at 7 East 76th Street is exceptional. Originally built as two side-by-side limestone-façade houses in 1898, the 14,000-square-foot home has been the New York residence of Japanese billionaire Bungo Shimada since 1990.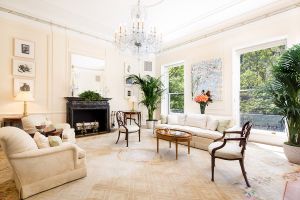 "He's used it as a pied-à-terre. It's a lot to keep up," Sotheby's Stan Ponte, who has the $50 million listing, told us as he led us through the first-floor dining room. "He's already transferred part ownership of the house to his foundation, so that when it sells, the money goes straight to his foundation."
Mr. Shimada did a full renovation in 1998, and "didn't tear up all the beautiful plasterwork. He spent more money to do it this way," Mr. Ponte added, as we walked up the ornate gold staircase to the parlor level, with its 13-foot coffered ceilings.
The master suite takes up the entire third floor, and includes two dressing rooms, a sitting room, a marble bathroom and a kitchenette. (The nine-bedroom home has five full bathrooms and four half baths.)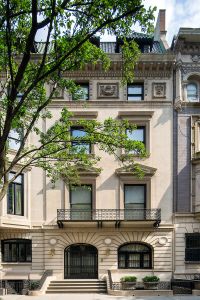 There are six bedrooms and a gym spread out across the fourth, fifth and sixth floors, though Mr. Ponte added, "each of these rooms could be anything." The top floor has a glass-encased solarium as well as two terraces, though if you take the elevator up you'll miss a huge skylight. "At night, it lights up the whole core of the house!" said Mr. Ponte.
"There's a whole service stair for staff to go up and down the back of the building," if one wants to live formally, and the finished basement has a catering kitchen and two staff bedrooms. A first-floor coat closet boasts a secret passageway to the wine cellar; another hidden room can be found off the library. "It's a card room," Mr. Ponte informed us as he opened the curved door to a semicircular space, which has direct access to both the service stair and a dumbwaiter. "You can have people bring your scotch."