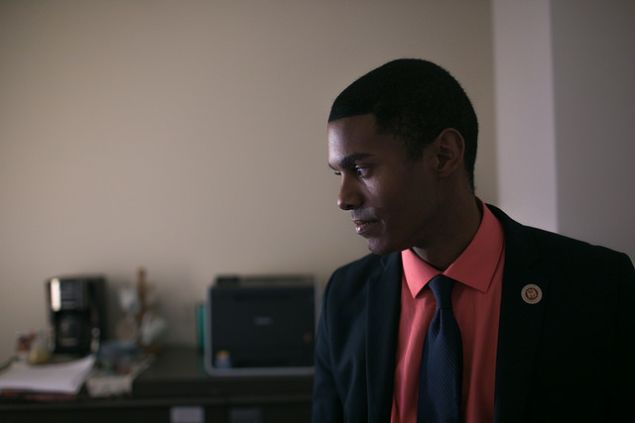 Bronx Councilman Ritchie Torres will introduce legislation to obligate the NYPD to collect and publicize statistics on domestic abuse in New York City Housing Authority buildings—which Mr. Torres said was necessary to tamp down on crime in general within the long-troubled developments.
The legislation, which Mr. Torres told the Observer he will introduce tomorrow, would require the police department to break down domestic violence statistics by housing project, and to illustrate what percentage of felonies committed on authority property are cases of abuse of relatives and romantic partners. In a phone interview with the Observer, Mr. Torres—who chairs the Committee on Public Housing—noted that the issue was personal for him as somebody who grew up in a NYCHA complex and whose mother, aunt and great-grandmother were abuse victims.
"It's the hardest crime to curb. All of us either have been survivors or know someone who has been a victim," he said. "Your home is supposed to be your sanctuary, your source of protection. But for many people, many New Yorkers, their home is like a prison."
Mr. Torres argued the legislation was necessary to "break the silence" and stigma shrouding the issue, which he argued allows the problem to fester.
"Domestic violence thrives on silence," he said, arguing the new statistics should be posted on both the NYPD and NYCHA websites. "This will raise greater awareness. Reporting would reveal information about the nature of the crisis. Is it dispersed widely across the city, or is it concentrated in a handful of developments?"
The councilman pointed out that, despite containing just five percent of the city's population, public housing residents account for 20 percent of its violent crime—much of it believed to be domestic. He also noted that exposure to abuse in the home at a young age is highly correlated with criminal behavior later in life.
"The best thing that we can do for public safety is domestic violence prevention," he said. "If we can reduce domestic violence, then we will be in a much better position to take on other crime."
He said he hoped that the illumination of the situation would prompt the city to commit greater resources to the issue. He pointed out that the city has a "tale of two shelter systems," in which domestic violence victims in homeless shelters receive priority on the waiting list for NYCHA units, but those in domestic violence shelters do not—and bemoaned the long waits both groups have to suffer through waiting for an emergency address.
Mr. Torres also argued that the legislation would reveal some of the ugly side-effects of chronic unemployment and low incomes, which often leave victims financially dependent on their abusers.
"At some level it is a function of structural poverty. So it could be wherever you have greater concentration of poverty, greater deprivation of resources, you're going to have a higher incidence of violence, including domestic violence," he said.
But even though he argued the cost of the new reporting would be "negligible," Mr. Torres said his initial conversations with the police department had not been promising.
"The NYPD opposes every legislation that does not give them either more power or more resources," he said.
Mr. Torres expects the Committee on Public Housing to hold a hearing on the measure Friday.