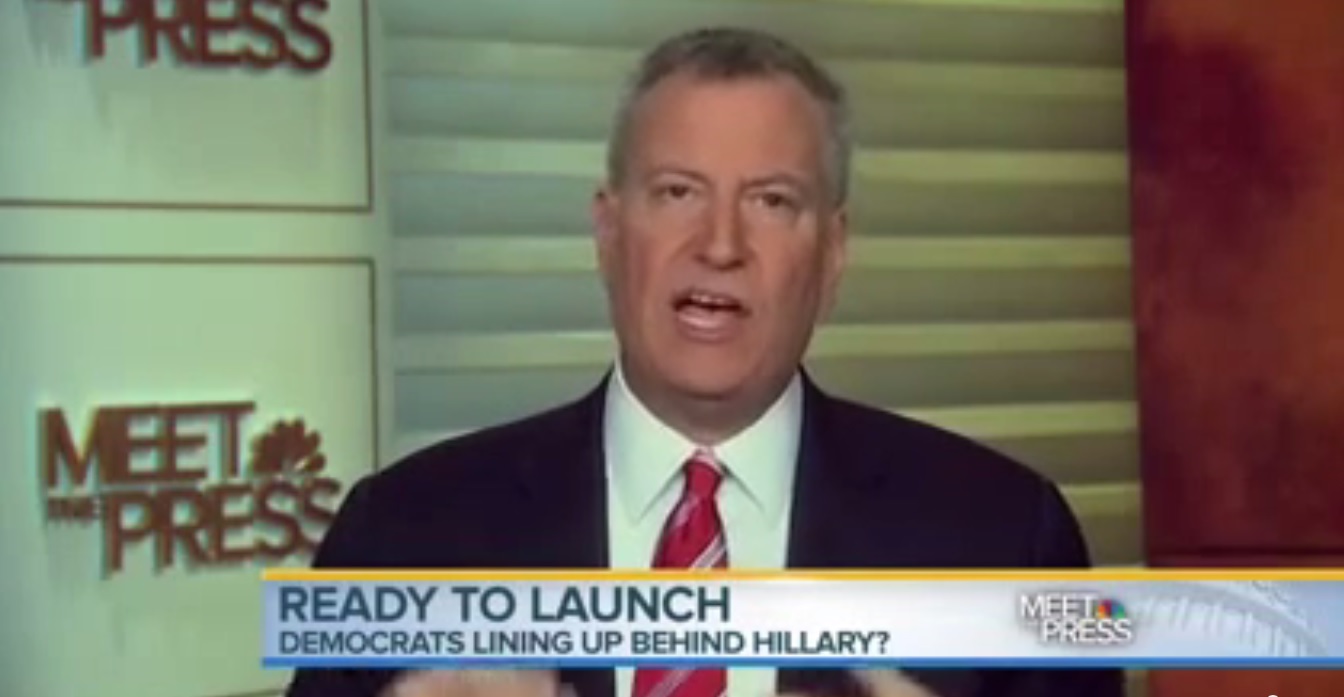 Mayor Bill de Blasio's long national politics nightmare is over.
The mayor finally delivered his endorsement of former Secretary of State Hillary Clinton, the Democratic front-runner for president, on a segment on MSNBC's Morning Joe—wedged between questions on the New York Mets and his own poor poll numbers.
"I'm extremely pleased with what she's put on the table," Mr. de Blasio told the four journalists and pundits on the show this morning.
The endorsement of Ms. Clinton, whose 2000 Senate campaign Mr. de Blasio ran, is not exactly a surprise—but it comes after months of the mayor hemming and hawing, saying he needed to see "more" from Ms. Clinton on her plans to combat income inequality, vowing to hold a forum on the issue in Iowa to prod Democrats into discussing an issue plenty of pundits think Ms. Clinton's challenger on the left, Vermont Sen. Bernie Sanders, has already prodded them into talking about.
But after months of asking for more—and being mocked for it, and even needled by his Democratic rival Gov. Andrew Cuomo for being one of the last New York City officials to jump aboard Team Hillary—it seemed the mayor had finally seen enough.
"As you've seen with each successive speech, Hillary has filled in the blanks," he said.
But for all the lead-up, the endorsement was a little underwhelming. There was no stage, with Ms. Clinton standing beside him. It wasn't after the much-touted forum, slated for December. It was a Friday morning when New Yorkers are pre-occupied with the Mets, on basic cable. And unlike the many elected officials who simply put out prompt statements backing Ms. Clinton when she announced her bid, Mr. de Blasio had to spend most of the segment defending his decision to endorse her. What about how she changed her mind on the Trans-Pacific Partnership? What about the Keystone Pipeline?
At one point, the mayor was urged to look into "camera three" and explain to people why he was endorsing Ms. Clinton and not the more liberal Mr. Sanders.
"Hey progressives," he began awkwardly. "I'm supporting Hillary Clinton—"
"Say endorsing," the mayor was urged. "Say endorsing, please."
"I'm endorsing, I'm supporting Hillary Clinton enthusiastically because we have to take on income inequality," the mayor said. "It is the issue of our time, and we have to restore the middle class, and Hillary Clinton knows how to do it, will get it done, and has a progressive platform that speaks to all the changes we need, including progressive taxation, including uplifting the working class."
Of course, endorsing Ms. Clinton separately from the rest of the pack did garner his decision a little attention—whether it was worth some of the negative attention he got for waiting remains to be seen. Ms. Clinton's campaign, said to be displeased with the mayor's waiting, blasted out a press release on Mr. de Blasio's endorsement.
"Today, in a sign of the campaign's continued momentum, New York City Mayor Bill de Blasio endorsed Hillary Clinton for President citing her progressive record and vision to be a president to fight every day to rebuild the middle class," the press release said. "Mayor de Blasio has been a tireless advocate for working families by championing an increase in the minimum wage, paid family leave and pre-K for all."
While the release included a statement from Mr. de Blasio, it did not include any comments from Ms. Clinton.