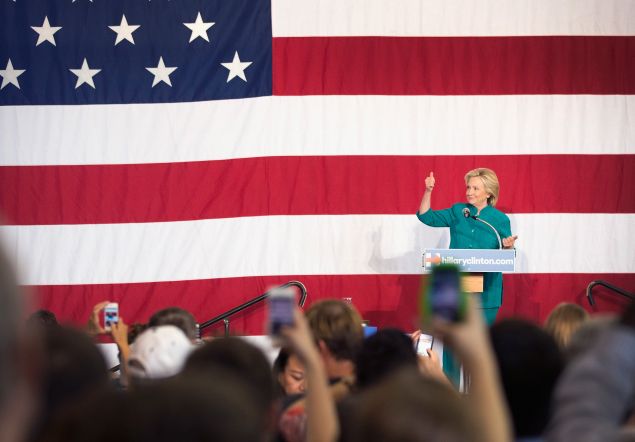 A week after one Democratic congressman chided Mayor Bill de Blasio for racing to Iowa to hold a presidential forum, the mayor defended his foray to the cornfields as a way to get candidates, Republicans and Democrats alike, to talk about fighting income inequality.
Though Mr. de Blasio will no longer have a speaking role at the forum, set for December 6, and the Democratic front-runner Hillary Clinton has not confirmed her attendance, the Democratic mayor is hoping he can move the needle anyway.
"The larger solutions to income inequality come through higher wages and benefits which have to be mandated at the state or federal level. It comes from progressive taxation so we can actually invest in things like mass transit and infrastructure and put a lot more people back to work and improve the quality of life for people," Mr. de Blasio said at an unrelated press conference in East Harlem.
"The natural question is what's going to cause that change? The only thing that will bring that back is a different public debate in this country," he continued "I'm trying as one of the leaders in urban America to change the discussion."
Despite his best efforts, political observers and pundits have not yet recognized him as a progressive leader on par with Sen. Bernie Sanders of Vermont, Ms. Clinton's top primary rival, or Sen. Elizabeth Warren of Massachusetts. Poll numbers show that New Yorkers prefer Mr. de Blasio to remain in the five boroughs.
Mr. de Blasio said today the forum was not tied to his decision on whether he would endorse Ms. Clinton. Though his initial decision to pass on backing the former secretary of state and New York senator–Mr. de Blasio managed her first campaign–was greeted warmly by some grassroots progressives, he has long been expected to endorse her. Every other prominent New York Democrat, including Gov. Andrew Cuomo and Council Speaker Melissa Mark-Viverito, backed Ms. Clinton already.
What's also not clear is how much Mr. de Blasio's forum is needed in a Democratic primary where domestic issues like income inequality are at the tips of every candidates' tongues. Mr. Sanders, a self-described democratic socialist, is gaining ground on Ms. Clinton and she has reacted by moving increasingly to the left. Much of what Mr. de Blasio champions and he says New York City needs–more federal funds and infrastructure spending, for example–can't happen without approval from Congress, where Republicans control both chambers.
Even a President Clinton or President Sanders will be forced to contend with House Republicans hostile to big city liberal mayors for years to come.
"If we don't have that conversation" on income inequality "nothing will change," Mr. de Blasio said. "If nothing changes, the people of New York City will suffer. That's why it's worth putting attention on where the actual decisions are made and we all know, we all know that the first place that the future of our country will be decided is Iowa."