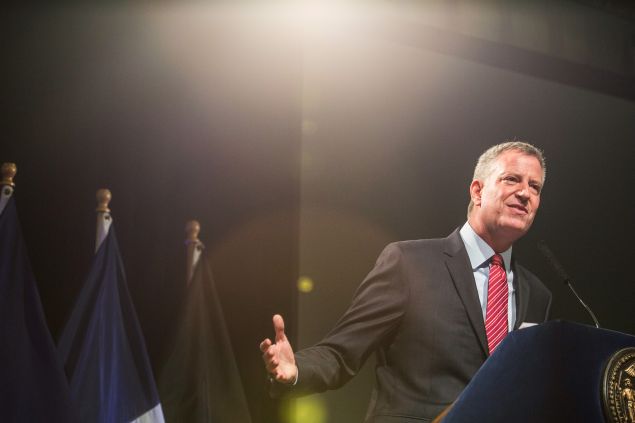 Mayor Bill de Blasio said in a radio interview today a hurricane potentially barreling toward New York could force him to scuttle his plans to travel to Washington, D.C. and Baltimore this weekend.
"I'm going to make every decision based on what's going on with Joaquin," Mr. de Blasio told AM 970 The Answer's John Gambling. "We're watching it hourly and if that situation worsens, I'll adjust my plans accordingly. I would in any situation, obviously."
Mr. de Blasio, who has drawn criticism for his trips outside New York City to discuss the national political climate, plans to travel to Washington to meet with Julian Castro, the housing secretary, and attend a Saturday meeting of the United States Conference of Mayors in Baltimore. On Friday, Mr. de Blasio will also address a conference of liberal lawmakers.
It's not yet clear where in New York Joaquin will strike or if it will impact the state at all. Some weather models currently show the hurricane avoiding the East Coast, while others show it making landfall in the next few days. Mr. de Blasio's predecessor, Michael Bloomberg, came under fire when he left for Bermuda during a major snow storm 5 years ago.
Mr. de Blasio bristled when pressed on the ongoing criticism he's faced over his travels.
"The federal government used to do a lot for us with mass transit, affordable housing, education, infrastructure. That's not happening, John," he said. "To get that investment back is going to take change in the political dialogue. That's why I'm talking to groups that are pushing very hard to change the agenda in Washington."
"What I find a little surprising about this discussion … do we actually believe we can solve our problems just with the resources of New York City? No, mayors have always known that if the federal government is not a partner, we can't do enough for our people," he added. "Federal government is not going to be a partner if we allow the status quo to continue and the only way you change the status quo is to change the public debate."
Mr. de Blasio's appearance with Mr. Gambling, who had Mr. Bloomberg as a frequent guest, marked yet another radio appearance for the mayor this year. After avoiding radio for much of his first year in office, he has begun to frequently appear on WNYC, while mixing in national TV spots.
With local reporters, he appears to be following a new pattern: limiting press conferences where journalists can pose off topic questions to once a week.