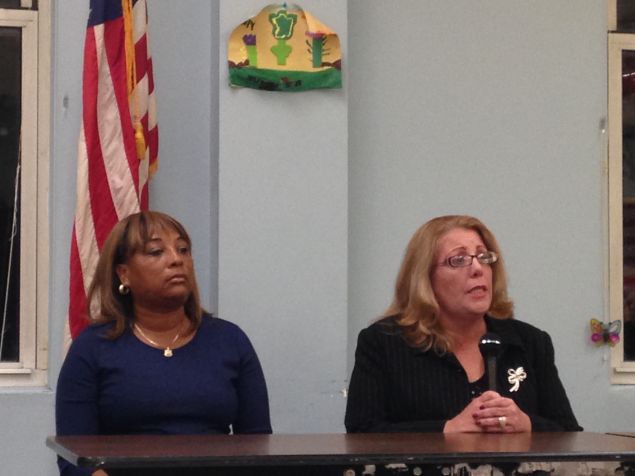 A candidate forum for a vacant southern Brooklyn Assembly seat turned into a bitter verbal tussle over abortion last night—not between the two women running to represent the district, but between one of them and a civic leader in the audience.
Republican Lucretia Regina-Potter—running against Democrat Pam Harris to represent the neighborhoods of Bay Ridge, Coney Island, Dyker Heights, Bath Beach and Seagate—clashed repeatedly at the Bay Ridge Community Council Debate with local activist Frankie Marra over reproductive health chain Planned Parenthood. The origin of the dispute was the series of undercover videos recorded by the pro-life group the Center for Medical Progress, which showed Planned Parenthood employees discussing the removal of organs from aborted fetuses for medical research—videos Mr. Marra pointed out Ms. Regina-Potter and other Republicans had used to attack the organization, and which he labeled a "hoax."
Ms. Regina-Potter struck back angrily.
"You know what, it's your opinion that the video may have been a hoax. I don't believe it was a hoax. These people were brokering baby parts on camera," she said, touting her endorsement from the New York State Right to Life Committee. "That is horrendous, it is a disgrace, and how dare anybody harvest human body parts for anybody else?"
"Every life is viable. And no child should be murdered. And we have to respect that," she continued.
The back-and-forth became even more heated when Mr. Marra echoed claims that the fetus witnessed on a table in one scene of the videos was in fact the product of a miscarriage, not an abortion. To the Republican candidate, the distinction did not matter.
"Any miscarriage is an aborted baby, sir. Any miscarriage is an aborted baby," she said to murmurs of disagreement in the audience. "Yes it is. It is a natural abortion. Yes it is."
For her part, Ms. Harris highlighted the personal importance the availability of female medical care had for her as a breast cancer survivor, without mentioning Planned Parenthood.
"Women's health issues is extremely big for me," she said. "I am the epitome of women's health issues."
The area is historically a centrist Democratic stronghold, but many expect this year's contest to be particularly tight because Ms. Harris is a black candidate running to represent a district that is more than two-thirds white. No majority white seat in the five boroughs has an African-American representative.
Ms. Regina-Potter is Italian-American.
The seat became vacant in when former Assemblyman Alec Brook-Krasny, a Democrat, resigned in July to take a job in the private sector.