Oh, the treasures that can be found in museum storage! Word trickled out recently that the Brooklyn Museum has been hiding something very special: a rare example of Postmodernist residential architecture has been tucked away in a warehouse for nearly three decades.
A completely intact apartment by American Postmodern architect Michael Graves has been in storage at the Brooklyn Museum since it was acquired in 1986. Similar to other Postmodern designs by Graves, the apartment features ornamental design, an eclectic blend of classical references and muted color palettes.
Today, Graves is lauded for such high profile designs as the Humana headquarters in Louisville, Kentucky, the Portland Building in Oregon and the Ministry of Health, Welfare and Sport in The Hague, Netherlands. He also notably put forward an expansion proposal for the Whitney Museum in the mid-1980s, though it was never completed. But, he's perhaps best remembered for designing kitchen utensils and household objects for companies like Target.
According to Timothy M. Rohan, a professor of architectural history at University of Massachusetts, Amherst, who revealed the apartment's existence in an article published online with the non-profit Docomomo, the "Reinhold Rooms" were made at the height of Graves' architectural career, between 1979 and 1981, when he was commissioned by Susan and John Reinhold to design the interiors for the library and their daughter's bedroom in the art world power couple's pre-war duplex at 101 Central Park West.
According to Mr. Rohan, Susan Reinhold was a dealer of early 20th century posters while John dealt in diamonds but happened to be a close friend of Andy Warhol. They outfitted their apartment with art from some of the decade's biggest names: a portrait of their daughter Berkeley by photographer Robert Mapplethorpe hung in the library and Graves made a Cubist-style sculpture which hung in a wall niche.
While architecture enthusiasts won't be able to step foot inside the Reinhold Rooms any time soon—the museum has no immediate plans to exhibit the apartment—the museum does have another historically significant apartment in its collection that is on view.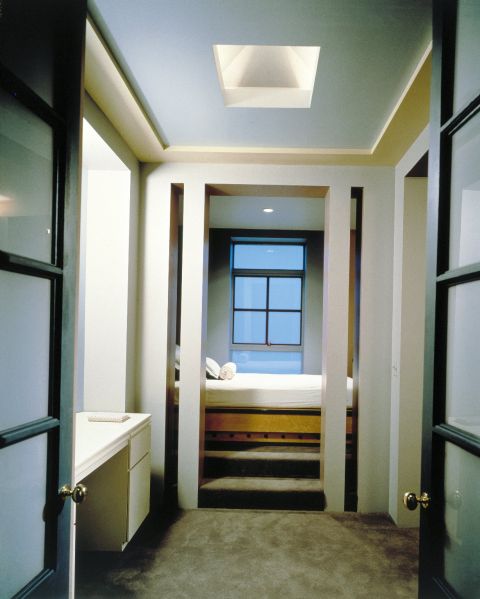 The Weil-Worgelt Study—once installed in the home apartment of Milton Weil at 525 Park Avenue—is a combination of Art Deco and French 18th century revival styles, and was designed by the Parisian decorating firm Alavoine between 1928 and 1930. The room features intricate wood paneling and a larges lacquer panel as well as a hidden bar in one corner to conceal alcohol during the Prohibition years.