"We met at a full moon goddess circle," the ladies of The Babe Collective explain over dinner in Williamsburg. We laugh as the moon-loving ladies add that they were quite literally brought together by lunar forces. The Collective's founders Gabby Wong, Kirsten Knick and Robin Lee are skilled healers in areas ranging from Reiki to yoga and breathwork. The impressive trio (three is a sacred number, they note) are part of a crop of entrepreneurial young women who organize events that combine healing and spirituality with elements of femininity.
Their inaugural event Elevate was "about elevating consciousness, energy and people in general," Ms. Lee explained. The line-up included meditation led by Center Of The Cyclone founder Biet Simkin, an extraordinary confidence workshop, kundalini yoga, a cacao ceremony, and of course, a full moon goddess circle. The event was heavily promoted on Instagram and impeccably organized.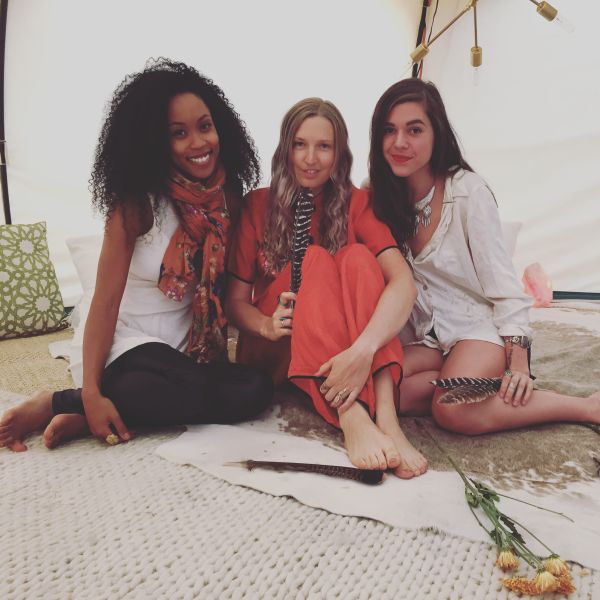 The goddess circle that crystallized the Babes' partnership took place at Maha Rose in Greenpoint, where I attended a Feminine Freedom Session on a balmy October evening. The welcoming healing center garners buzz for its dreamy interior, stacked events calendar and all around good-vibes staff members. Described as an evening to "support beginning anew, awakening your mind and heart and making room for your desired life," the Feminine Freedom session was attended solely by women. Herbalist and healer Olivia Clementine presided over a tea ceremony with herbs she grew herself upstate, while Adriana Rizzolo led us in Kirtan, a form of devotional chanting with roots in India. Sitting in a circle in Maha's candlelit space, the two-hour event ended with each of us sitting briefly at the center of the circle. Ms. Rizzoli lit sage while we were instructed to take in positive energy from the surrounding group. While some people cry privately in the safety of their therapist's office, tears shed in this room attested to the cathartic powers of the setup. It was emotional and much like Maha itself, a bit dreamy.
"We are all about keeping it modern," the Babes explained when I asked them how they felt their events and practices fit into the madness that is social media. Personally, I discovered both Maha Rose and The Babe Collective via Instagram, drawn in by powerful imagery and savvy captions. While collective healing precedes traditional psychotherapy by thousands of years, crystals photograph much better than the placard on your therapist's wall.
Perhaps as a reaction to the singular experience of technology, young New Yorkers are embracing collective, holistic events. While sound healing and burning sage are ancient in origin, the popularity of workshops at places like Maha Rose attests to the high demand for these types of healing. Events such as "Meditation and Writing for Creativity" are perfectly branded for the bevy of media and creative types that populate the area surrounding Maha Rose. The healers I spoke with agreed that they've seen an increase in demand for collective, feminine focused healing events such as goddess circles, and Ms. Knick from The Babe Collective feels that "there's an awakening happening right now."
The city's "work hard, play hard" culture often lends itself to the idea that one works here and then escapes elsewhere–Hamptons or upstate–to decompress. Ms. Rizzolo, raised in the tri-state area and a resident of Brooklyn for ten years, points out that despite the city's chaotic energy, it can be a great place for healing. "You have so many opportunities to interact with people here and don't get that in the country, even though people will tell you that you need to go to the country to de-stress," adding that the city is home to so of events catered towards healing.
//platform.instagram.com/en_US/embeds.js
I couldn't help but wonder if heavily promoting on social media somehow diluted the message of what can be very heavy, serious healing events. Ms. Clementine addressed the issue: "Bringing social media into it does bring the ego back in, so you have to examine your intentions in putting yourself out there. You have to know you're sharing this thing because you want to heal." Ms. Clementine lives upstate and has had to fully embrace social media promotion in the last year or so, "I don't know how I would promote without the internet." She also raised the point that in terms of femininity, "it's helpful to use social media, in a sense. You're putting yourself forward in a direct and not being ashamed of what you want to share."
All goddess chatter aside, The Babe Collective and Maha Rose do encourage men to attend their events, and men also teach at Maha Rose. "Embodying the Goddess is being grounded in your purpose and a larger vision for yourself outside of what you may be dealing with at the time," Robin explained when asked about how femininity and goddess tropes fit into their overall mission. The Babes suggest men embrace the feminine aspects of themselves, which they believe is a necessary to balancing a male-dominated society. Gabby summed up that to her, embracing the goddess is "grace and confidence," two characteristics that those skeptical of holistic healing can certainly stand behind.

The Babe Collective's next event takes place on October 23 at NY Awakening in Greenpoint. Called Alchemy, the event will is billed as an evening of "empowerment, transformational breath work and high magic."