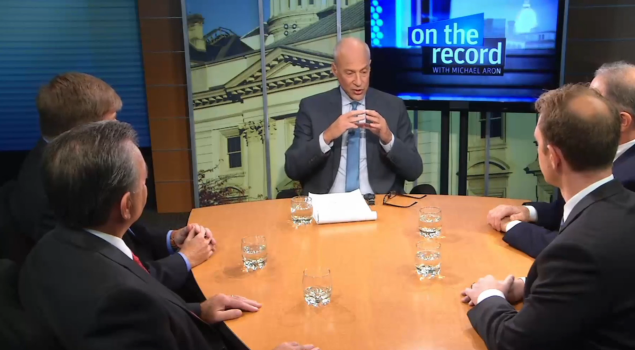 The Assembly candidates from the second district debated on NJTV this weekend on Michael Aron's "On The Record," and the Democratic incumbent may be coming away with the most to lose.
Assemblyman Chris Brown (R-2) faced off against Assemblyman Vince Mazzeo (D-2) alongside their respective running mates Atlantic County freeholders Will Pauls and Colin Bell.
It was a rough night for Mazzeo. Aron recalled Mazzeo's narrow 51-vote victory in 2014 at the top of the program to the assemblyman's visible discomfort, and things only got worse from there.
Brown and Bell dominated the debate, with Brown diligently sticking to his pro-county and anti-North Jersey casino line. The Democratic freeholder outran Mazzeo in addressing everything from Democratic leadership's support for North Jersey casinos to their campaign's own significant PAC support.
While the question of the Democrats' party funding from pro-North Jersey casino legislators like Assembly Speaker Vincent Prieto (D-32) and Senate President Steve Sweeney (D-3) came up early in the debate, Bell later pointed to Assembly Minority Leader Jon Bramnick (R-21) and his support for both the Brown-Pauls campaign and the new casinos.
On the question of ad buys on their campaign's behalf from the General Majority PAC, Mazzeo offered an evasive "I'm focused on my race in Atlantic County."
"I think they should know where the money's coming from," said Pauls of the Democrats' campaign and voters in the district adding at another point that he believes the Democrats have more than three times the fundraising support that he and Brown have.
Bell shrugged off the claim on the grounds that he and Mazzeo cannot coordinate with the PACs under federal campaign finance laws.
On the machinations behind Mazzeo supporter Senator Jim Whelan's (D-2) stalled PILOT bill, Brown stayed firm in his opposition to the draft before the governor.
"In many ways it's corporate welfare," said Brown of the bill, adding that there has been no compromise to meet the 13.5% share the county was promised in the original agreement.
When asked why he initially voted for the bill and then withdrew his support, Brown cited that figure and a desire to avoid "Washington-style gridlock."
Mazzeo attacked Brown's own resolution to prevent construction of new in-state casinos. Brown's camp previously used a whited-out signature from Mazzeo on the resolution itself to paint the Assemblyman as a supporter of North Jersey casinos.
On his decision not to support the resolution, Mazzeo said "[this] resolution gave false hope to the people of Atlantic County, because it was a non-binding resolution."
After Bell claimed that Brown voted against a thousand-dollar property tax for Atlantic County residents who make under $200,000, Brown fired back that the bill was fiscally unsound and that a veto would have been inevitable.
See the full debate on NJTV's website.