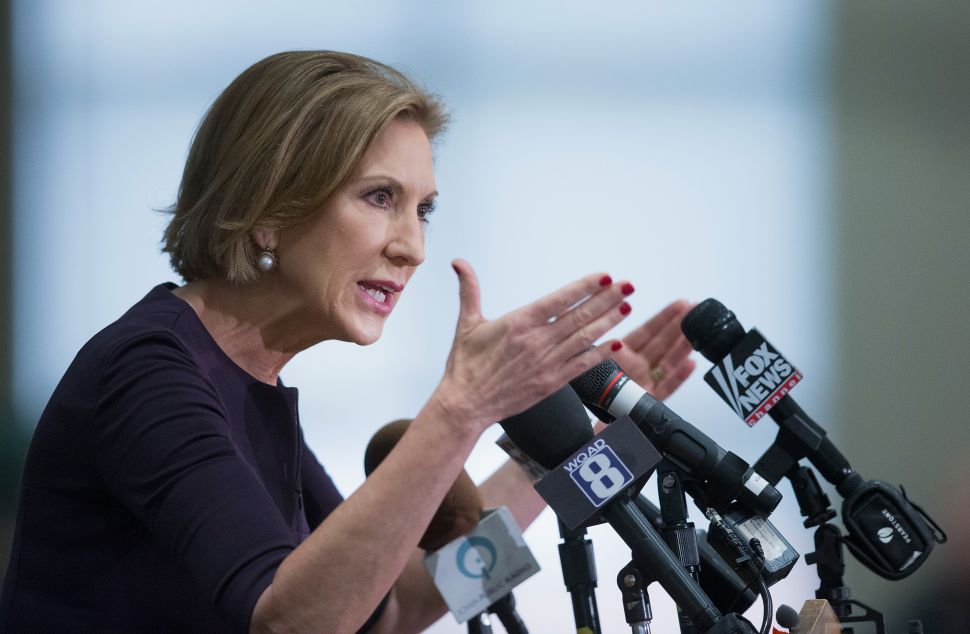 Republican presidential candidate Carly Fiorina (Photo by Scott Olson/Getty Images)
A lesson might be learned this week by the motley crew of Republican candidates barnstorming Iowa and also the political nihilists who perennially threaten to shut down the government, stumbling now to find actual leadership. It comes from Miley Cyrus, who might be considered Congresses' cultural equivalence in mayhem and extravagance. She appeared the weekend past on Saturday Night Live and as the Washington Post commented: "In season debut of SNL the biggest surprise is that Miley Cyrus is no longer shocking."
Nor are the antics of Washington's firebrand lawmakers. Indeed, they were never shocking, just extremely odd; revolutionaries waving flag and cross, proudly riding their sweet Harleys in parade to hillbilly hoedowns in rural Iowa like the one Iowa Representative Steve King holds every year; revolutionaries in spirit and rhetoric but afraid to cross the river to actual and lasting action.
But we will be seeing a shift in outlook this October, which in my estimation will bring a permanent change to America, one that leaves it all behind, one that begins again a new and different American awakening. It might be seen rising today in the data just released in NBC News/Wall Street Journal/Marist polls.
In examining the data and comparing this month with last and former months, one singular impression emerges: Former CEO of Hewlett-Packard Carly Fiorina is surging. It is almost fair to say (it is almost time to say) Carly Fiorina is winning.
In New Hampshire, when potential GOP primary voters were asked, "If the 2016 Republican presidential primary in New Hampshire were held today, whom would you support…" Ms. Fiorina jumped ten clicks from Sepember's poll to second place while the leader, Donald Trump, dropped seven points. In the top five, Former Florida Governor Jeb Bush was third but rose only three percent from eight to 11.
Florida Senator Marco Rubio, in fourth place, also did well, rising from three points in September to ten. Surgeon Ben Carson, in fifth place, dropped one from 11 to 10. But Mr. Bush is down three since July, seven since February. Ms. Fiorina is up 14 since July. The rest of the crowd hovers from one to two points to what they were last month, except Governor of Ohio John Kasich who dropped six points, from 12 in September. Only Ms. Fiorina and Mr. Rubio could be considered making important advances this past month and Ms. Fiorina is ahead of Mr. Rubio by 6 percent.
In Iowa, Ms. Fiorina may also be seen as having potentially winning advantage if surging is built into the equation as an indication of who will advance and who in real-time, is actually winning. The leader has dropped five points since September. Mr. Carson, in second place, has dropped three, from 22 to 19. But Ms. Fiorina has jumped three points from last month, seven since July to third place, the only candidate to make a more-than-two-point gain since September. Mr. Bush rose only one percent since September and is down five since July and nine since February.
The most comprehensive and effective historians (Arnold Toynbee, Oswald Spengler: "becoming and the changing," "become and the set fast") explained that a culture should be seen always in change; dynamic metamorphosis is the only constant as a culture rises in surge or striving, or descends to safety and stasis. Viewed this way, the unprecedented inclination of voters of both parties today toward old families—the Clinton family culture and the Bush family—represents a dangerous default to stasis and decline.
The candidates who best fit their times might be found by evaluating the striving or surging factor in the polling statistics. This measurement of yearning or willfulness represents the rising health and life force in America and America's fate lies therewith.
As of today's polling, only Ms. Fiorina can be considered surging. She is ahead. In this context, it is fair to say that she is currently winning.