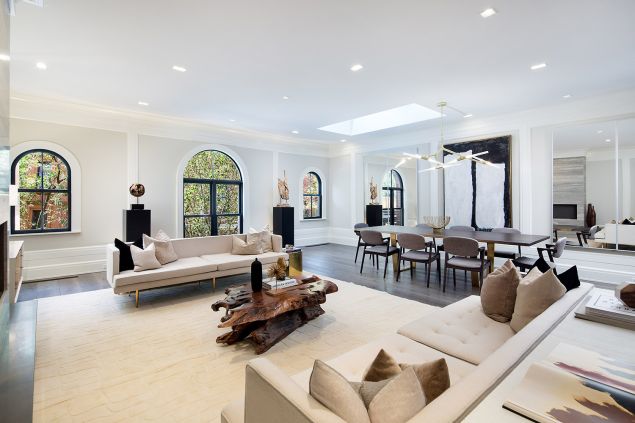 "The renovation cost well over $5 million and took more than three years to finish—they certainly didn't do this to sell it," commented Sotheby's International Realty broker Gabriele Devlin. We were standing in the entrance gallery of 165 Columbia Heights, a space illuminated by late-summer sun pouring through the enormous circular skylight at the top of the stairs—one of the many gracious touches the current owners added.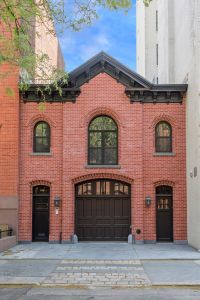 The owners bought the 1860s carriage house on Brooklyn Heights' premiere strip three years ago for $4.1 million and set about taking the quaint if utilitarian Jehovah's Witness property from cute to haute about as fast the hobbled clip of a Landmarks Preservation Commission-approved renovation allows.
Such was their attention to detail that when they found that the historic brick had crumbled beneath the workaday gray stucco facade, they tracked down historically appropriate brick from an Ohio brewery. The third-floor addition, meanwhile, which includes the master bedroom, master bath, dressing room and roof terrace, is cleverly hidden from the street so as not to disturb the sightline.
Indeed, the interior of the 26-by-80-foot, four-bedroom home has been so thoroughly overhauled—there were few historic details left to preserve—that a visitor might be forgiven for thinking oneself in new construction amid all the unblemished finishes: wide-plank smoked-oak floors, custom built-ins, a colossal chef's kitchen and light fixtures by Lindsey Adelman and Holly Hunt. Even the skylights are designed to shut themselves if left open during a rainstorm.
Such pristineness surely owes something to the fact that the sellers never actually moved in. Planning to relocate from San Francisco to New York, they moved to London instead a few months before the renovation was completed. But given that the $9.95 million property has already found a buyer—Ms. Devlin told us that the second person to see it signed a contract—it's unlikely that the carriage house will suffer a lonely fate much longer. There's even space for a few horses in the three-car garage.