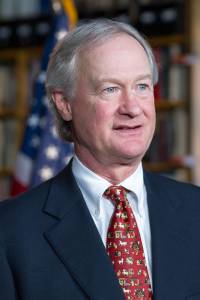 Long-shot candidate Lincoln Chafee has ended his bid for the 2016 Democratic nomination for president.
The former Rhode Island Governor made his announcement at the DNC's annual Women's Leadership Forum on Friday morning, according to his blog.
"As you know, I have been campaigning on a platform of Prosperity Through Peace," Chafee said at the DNC event. "But after much thought I have decided to end my campaign for president today. I would like to take this opportunity one last time to advocate for a chance be given to peace."
The Friday announcement narrows the already-small democratic primary race to just three serious contenders: Former Secretary of State Hillary Clinton, Senator Bernie Sanders and former Maryland Governor Martin O'Malley. Former Virginia Senator and Navy secretary Jim Webb ended his bid on Tuesday. A day after that, Vice President Joe Biden ended speculation that he would be entering the race.
The small Democratic field is in stark contrast with the crowded Republican field where candidates like Donald Trump, retired neurosurgeon Ben Carson, former Florida Governor Jeb Bush, former HP CEO Carly Fiorina, New Jersey Governor Chris Christie, and several others are still vying for the nomination.
Though Chafee has dropped out, his numbers and favorability were low enough that his exit from the race will likely have no impact on the more electable Democrats still in the field.