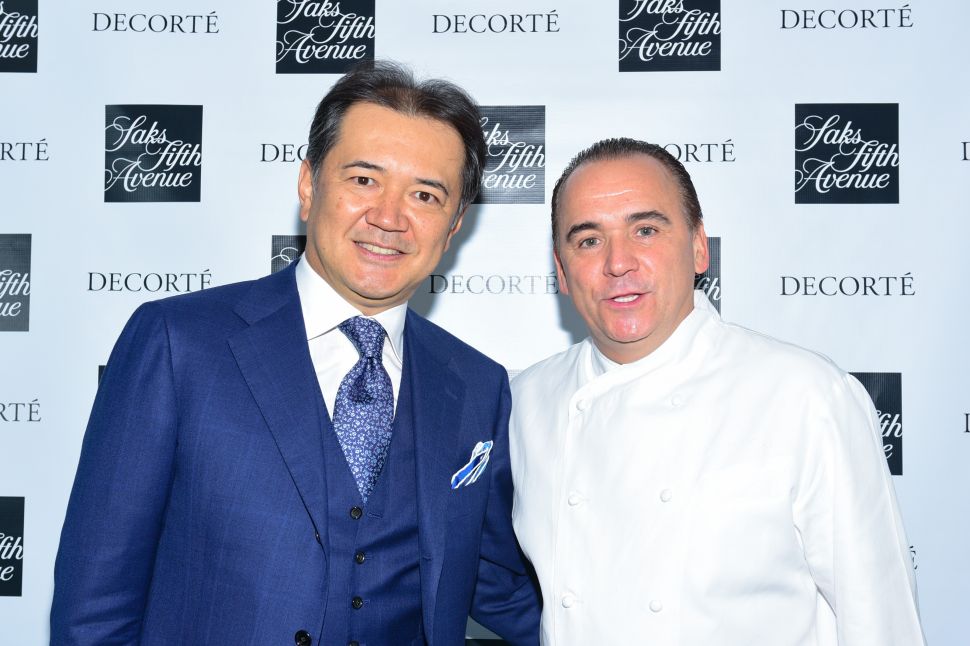 While American fashion and cosmetic brands are busy playing to the demands of Asia, Decorté is doing the opposite. The $500 million skincare brand from Japan is slated to make its U.S. debut in Spring 2016 exclusively at Saks Fifth Avenue. Yesterday, Decorté hosted a breakfast at Jean-Georges Vongerichten's Perry Street to welcome the brand stateside. 
The renowned chef himself plated the breakfast alongside his son, Cedric. In addition to a caviar topped soft-boiled egg and a savory french toast garnished with a strip of bacon, the meal included a light custard that many mistook for a yogurt at first glance. Diners later found out it was the star of the meal, as its main ingredient was Onsen water from Mount Fuji in Japan. The soluble alkaline complex is also found in Decorté's products, thanks to its ability to balance the skin.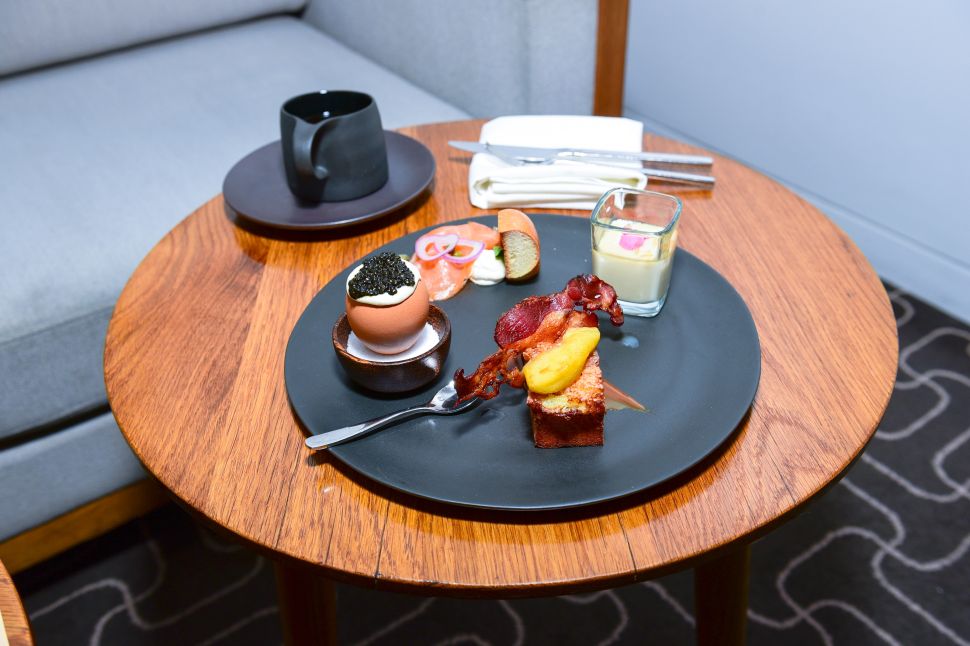 "It's a custard-very light with no cream, and a little bit of egg to bind it together. The recipe starts with water, so we started with Onsen water that we shipped across from Japan. It's difficult to use water in a breakfast dish, unless it's a glass of water, but with this we wanted the flavor of the minerals," Chef Vongerichten told us after breakfast was served. Although the modest Michelin Star-decorated chef visits Japan about three times per year to check in on, in his own words, "a small, tiny restaurant in Tokyo," his trip to Mount Fuji last month was his first to the region. 
"We stayed in a hotel near Mount Fuji, and it had really no furniture. It was just a tatami mat, and a wooden box for a bath that looked like a bento box. They filled the box with boiling water from the mountain in the morning and covered it, and said, 'At 5 PM tonight your bath will be the perfect temperature,' and it was. It was the most magical moment," the Frechman recalled. "So I was drinking it, taking baths in it, and I said, 'I love it! I can still feel it on my skin.' I haven't tried the Decorté cream or the other products yet. I've only tried the water, but I like the pampering. I think I'll be using it a lot."