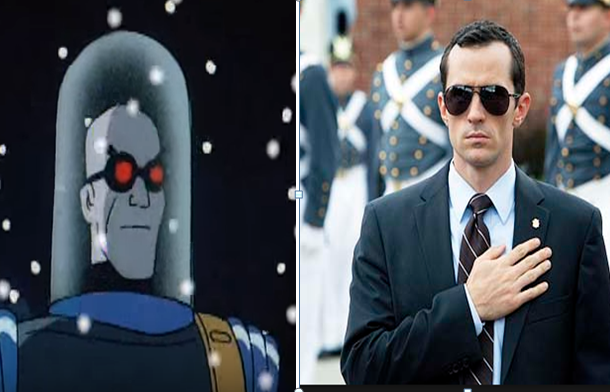 Six episodes into a season that's already included a pseudo-Joker, a female Firefly, and even a possible Azrael, Gotham looks to add yet another of Batman's future-foes to its ranks. TVLine got the scoop that 39-year-old actor Nathan Darrow will portray the appropriately named Victor Fries, AKA Mr. Freeze. Victor Fries starts off as a leading Gotham City cryogenicist whose obsession with keeping his ill wife Nora alive (and on ice) leads to his transformation into the Dark Knight's coldest enemy.
Mr. Darrow is probably best known as Frank Underwood's bodyguard and occasional threesome partner Edward Meechum on Netflix's House of Cards. He is also set to play Andrew Madoff to Robert DeNiro's Bernie Madoff in HBO's upcoming Wizard of Lies.
According to Gotham executive-producer John Stephens, Mr. Darrow will take up his role starting November 30th, and then "we're going to be telling a heavy Freeze story in Episodes 12 and 13."
So what does a "heavy Freeze story" entail? Well, Gotham is no stranger to borrowing from and tweaking Batman's most popular tales, and the writing staff can't really go wrong with Batman: The Animated Series' nearly flawless, Emmy-winning 14th episode, 'Heart of Ice.' Written by Paul Dini, 'Heart of Ice' solidified the origin story of Mr. Freeze, 33 years after the character first appeared in the comics in 1959.
[youtube https://www.youtube.com/watch?v=4VfVTWGwLFo]
Of course, we could all get angry at the fact that Mr. Darrow is 39 years old, 25 years older than Gotham's Bruce Wayne. But getting mad about Gotham casting too old for future-villains at this point is like getting mad at the Joker for spraying you in the face with acid — like, it's going to happen, just take it. Plus, Mr. Darrow looks youthful as hell, and will probably just age into Arnold Schwarzenegger's Mr. Freeze anyway.
Besides, things keep better over time when you put them on ice.