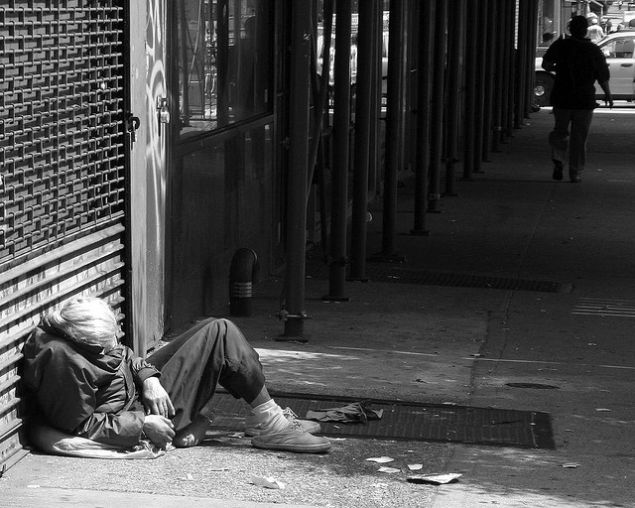 New York City bears the cost of housing homeless single adults almost entirely on its own, a shift from the recent past, in which the state shouldered a much larger share of the burden, a new report from the Independent Budget Office finds.
The funding decrease took place against the backdrop of the city's growing homeless problem, which Mayor Bill de Blasio has faced sharp criticism for failing to curb. Of late, the mayor has acknowledged that street homelessness—a problem that afflicts primarily single adults—had worsened during his term, emphasizing that it was an issue he inherited from his predecessor.
Beginning in 2011, the state lowered its cap for splitting the costs of housing homeless single adults from on average $82 million per year to $69 million and eliminated additional funds it once provided for housing the medically frail. During those same years, the shelter population of both single adults and families shot up, reaching an all-time high of some 60,000 last winter.
As a result, the city's costs for housing single adults have risen dramatically from $104 million in 2007 to $252 million in 2014, with total costs for single adult shelter rising from $196 million to $343 million. The city's share of the burden also grew, from 53 percent in 2007 to 73 percent in 2015.
Housing for homeless families, meanwhile, is largely funded by federal public assistance programs, the report notes, and in 2012, "Albany shifted a larger share of the costs for family shelter onto federal funding streams."
"Federal dollars have covered an increasing share of family shelter expenses," the IBO report adds, "growing from 32 percent ($120 million) in 2007 to 58 percent ($310 million) in 2014."
The report highlights how the city's response to the homelessness crisis, which has been criticized for focusing too much on costly temporary relief rather than long-term prevention programs and solutions, is limited by its funding streams. Additionally, how the city's near-total responsibility for the cost of housing single homeless adults has made it more difficult to allocate funds to other homelessness initiatives.
The release of the report comes after a summer of public spats between the Mayor and Gov. Andrew Cuomo over a number of issues—from funding for the M.T.A. Capital Plan to the handling of Legionnaire's Disease outbreak in the Bronx. Critics have claimed that Albany has not done enough to help fix the crisis. In September, a spokeswoman for the de Blasio administration told Politico New York that the state is "going backwards in its support" for the homeless.