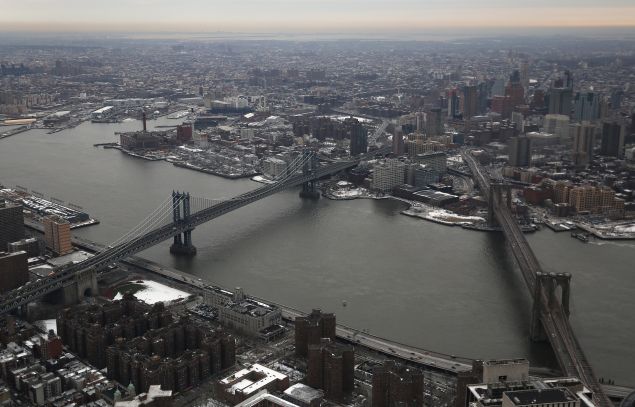 The Progressive Caucus, a group of 19 liberal council members, will endorse a new congestion pricing plan tomorrow, sources say.
They will be joined by "Gridlock" Sam Schwartz, the former city traffic commissioner who is the architect of the initiative, known as the Move NY Fair Plan. Mr. Schwartz is a listed speaker on a press release sent from the office of Councilman Ydanis Rodriguez, a Manhattan Democrat and chairman of the Transportation Committee. A press conference to announce the decision will be held at City Hall.
The backing of the influential caucus of lawmakers, which includes Council Speaker Melissa Mark-Viverito, ensures the pricing scheme has a good chance of being eventually passed by the 51-member body. Under Mr. Schwartz's plan, tolls would be placed on the East River crossings and motorists would be charged for entering Manhattan south of 60th Street. Outer borough crossings like the Robert F. Kennedy Bridge and Verrazano-Narrows Bridge would see their tolls reduced. Advocates say Move NY will raise much needed revenue for the cash-strapped Metropolitan Transportation Authority.
Several members of the Progressive Caucus already back the plan, as do a slew of city and state lawmakers including Manhattan Borough President Gale Brewer and Queens State Senator Jose Peralta. Mayor Bill de Blasio has expressed openness to the idea as well.
But even with the crucial backing of City Council progressives, the pricing scheme faces many hurdles. The State Legislature must ultimately approve of Move NY if it passes the Council, and outer borough Democrats in the Assembly and the Republican-controlled State Senate are hostile to new tolls. Many Queens lawmakers, citing their lack of transit options and need for residents to drive to Manhattan, oppose the plan, and car-dependent Long Island Republicans are also skeptical. Critics worry the creation of new tolls does not guarantee slashing tolls elsewhere, and a sudden boom in revenue could be allocated for state projects unrelated to transit.
On Thursday, at least one member of the Progressive Caucus, Queens Councilman Daneek Miller, announced he was opposing Move NY.
Gov. Andrew Cuomo, a Democrat, said he didn't think state lawmakers would support congestion pricing. A similar pricing scheme backed by the mayor and governor died in the Assembly in 2008.
Updated to include Mr. Miller's decision.