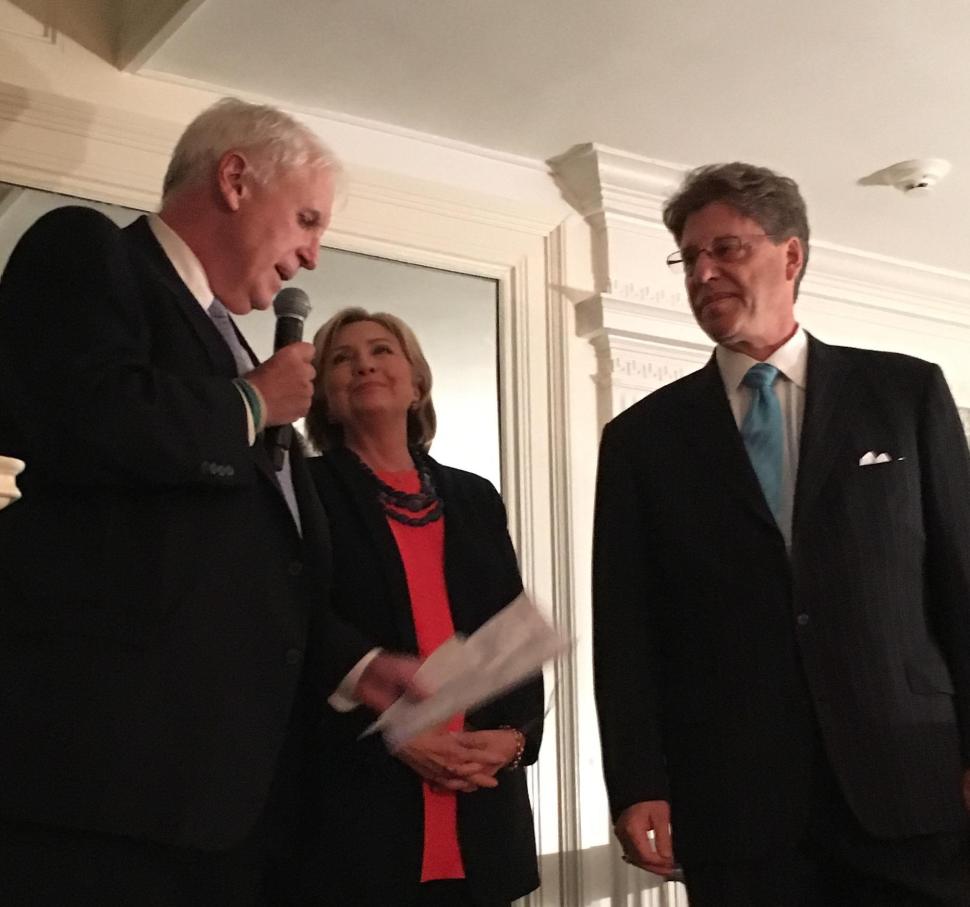 New Jersey Democrats welcomed Hillary Clinton to the home of powerful attorney Phil Sellinger (above, right) for a fundraiser tonight on the same day a Monmouth University poll shows the former Secretary of State crushing Bernie Sanders in Iowa.
"It was a great crowd for Clinton," said Zenon Christodoulou, vice chairman of the Somerset County Democratic Committee, who attended the fundraiser. "When it comes to having a grasp of the issues, there is a marked difference between her and the other candidates."
The fundraiser cost $2,700 a head.
John Graham (above, left) played a big role at the event. He and Clinton go back to the early 1990s. Other attendees included Essex County Democratic Chairman Leroy Jones, Democratic State Committee Chairman John Currie, Vice Chair Lizette Delgado Polanco, former Governor Dick Codey, veteran Democratic Party operative Tom Barrett and Clinton power player Mike Kempner of MWW.
People kept piling into the grand old house, including Speaker Vincent Prieto (D-32), Assemblyman Troy Singleton (D-7) from Burlington, Ed Salmon, insider Kelly Stewart Maer, Somerset County Democratic Chair Peg Schaffer, defense attorney Joe Hayden and even two stars from the original Phantom of the Opera.
"She was fantastic," Graham said of Clinton. "She has such a command of the issues. She's warm in person and she remembers every name. Her husband had a gift – Hillary has a different gift.
"Everyone who left that event left pumped," Graham added.