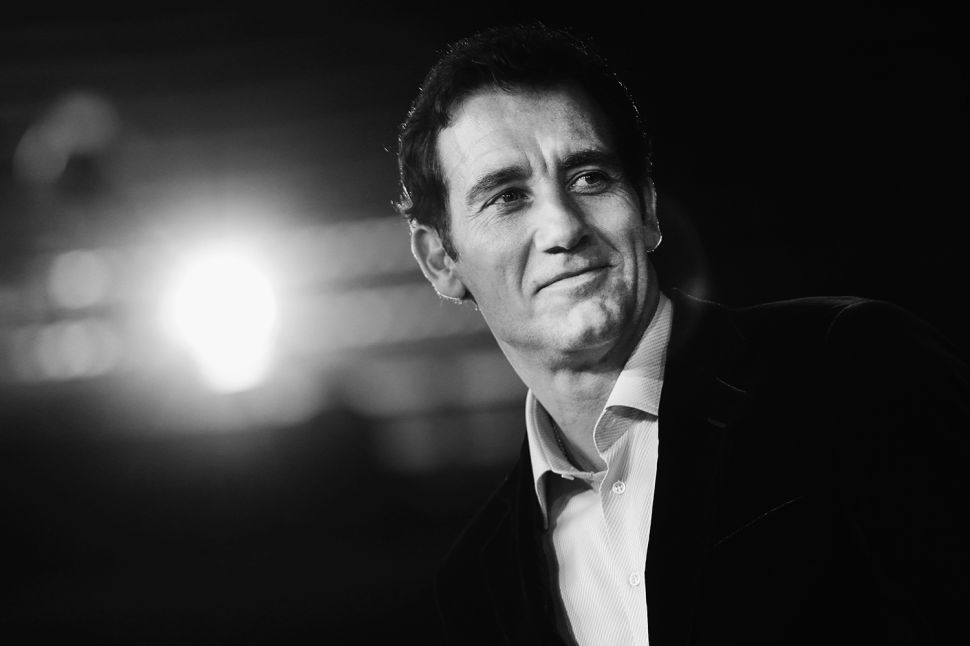 Actors can only dream of the kind of extreme creative vacillation Clive Owen is going through these days. On one hand, at the American Airlines Theatre, he is the civilized, buttoned-down Deeley of Old Times, a filmmaker and husband engaged in an oblique, heady battle of the sexes. On the other hand, in the Cinemax series The Knick, he is Dr. John Thackery, a pioneering New York surgeon at the turn of the 20th century, making great medical strides by experimenting on himself while experiencing monstrous challenges—namely, addiction.
Both mindscapes are intensely befogged, the first by playwright Harold Pinter's cryptic, enigmatic storytelling technique, and the second by the surgeon's Chinatown opium benders.
Mr. Owen weaves his way through these thick clouds with his customary assurance and advanced hormone levels—he played Ernest Hemingway, after all, in Hemingway & Gellhorn and got away with it, not only with aplomb but with an Emmy nomination—so that'll see him through his second set of Knick episodes. They begin October 16, just 10 days after his better-late-than-never Broadway bow.
It took Mr. Owen a half-century to find the Great White Way, landing there three days into his 51st year. "I have a history of not sticking around long," he shrugged with a blinding smile he never gets to use in films. "I've done a number of runs in London where I only did the original production and then … sorta left."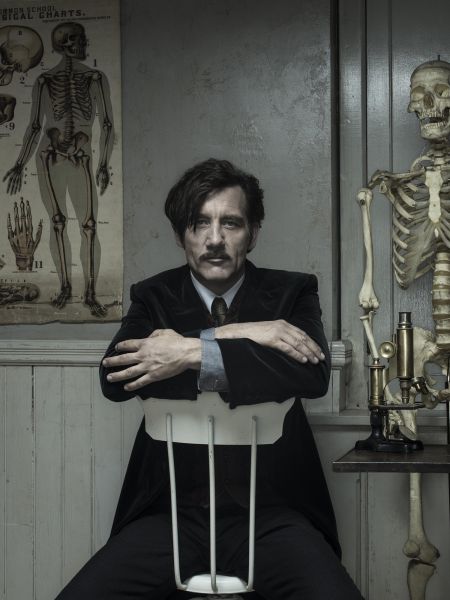 The movie star sees himself as a short-hop sort of guy, and that may account for his somewhat curious stage career: it was Rupert Graves who brought Closer to Broadway in 1999 and Eddie Izzard who headed the 2003 revival of A Day in the Death of Joe Egg, but both of them worked from Clive Owen's London blueprints while the  Original was away raking in coin doing films (Croupier, King Arthur).
"I've been thinking for a while about going back on stage," he confessed recently in an interview with the Observer. "It had to be something I was passionate about, something I really wanted to do. Old Times I didn't even know…Then I read it, and it was, like, 'Oh, my! This is good.' I realized, after 14 years away from the stage, if this couldn't get me back again, nothing could."
Mr. Owen is flanked by two British actresses who have followings on these shores: Kelly Reilly, recently wed to Vince Vaughn in HBO's True Detective, is his wife, and Eve Best, a Nurse Jackie regular Tony-nominated for her previous Broadway outings (Pinter's Homecoming and Eugene O'Neill's Moon for the Misbegotten), plays a quite literal blast-from-their-past.
As Pinter has sketched it out, theirs is an unsettling sort of triangle that triangulates any way you want it any time you want it. Ms. Best is the wife's BFF, a roommate from 20 years ago who visits them at their English-seaside home with memories all (maybe only) her own.
"Pinter hasn't said much about the play. We do know it was inspired by thinking about your partner's previous lovers and what that can do to you. Sexual jealousy is a big theme here. The play is completely infused with that," said the actor.Like Mr. Owen, Ms. Reilly is only now getting around to Broadway, having previously passed on reprising roles she originated in London (notably After Miss Julie). "Kelly's done a lot of theater, and Eve's a complete theater animal," he said. "They really raise your game, those two."
This is the third time around for Old Times in New York. Robert Shaw and wife Mary Ure did the Tony-nominated original in 1972 with Rosemary Harris, and in 1984 it resurfaced with Anthony Hopkins, Marsha Mason and Jane Alexander Off Broadway. "There are many choices you can make in this play. Every time you come back to it, you feel it's wide open for you," said Mr. Owen. "That's very exciting for actors to feel—that they have to live up to the language they are given."
The actor may be a stranger-in-a-strange-land on Broadway but not in New York. "I feel very comfortable here because I've probably worked more here than anywhere else, shot a lot here." Just for instance is The Knick, which wrapped Season 2 in May. Set in Lower Manhattan and shot in Brooklyn, Oscar-winning Steven Soderbergh directed all 20 episodes and was Emmy-nominated for the first season.  "In lots of ways, it's pretty wild television—a visceral depiction of an era which was a hugely exciting time in the field of medicine. They were making great leaps forward, but they were shooting in the dark a lot, as well."
Mr. Owen's "Thack" is a self-inflicted victim of this progress—a dedicated, if drug-dependent, doctor—and he has a real-life reference point: Dr. William Halsted, one of the "Big Four" founding professors of the Johns Hopkins Hospital, who, between fixes, pioneered blood transfusions, modern anesthesia and the mastectomy.
The Knick is the nickname for the series' Knickerbocker Hospital, where Mr. Owen reigns with erratic brilliance as chief surgeon. "We put in so much work the first season establishing this really great world of characters, and now we've taken them even farther. In this new season, we will go much more outside the hospital. The shows will have much more scale to them, and the storylines are even wilder."
He plays sexy and smart in the Cinemax series and, similarly, he's a cerebral center for the erotic warfare waged in Old Times. "It's about desire and betrayal so it has to be hot," said director Douglas Hodge, who cast the play for sexual combustibility. "Clive has real edge and elegance—there's a sensual charge to him—and whatever you may be thinking is going on isn't wrong."
Mr. Hodge is known on Broadway as a Tony-winning actor and in Britain as a Pinter expert. He and the playwright met in No Man's Land, on opposite sides of the stage, as actors. "One night he said to me, 'I've got this part for you.' " That sparked a new career for Mr. Hodges—"putting Pinter out there," both as actor and director. "Film and TV offers came in, and I'd say, 'No, no, I'm doing Betrayal,' or 'I'm doing The Caretaker.' "
Having Mr. Hodge calling the shots gave Mr. Owen the shove he needed to get to Broadway. "Doug knew the man intimately, so he can say, 'No, Harold was like this.' To have that kind of insight into the man and coming from someone who's mined his work repeatedly and knows the rhythm of it, how it works and what's important to get out of it—all that's a real blessing."
It's a happy constant in Mr. Owen's career that he's had extraordinary luck landing ace directors. When he originally went out for the play version of Closer, it was for the role of Larry the angry dermatologist, but the director (who was also the playwright) thought him too young for it and offered him the other male role.
"I said, 'They're great parts. I'll play anything in it,' so he took Dan. Seven years later, Mike Nichols called me up and asked me to play Larry in the movie version." Mr. Owen's supporting turn won the New York Film Critics' nod, a BAFTA award, a Golden Globe and an Oscar nod.
"Mike Nichols was the smartest human being I ever met—and he was totally charming and generous along with that. Plus, he had the gift of making actors feel so confident. He just put you in a place where you felt you could do anything—and you wanted to perform for him because he was so cool."
Mr. Owen also got a sample of Alfonso Cuaron's genius seven years before the director hit Oscar gold with Gravity. The film was 2006's Children of Men, a dystopian forecast of things to come in 20 years. "We did a film that was set in the future but was really about today—like the news all over Europe now about the immigrant situation. It was so ambitious, and it got fantastic reviews, but it didn't quite land the way we hoped. Over time, though, it's really resonated. It's one of the films people come up to me constantly and tell me how inspired they think it was."
There are three other films Mr. Owen has in the can poised to pop—a broadsword-swinging medieval piece (Last Knights), a contemporary father-son drama (The Confirmation) and some comic-book time-traveling sci-fi (Valerian and the City of a Thousand Planets)—but, for the present, he'll stick around a while, for 10 weeks only, through November 10 at the American Airlines theater, waging an elusive war of wills and words. It's his first Pinter, and he feels it: "It takes everything you've got as an actor, I'm finding."