The New Jersey State PBA (NJSPBA) today announced a boycott of the movies of Quentin Tarantino, the irreverent, violence-loving Blockbuster store clerk turned award-winning director of Pulp Fiction and Django Unchained.
The over 30,000-member organization cited the movie director's reference to police officers as "murderers" during a recent rally against police brutality.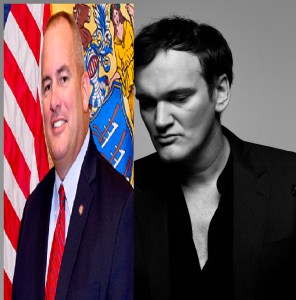 "As the State President of the New Jersey State Policemen's Benevolent Association, I am calling on our membership to join with our friend and colleague, New York PBA President Pat Lynch and our brother and sister law enforcement officers in boycotting Quentin Tarantino movies," NJSPBA Prez Pat Colligan said in a statement.
"It is hard not to see the anti-police rhetoric that has been stirred up in the nation over the past year," Colligan added. "We don't know if this irresponsible speech led directly to the recent murder of officers around the nation, but Mr. Tarantino should be mindful of the potential dangers that can result from the dangerous rhetoric once it is ingrained in the mind of a person who is willing to harm an officer.
"Quentin Tarantino needs to understand that as a public figure his voice is one that people listen to.  He has an obligation to be more responsible.  This is not a movie, this is real life where police officers lives are impacted by his words."